Amazon (NASDAQ:AMZN) is in high-growth mode, which has irritated many investors who are eager to see profitability. Capital expenditures in infrastructure and innovation spending have greatly muted short-term profits. This situation has created an ideal opportunity for patient investors. Amazon is bolstering the outlook for its future while trading more cheaply.
1st Quarter Results
Results for the first quarter were mixed. The subsequent sell-off shows that investors have many concerns with the company. Revenue has been growing at a break-neck pace, increasing 23% to $19.74 billion in the quarter and beating analysts' consensus of $19.42 billion. It is interesting to note that North American revenue grew 26% while international lagged with 19% growth. Earnings per share, however, came in at $0.23, which was slightly below consensus estimates of $0.24 per share. Free cash flow was $1.49 billion, but was tempered by the purchase of an additional office. One point of apprehension for investors was that unit sales growth slowed, increasing by just 23% vs. 25% in the previous quarter. This slowdown was more a function of a shift to digital sales, which is not counted in this figure.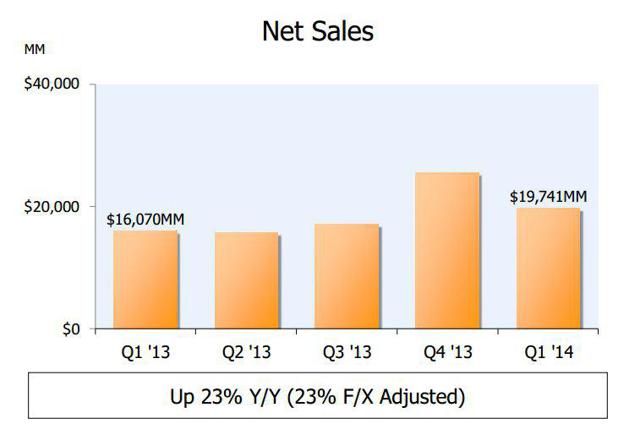 Source: Investor Presentation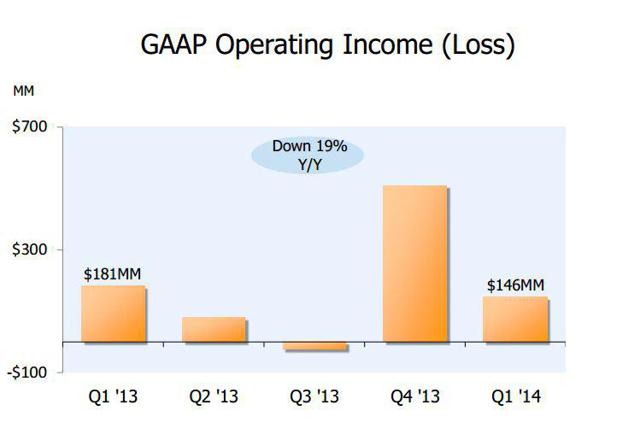 Source: Investor Presentation
The main reason for missing analysts' expectations was substantial capital expenditures. Over the quarter, Amazon spent a staggering $1.1 billion on additional investments to support technology infrastructure including Amazon Web Services (AWS), and additional capacity to support fulfillment operations. It is clear that Amazon is deferring short-term profitability for a longer-term competitive advantage.
Breakdown of Quarter
Looking more in depth into the results of the quarter is imperative in predicting the future outlook. Amazon categorizes revenue into 3 segments: Media, Electronics and other general merchandise, and other. The other segment is nearly all composed of Amazon Web Services - its play on cloud computing, but also includes advertising services, and co-branded credit cards. Electronics and other merchandise represent the lion's share of revenue, but robust growth came from Amazon Web Services at 60% in the U.S. and 50% internationally. Amazon was able to enter a burgeoning industry, and this substantial growth shows that it is able to successfully pivot its business model.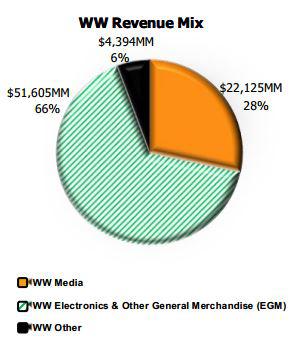 Source: Investor Presentation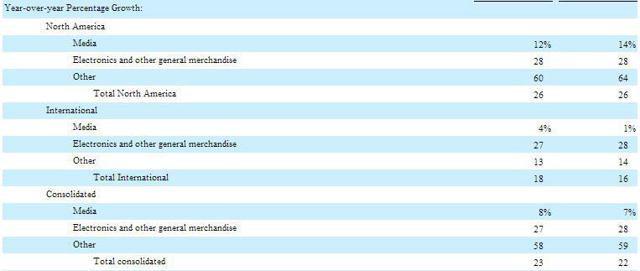 Source: 10Q
2nd Quarter Guidance
Amazon expects net sales of between $18.1 billion-$19.8 billion, which would be growth of between 15%-26%. Investors were not happy with the expected loss of between $55 million-$455 million compared to net income of $79 million in Q2 of 2013. The loss is expected as a result of amortization of intangible assets. Both of those charges are one-time expenses that are dragging down profits. Net income guidance is also being reduced due to substantial infrastructure investments both domestically and abroad.
CFO Thomas Szkutak explained the lower guidance during the call: "So again, we are investing, that's really which we are seeing in the range of guidance that we see in Q2."
Source: Earnings Call
Amazon is investing heavily in order to galvanize revenue and grow market share. These investments will result in a significant advantage in the future, and investors should not be dismayed by short-term losses.
International Segment
International sales accounted for 40% of revenues, while U.S. revenue was 60%. In total, the international segment reported a loss in the quarter due to investing in new geographies. Amazon has most recently invested in Italy and Spain and has continued to invest in China as well. The investments are both fulfillment capacity as well as infrastructure capacity.
"We still did continue to invest, but not near the rates that we're investing now and that's why you saw some results that you've seen. But again one of the things that you see now in international but in our total results is continue to invest very heavily into the business because of the opportunities that we are seeing."
Source: Earnings Call
New Initiatives And Positive Catalysts
Amazon is not merely sitting on the sidelines and trying to grow its business only through usual avenues. The level of innovation occurring at Amazon is remarkable. New products and initiatives are constantly being announced. These innovations provide many conveniences for customers and provide significant positive catalysts to grow revenue. Since these products are currently just being rolled out, they are not being priced into growth outlooks by many analysts. Amazon has an advantage in its ability to innovate because its high inventory velocity means that it generally collects from consumers before payments to suppliers come due. This strong working capital boon allows the company to invest in many different ventures.
Amazon Prime
Amazon Prime represents a cornerstone of Amazon's business. Analysts have estimated that it currently has around 10 million members enrolled in the program, which results in about one-third of Amazon's operating income. This program is so influential in Amazon's future because members spend nearly twice as much as non-Prime customers, and the membership free generates a considerable revenue stream. The fee was recently increased from $79 to $99, which was the first price increase since the programs introduction 9 years ago. Customers have not castigated the company for this increase because this program provides much more value than it costs, even with the price hike.
Prime benefits include:
Unlimited free two-day shipping on eligible purchases (20 million items are in the Prime category)
Unlimited streaming with Prime instant video
Ability to borrow books from the Kindle owners' lending library
I do not like to rely on anecdotal evidence in an analysis, but it is tough to ignore the countless stories of how customers love their Prime memberships and don't mind the higher membership fees.
Amazon has begun a new initiative to grow its Prime users. A free-trial option was recently rolled out, and the effects have been positive, as evidenced by this quote from the Q1 earnings call:
"In terms of Prime, it's early but we are encouraged with what we see so far. Just over the last several weeks, our Prime subscribers continue to grow week-over-week. New trials, the adoption of new trials again post the increase are growing very nicely. So those customers accepting new trials is growing very fast. We only have a few days of information related to conversion. And we are encouraged by what we see there."
Source: Earnings Call
Fire TV
A couple of months ago, Amazon announced the introduction of Fire TV to compete in the streaming market. This device, which connects to your TV, costs $99 and provides access to many coveted shows with some being exclusive to this service such as "Downton Abbey" and "Justified". The recent deal with HBO further adds to the value of this service. Amazon can leverage this service to add more profit-generating Prime users to its membership count. So far the company has seen positive developments with the products recent introduction:
"But what I can say is it's very early and we are extremely pleased with what see and just the few weeks here and the team certainly made we think it's a killer product."
Source: Earnings Call
Amazon Fresh
Amazon has begun a pilot program of food home delivery through a program known as Amazon Fresh. The program costs $299 for a year of service, and is currently only available in select locations: Southern California, San Francisco, and CA Metro areas. This service will provide customers with unprecedented convenience and can create habitual buying for Amazon groceries. First and foremost, Amazon offers free same-day and next day shipping for orders over $35.
The real opportunity to create a habitual buying experience comes into play with the new product known as Amazon Dash. This small device will be free for Amazon Fresh members and will allow them to simply say or scan an item to add it to their online shopping cart. If this technology works well, customers would love the convenience and become loyal Amazon grocery customers.
Amazon Phone
An Amazon phone has yet to be officially introduced, but rumors have been stirring ever since The Wall Street Journal reported that the company will roll out the phone by June and it will be on sale by September. The article speculates that the phone will include a groundbreaking technology: a screen that uses several cameras to produce 3-D images without requiring special glasses. More on this phone can be found here. Although this product has yet to be announced, the paradigm of Amazon being thought of as primarily a website is fleeting. This report supports the notion that Amazon is a leading innovator with huge potential if some of these initiatives are successful.
Other Positive Developments
The online retail market is expected to grow at a robust pace. Amazon is arguably the best play to capitalize on this trend. A more in-depth analysis about this trend can be found in this article.
Another positive catalyst that many investors and analysts may forget about is the share repurchase program. There is no expiration for this program and since it was authorized almost 5 years ago, it is easy to forget about this possible tailwind. In January of 2010, the board of directors authorized a $2 billion share repurchase program, and they currently still has $763 million left under this authorization.
Sales Tax Introduction Risk?
Amazon has been forced to collect sales tax in many states. Currently, Amazon must collect sales taxes in 20 out of 50 U.S. states. An Ohio State study found that for transactions greater than $100, Amazon's sales decrease 10% after it began collecting sales tax in that state. Moreover, for purchases costing $300 and up, the new tax decreases sales by 24%. A little less alarming is that the study found a 2.8% decrease was found in all shopping carts after the introduction.
Upon reviewing these statistics, a clear dichotomy exits. How is Amazon able to grow revenue upwards of 20% even with this impediment? The answer comes from the Amazon Marketplace. Amazon regulates the selling of third-party sellers who do not have to collect this sales tax. Amazon provides these sellers with warehousing, credit card billing, and delivery services. This segment represents 30% of sales so even with the introduction of a sales tax, Amazon is still able to get around the issue and grow its business. Thus, this risk although not unfounded, is not nearly as negative as many are projecting.
Conclusion
Investors have become impatient with lackluster results in the short term and have sold off their stakes. However, profits are being tempered by capital expenditures, which will create a competitive advantage for the company in the long run. At this stage in Amazon's growth, top-line growth is more important to watch rather than the bottom line. The prodigious innovative capabilities of this company create many positive catalysts moving forward, and long-term investors who are not concerned with the short-term vicissitudes of the market should look to enter this high-growth name at a discounted value.
Disclosure: I have no positions in any stocks mentioned, but may initiate a long position in AMZN over the next 72 hours. I wrote this article myself, and it expresses my own opinions. I am not receiving compensation for it (other than from Seeking Alpha). I have no business relationship with any company whose stock is mentioned in this article.