It's a hot market for M&A this year as takeover activity soared past $1 trillion already for 2014. It's the fastest pace in 7 years and good news for value investors who aren't afraid to roll up their sleeves and do a little homework to find potential targets.
It's easy to see the appeal of takeover targets. The underlying stock usually gets a considerable boost in its stock price when the deal is announced and investors can reap large profits on rumors alone. However, the odds of successfully buying a stock and it subsequently becoming taken over are large enough that it can't be a singular reason for buying. That doesn't mean it's not relevant though.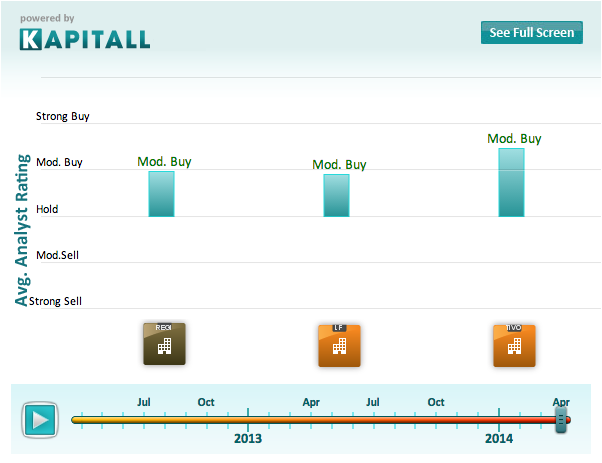 The key features that make a company attractive to potential buyers are the same ones that value investors typically look for as well:
Small Market Capitalization - Small caps have a better chance of being passed over by analysts and keep it from being too large for other companies to consider buying.
High Cash Flow - A stock with plenty of cash flow means there's plenty of room to finance operations and make capital investments.
Low Debt - Obviously, an interested party doesn't want to buy a debt-laden company that could drag down valuations. Companies with small overheads will be more attractive to buyers.
A screen with these valuations revealed plenty of stocks. Here are 3 undervalued stocks that could go higher with or without M&A activity.
Renewable Energy Group (NASDAQ:REGI)
This $445 million bio-diesel producer and manufacturer has all the right ingredients that investors look for. It trades at only 9.5 times future earnings with EPS growth next year of 45%. This gives the stock a PEG ratio of just 0.21.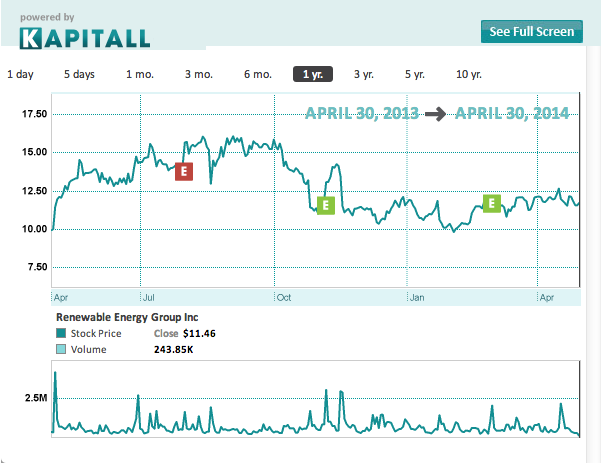 Long-term debt liabilities are a scant $23 million while cash and cash equivalents stand at $153 million. Additionally, total current liabilities are just $98 million. The book value of the stock is $16.31 - 42% higher than the stock's current price representing deep value for investors.
LeapFrog Enterprises (NYSE:LF)
The $477 million educational toy and game maker hasn't performed well lately - down over 13% YTD. However, the company could be an attractive pick-up for toy giant Mattel (NASDAQ:MAT) or Hasbro (NASDAQ:HAS), the latter of which recently purchased Mega Brands for $460 million.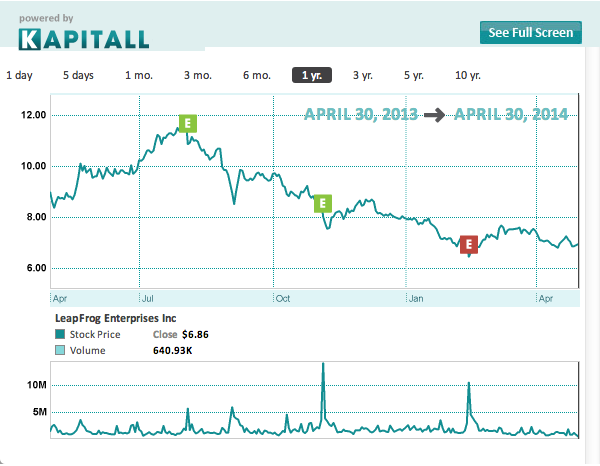 LeapFrog looks undervalued with a P/E less than 6 and EPS growth next year of more than 85%. The stock has a PEG ratio of 0.39 and zero debt liabilities on its balance sheet. Book value for the stock is $6.19, only 10% less than what the stock is currently trading at.
TiVo (NASDAQ:TIVO)
The $1.5 billion pioneer of DVR has expanded itself into being a cable television provider and has already attracted companies like Netflix (NASDAQ:NFLX). Comcast (CMCA) may also be a possible buyer and analysts at Albert Fried have placed a target price at $23 - double what it is today.
TiVo trades at less than 6 times earnings but has a long-term expected growth rate of 48% giving the stock a PEG of 0.12. Quarterly earnings growth year-over-year is more than 107% and like the other stocks on the list; TiVo has a solid balance sheet. Cash and cash equivalents are $253 million while total current liabilities are slightly less - $247 million.
Disclosure: I have no positions in any stocks mentioned, and no plans to initiate any positions within the next 72 hours.
Business relationship disclosure: Kapitall is a team of analysts. This article was written by Daniel Cross, one of our writers. We did not receive compensation for this article (other than from Seeking Alpha), and we have no business relationship with any company whose stock is mentioned in this article.