CME Group Inc.'s (NASDAQ:CME) second quarter operating earnings of $4.43 per share were substantially ahead of the Zacks Consensus Estimate of $4.30. Earnings for the reported quarter excluded a $20.5 million writedown of goodwill in relation to the company's subsidiary, Credit Market Analysis Limited (CMA).

GAAP earnings came in at $271.2 million or $4.11 per share, compared to $221.8 million or $3.33 in the year-ago quarter.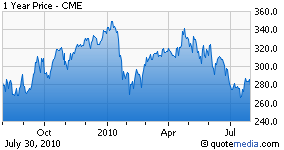 CME Group's total revenue for the reported quarter increased 25.6% year over year to $813.9 million. The increase in revenues was due primarily to increases in average daily volumes and a 27.5% increase in clearing and transaction fees to $684.2 million, along with market data and information services revenue that grew 24.2% year over year to $102.0 million.

However, this was partially offset by revenue earned from access and communication fee that declined 2.6% year over year to $11.2 million and other revenue that decreased 5.2% year over year to $16.5 million.

Total expenses increased by 20% year over year to $298.8 million. The increase was due primarily to higher compensation and benefits, and increased professional fees. Non-operating expenses were $35.0 million, driven primarily by interest expense and borrowing costs of $37.9 million, and equity losses of $1.5 million, which were partially offset by $4.4 million in investment income. Non-operating expenses were up 46.0% from the year-ago quarter.

CME Group's average daily volume was 13.5 million contracts, up 30.7% from the year-ago quarter. However, total average rate per contract decreased 4.0% from the year-ago quarter to 79 cents due to a larger volume coming from the interest rate product area, which has the lowest average rate per contract.

As of June 30, 2010, CME Group had $409.0 million of cash and marketable securities and $2.8 billion in long-term debt. The company paid back $300.0 million of its debt during the reported quarter.

Dividend Update

On May 6, the board of CME Group declared a second-quarter dividend of $1.15 per share, which was paid on June 25, 2010, to shareholders of record as on June 10, 2010.

Overall, we believe that the gradual economic recovery is exerting positive influences on CME Group's volume. Moreover, the company's internal efforts to promote, expand and cross-sell its core exchange-traded business through meaningful acquisitions, a diverse and strong portfolio along with its global presence will continue to generate decent growth in the longer term. However, increasing expenses and reducing rate per contract remain a cause of concern.