Investing in a regional bank may be a scary proposition at this juncture. They offer little in the way of earnings. The balance sheets resemble train wrecks and the overall economy does not appear to be strengthening anytime soon to alleviate the self-inflicted pain most of these financial institutions are expecting.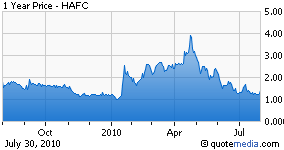 With this reasoning serving as my caveat, I took a speculative position this week in Hamni Financial HAFC at 1.28. The regional bank has operations in California, Virginia, and the northwestern U.S. Like most other U.S. financials this one is reeling from the same lending hangover. The books are uglywith losses still weighing on the company's recent earnings report. Yet, there is hope investors.
HAFC is in the midst of a balance sheet makeover. During its latest earnings report, the company reported nonperforming loans declined $20.1 million to $242.1 million, or 9.67% of total gross loans from the first quarter's $262.2 millions. Also, total loans delinquent on accrual status for 30 to 89 days fell to $21.7 million, at June 30, 2010, compared to $68.6 million, at March 31, 2010. Loans delinquent and nonperforming loans are the two key areas of concern for most U.S. banks and these numbers are strating to trend the right way for HAFC.
HAFC also grew depositis by 7% from $1.06 billion to $1.14 billion, which accounted for 44% of total deposits, compared to 32% of total deposits a year ago. Management pointed out that this positive development demonstrated strong community support for the bank.
These trends are a positive but they would not be enough for me to pony up my capital for this bank. A deciding factor for me was the completion of a share offering this week with a well-heeled investor and a previous financial arrangement with one of the largest banks in South Korea.
HAFC successfully raised $120 million of confirmed funding through a registered rights and best efforts offering of common stock, and most of the net proceeds from the offerings will be down-streamed to the Bank. The long-term shareholders subscribed to the recently completed rights offering for a total of $47.3 million, and the bank raised another $72.7 million in the registered direct offering immediately thereafter. At least $100 million of the net proceeds will be allocated to Hanmi Bank by July 31, 2010 to satisfy a key requirement of its regulatory order with the California DFI.
In addition, Hanmi entered into a securities purchase agreement with Woori Finance Holdings in May. Under this agreement, Woori agreed to purchase a minimum of $210 million of Hanmi common stock at a purchase price of $1.20 per share. Woori also has the option to purchase up to an additional $30 million of Hanmi common stock at the same $1.20 purchase price per share. If consummated, Hanmi intends to contribute a significant portion of the net proceeds from the sale to Woori as additional capital to support Hanmi Bank. The Company expects to use the remaining net proceeds for general working capital purposes. The securities purchase agreement with Woori is contingent upon the satisfaction of certain closing including, but not limited to regulatory approval. This assuredly will provide the bank with the liquidity and much needed time it could require to come out of this current fiscal crunch.
Additionally, to Woori Finance is holding a good bit of common shares, Blackrock recently reported a 12% stake in HAFC. I find this support from institutional investors to be a major positive for HAFC common shareholders as the bank attempts to right itself going forward.
Disclosure: Long HAFC