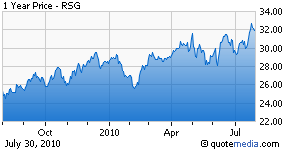 Republic Services Inc. (NYSE:RSG) reported earnings per share of 42 cents for the second quarter ended June 30, 2010, matching the Zacks Consensus Estimate [see transcript]. Total revenue of $2.06 billion was in line with the Zacks Consensus and slightly higher than the year-ago quarter. Core price increased 1.6%, fuel surcharges increased 1.1% and commodity pricing increased 1.5%. However, the total price growth of 4.2% was offset by a 3.3% decrease in core volume, generating an internal growth of 0.9%.
The positive internal growth comes after a hiatus of almost two years as the company had last seen positive internal growth in the third quarter of fiscal 2008. In the reported quarter, the internal growth of 0.9% was, however, offset by a negative 0.9% related to divestures, bringing revenue on par with prior-year levels.
Another positive sign for the company is that even though volumes declined year over year by 3.3% in the quarter, it posted a 370-basis point improvement with the first quarter of fiscal 2010.
Revenues dropped in all of the company's line of businesses. The total Collection business' revenue went down 2% to $1.5 billion. Residential collection revenue dropped 1% to $546.2 million, Commercial Collection dipped 2% to $622.7 and Industrial Collection suffered the highest decline of 3% to $383.2 million. Revenue at its Transfer and disposal business went down 2% in the quarter.
Costs & Margin Performance
Cost of operations dipped 1% year over year to $1.2 billion and contracted 40 basis points to 59% as a percentage of revenues. Consequently, gross profit went up 1% year over year to $848.1 million and gross margin expanded 40 basis points to 41%.
Selling, general and administrative development expenses declined 2% year over year to $210.8 million and expenses dipped 20 basis points to 10.2% as a percentage of sales. The decline was due to reduction in salaries and other expenses of about $9 million, which was partially offset by increases in bad debt provision. Republic Services' adjusted operating income rose 5% year over year to $403.3 million with operating margin also going up by 100 basis points to 19.5%.
Financial Position
As of June 30, 2010, Republic Services had cash and cash equivalents of $56 million, down from $81.4 million as of March 31, 2010. The company generated cash flow from operating activities of $295.7 million versus $175.2 million in the year ago quarter.
At the end of the reported quarter, the debt-to-capitalization ratio was 48.1%, compared with 48.5% as of March 31, 2010.
Republic Services declared a 5% increase in the regular quarterly dividend. The new quarterly dividend of 20 cents per share will be paid on October 15, 2010 to shareholders of record on October 1, 2010.
Outlook
Republic Services raised its adjusted fiscal 2010 EPS guidance to between $1.69 and $1.71 from its previous expectation of $1.63 to $1.67. The guidance excludes restructuring charges, costs to achieve synergies, gain/loss on disposal of assets, and loss on extinguishment of debt.
The company also raised its adjusted free cash flow guidance to a range of $725 million to $750 million from the previous range of $700 million to $725 million.
Performance of Competitor
Republic Services' close competitor Waste Management Inc. (NYSE:WM) also declared its second quarter results on the same day with an EPS of 54 cents, in line with the Zacks Consensus Estimate and up 4% from 52 cents in the year-ago quarter [transcript].
The year-over-year improvement was driven by growth in all of its businesses, disciplined focus on pricing and higher average recycling commodity prices.
It posted revenues of $3.16 billion, a 7% year-over-year improvement with yield on collection and disposal business contributing 2.3% to internal growth.
Similar to Republic Services, Waste Management also suffered a decline in volume of 2.9% but the company noted that volume declines have moderated. Waste Management expects to deliver fiscal 2010 EPS in the range of $2.09 to $2.13.
Republic Services is a leading provider of services in the domestic, non-hazardous solid waste industry. It provides non-hazardous solid waste collection services for commercial, industrial, municipal and residential applications through a network of 375 collection companies in 42 states and Puerto Rico. The company owns or operates more than 223 transfer stations, 192 solid waste landfills and 78 recycling facilities.