It was Tom Petty who sang, "the waiting is the hardest part." After gapping up on Tuesday morning and being obviously very overbought, the market spent the rest of the week trying to work off its sugar high. We all knew what needed to take place, stocks don't move in straight lines, nor does the market as a whole.
Healthy consolidation above the 50 day moving average was needed to set this market back up for another push higher. But as I said mid week, it's not easy to sit through these periods and watch your positions move against you. For those of you who subscribe to a far longer time frame, you might be laughing at anyone who would fret about the market giving back 2-3% within the course of a week. For those of you who trade on a shorter time frame, one to three days, you might ask why anyone would ever let a position they were up 10% on give back half of that and not lift a finger. This is swing trading, and as the market has gotten a little healthier lately, holding positions for more than a few days has become possible.
The key in this market is to peel off exposure as it gets extended and pile back in as it reverses off support. Yes, I could have exited all of my long positions last Tuesday and sat out the rest of the week. But in this type of market which is confusing to just about everyone, including yours truly, you don't want to lose your foothold. Even if the position is quite insignificant and isn't going to move the needle, it's prudent to keep a little piece as not to feel that it's running away without you. This is a very important metal aspect of swing trading that I am still mastering. Learn how to scale in and scale out as your positions become overbought and oversold within their trends. You will manage your risk far better, and although you may not hit those grand slams, you will hit more doubles and triples.
As we approached the end of the week it was very important that the bears not get a hold of this market. Off an ugly GDP number Friday morning, the bulls were able to turn the market around in the afternoon and close it green. Don't underestimate how important this was to the market. Friday's reversal gave me a lot of confidence and if we open green and stay green for the first few hours Monday morning I will be adding a lot of long exposure. When markets reverse like they did on Friday off bad news, that is a sign there aren't enough sellers to take us lower.
That being said….I did have some positions move against me this week more than I would have liked, and a couple that broke down completely. This is why we use stops, we move on, take our licks, and look for the next setup. Every stop I took this week worked well, save for Westport Innovations (NASDAQ:WPRT).
Positions closed this week include, covering my short in Transocean (NYSE:RIG) for a nice 5%+ gain, Venoco (NYSE:VQ), OmniVision Technologies (NASDAQ:OVTI), SkyWorks Solutions (NASDAQ:SWKS), Rubicon Technology (NASDAQ:RBCN), Dr. Pepper (NYSE:DPS), WPRT, Dolby Labs (NYSE:DLB), Goldman Sachs (NYSE:GS), Ariba (NASDAQ:ARBA), and Power-One (NASDAQ:PWER). I also sold part of Finisar (NASDAQ:FNSR) and Titanium Metals (TIE).
Positions added this week include Rackspace (NYSE:RAX), Incyte (NASDAQ:INCY), Cree (NASDAQ:CREE), Peet's Coffee (NASDAQ:PEET), and PowerShares Agriculture ETF (NYSEARCA:DBA). I also added to my position in Isolin Systems (ISLN).
The big winner this week was PWER which reported blow out numbers on Thursday afternoon. I sold out after hours and took home almost 40% on the last part of the position. Other winners this week include DBA, my short in Garmin (NASDAQ:GRMN), and ISLN which continues to hang in there.
Big losers this week were FNSR, DLB, WPRT, SWKS, and OVTI.
Overall I gave back about 80 basis points of absolute return thanks to taking my stops, and about 50 basis points of alpha. I'll take it.
Stops and many long positions should now be placed just a bit below Friday's low, a move through there would get me running pretty quick. Don't be afraid to hold positions for the real money, waiting for the next push north may be the hardest part, but patience is going to pay off.
Nothing that I say or show on this blog should ever be considered investment advice or a recommendation to buy or sell any security. The performance numbers that I post in the momentum book should never be regarded as representative of any specific client account managed by Surfview Capital, it is there solely for educational purposes and should be treated as such.
click to enlarge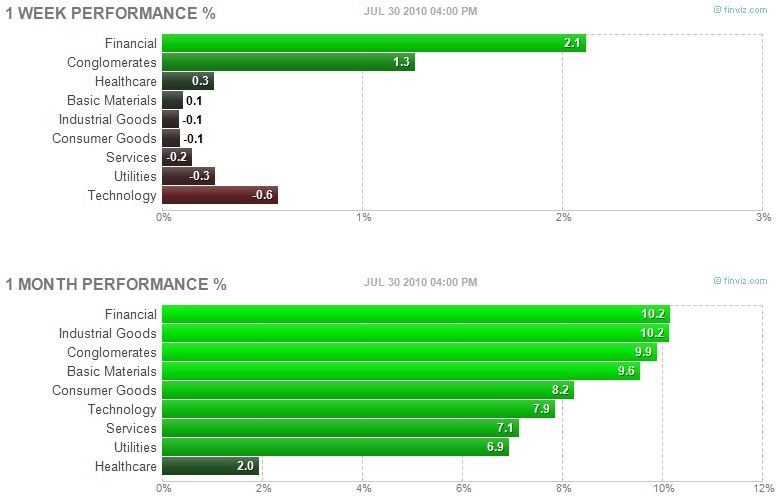 Overall I'm about 35% long when factoring in the two short positions in crude oil (NYSEARCA:UCO) and GRMN. I'll be looking to increase that towards 60% today, Monday, if we get out of the gate strong.