Disk-makers Western Digital (NYSE:WDC) and Seagate Technologies (NASDAQ:STX) have been hammered after reporting execellent 4th quarters (ending 6/30), based on missing expectations and cautious guidance. Analysts have concluded that decreasing volume and prices are going to promote a competitive bloodbath. Much of that seems to come from the tone of Seagate's commentary and outlook, which needs to be examined carefully. This article attempts to place Seagate's situation and commentary in perspective.
Background – Seagate has steadily lost market share to Western Digital over the past three fiscal years. Going into the recession, STX was bloated with excess inventory and productive capacity, and had to take losses in restructuring to rectify the situation. The company had also loaded up on debt, while overpaying to buy back its own shares. Bill Watkins, the CEO at the time, has since been replaced by Steve Lucso.
But it should be born in mind that Lucso was Chairman of the Board and Watkins was his duly anointed successor in the CEO job. Lucso therefore must share responsibility for the debacle.
Seagate's views on competition – based on its 10-K, the company does not feel that all players in this concentrated and consolidating industry are playing fair:
Principal Disk Drive Competitors - We have experienced and expect to continue to experience intense competition from a number of domestic and foreign companies, some of which have greater financial and other resources than we have. These competitors include independent disk drive manufacturers such as Western Digital, as well as large captive manufacturers such as Fujitsu, Hitachi, Samsung and Toshiba. Because these captive manufacturers produce complete computer systems and other non-compute consumer electronics and mobile devices, they can derive a greater portion of their operating margins from other components, which may reduce their need to realize a profit on the disk drives included in their computer systems and may allow them to sell disk drives to third parties at very low margins. Many captive manufacturers are also formidable competitors because they have more resources and greater access to their internal customers than we do. In addition, competitors such as Samsung and Toshiba, are increasingly integrating other storage technologies such as flash memory, hybrid disk drives and SSDs into their product offerings. Not only may they be willing to sell their disk drives at a lower margin to advance their overall business strategy, their portfolio may allow them to be indifferent to which technology prevails over the other as they can offer a broad range of storage media and solutions and focus on those with lowest costs and greatest sales.

The gist of the above is that the competition is not trying to make a profit and is selling at inadequate markups.

Given that overall perspective, it is hardly surprising to find that Seagate sees more of the same in the most recent quarter. From the 4th quarter earnings conference call transcript, here is Steve Lucso's take:

The economic slowdown and debt crisis in Europe and to a lesser extent the global freight interruption due to the Iceland volcanic eruption caused inventory disruption and contributed to an industry TAM near the low end of the expected range. These effects were more pronounced in the consumer market versus the commercial market which in turn negatively impacted mix and pricing.

In addition, we believe the economic slowdown resulted in a supply demand imbalance in the quarter of approximately 5 million units. While most industry participants including Seagate reduced production from the prior quarter against the decreasing TAM, there was at least one competitor which significantly increased production during the quarter. As a result, pricing and channel inventory and certain capacities were negatively impacted in the quarter versus our expectations.
Who could that rogue competitor be? One way of tracking that would be to see who is holding excess inventory.
Inventory Management – the following table compares and contrasts inventory levels between Seagate and Western Digital. Note their fiscal years end 6/30:
Click to enlarge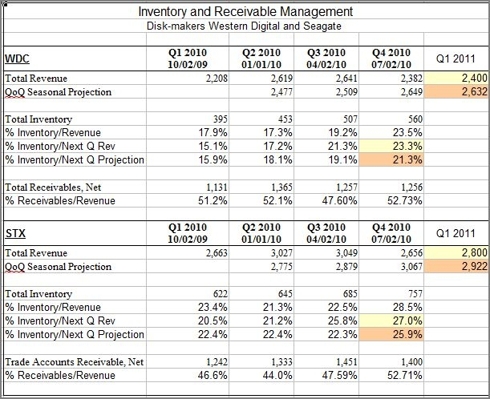 Comparing inventory as a % of revenue, for the same and the subsequent quarter, it is possible to form an impression of who is maintaining inventory at an appropriate level and who is holding excess. After looking at this a while, it looks like inventory equal to about 21% of the subsequent quarter's revenue would be the proper amount to be holding.
For Seagate, inventory is 27% of projected first quarter revenue. Since optimally it should be 21%, there is 6% excess. 6% of $2,800 is $168 million, divide by $45/disk and you get 3.73 million excess disks in inventory. That is 75% of the purported excess 5 million made by the industry.
Doing the same math on Western Digital, they are holding 1.23 million excess disks in inventory, which would account for the other 25%.
Seagate did not respond effectively to the slowdown and wound up with excess inventory. Rather than accepting responsibility for his management shortcomings, Lucso blames the competition. Adjusting production and capacity to the fluctuations of the disk market is no easy task. However, Seagate is not performing as well as the competition in this regard.
Inventory and Cost of Goods Sold – manufacturing companies deal with manufacturing overhead by allocating the costs to production. If production exceeds what can reasonably be sold, these costs are hidden in inventory rather than properly reflected as expenses. Here is Seagate CFO Pat O'Malley on the topic:
The other aspect is lower production volumes in the month of June in particular and the early part of the quarter because given the cautious outlook we are going to manage inventory just throughout the quarter very tight, is leading the higher production cost unit for those products going out in this quarter that long term we think we can certainly manage by giving the cautious outlook in this quarter. We certainly want to be prudent with inventory and which could lead to higher per unit cost.
Seagate has some issues here. It should be noted that accounts receivable as a percentage of revenues is also up, suggesting there is more product in channel than there has been recently.
The Battle of the Titans – leaving the other disk-makers out of it and looking at the two US companies, here's how they have been doing over the past few years:
Click to enlarge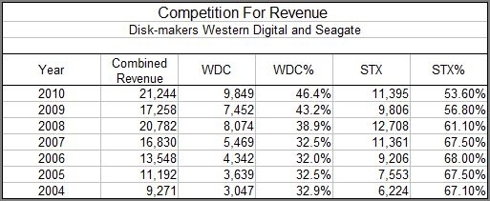 Clearly Seagate is having some trouble with the competition. A heavy debt load, exacerbated by wasteful spending to buyback shares at excessive prices, compounded by mismanagement of inventory and production capacity has led to the steady erosion of the company's competitive position. Western Digital, with a trivial debt load and $3 per share of excess cash, is also running leaner on inventory and is a very capable competitor.
Investment Implications – the above suggests that the hard disk industry as a whole may have less serious problems than would appear by reviewing Seagate's results and outlook. I am long WDC and nursing substantial unrealized losses: however, I plan to hold the position as I expect the situation to resolve upward. Despite my critical views on STX, I do not regard it as a good short, because weaker companies can outperform if and when the rising tide lifts all boats.
Disclosure: Long WDC, no position STX