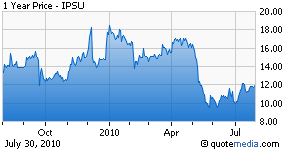 Imperial Sugar
(NASDAQ:
IPSU
) is set to report its third quarter results this Friday before the market opens. The company's lone analyst providing research coverage (BWS Financial) has apparently decided this time around to be on the conservative side by forecasting a relatively easy estimate to surpass (IPSU has failed to meet any of his estimates the past year, so at this juncture, it appears he is going full circle and taking the pessimistic angle, by under-promising). Hamed Khorsand is forecasting dismal numbers, consisting of a 3 cent loss on sales of $193 million. I expect that the company will fare better, thanks to hedging gains and additional productivity efficiencies realized at its Port Wentworth refinery. Look for the sugar producer to earn 2 cents, on a top line of $195 million (a sequential 6.6% drop).
A few new followers: IPSU has recently attracted a few new fans. The Motley Fool's CAP's Community has given it its highest opinion, consisting of five stars, while Zack's Investment Research has bestowed it with the honor of being included on its #1 ranking list. The research site " Please Act Accordingly" remains the Sugar Refiner's biggest supporter, claiming it has never seen a stock with such a huge disconnect between its market price and its intrinsic value.
Bottom line: Although the stock has already advanced more than 26% from its June low of $9.50, there is still tension in the spring for further gain. Any earnings beat (which would immediately spur a BWS upgrade) could easily send the shares up another 25%, while a miss would probably not dent the shares more than 10%. The good thing about dismal expectations is that they are easy to beat, and this time around, there is no room for sugarcoating!

Disclosure: Long IPSU