While we are not optimistic about the US stock market for the short-term, we continue each week to scan for potentially attractive stocks, while keeping substantial dry powder. This filtered list of 21 stocks passed a combined subjective and objective parameters test. Of those only four have potentially attractive price charts and have also outperformed the S&P 500 over the past year.
The subjective test required that each stock be rated favorably by S&P with 4 or 5 STARS, by "the Street" (as reported by Reuters) with an Outperform or Buy, and by Schwab with a B or A quality rating. Only 140 companies passed that opinion test.
The objective test required a 3-month average dollar trading volume of at least $50,000 per minute (to facilitate a good exit if needed); a dividend yield of 2% or more (essentially the same as or better than the S&P 500 index); and a 7-year growth rate for each of sales, earnings and dividends that is greater than zero. Only 21 of the 140 companies passed that fundamental facts test (click to enlarge).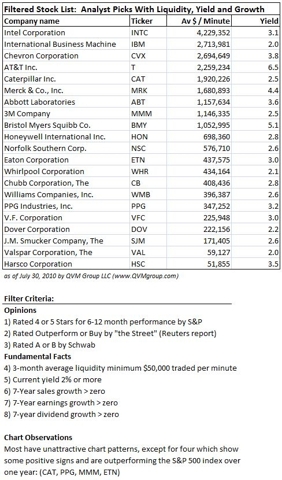 Inspection of the price charts for each of the 21 companies, suggested that only a few were showing signs of existing or likely up trends, as well as outperforming the S&P 500 (proxy SPY). They are Caterpillar (NYSE:CAT), PPG Industries (NYSE:PPG), 3M (NYSE:MMM) and Eaton (NYSE:ETN).
click to enlarge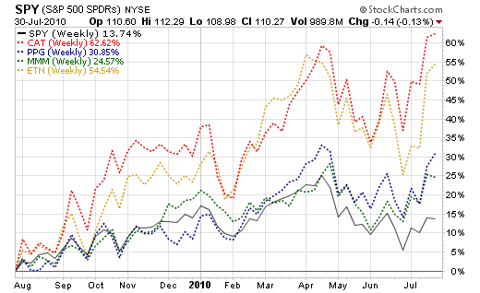 Even though those four stock are outperforming the S&P 500 recently, we are not sanguine about the prospects for the US stock market overall in the near-term. Certainly, the price chart (click to enlarge) for the S&P 500 (or SPY) is not strong, and has yet to exceed the June high, or approach the April high.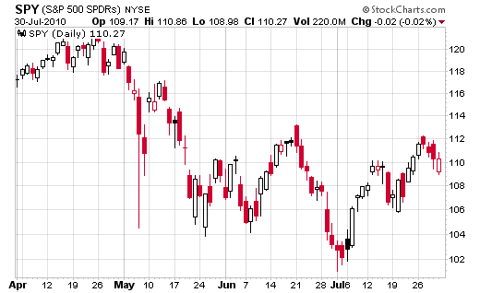 POST-SCRIPT:
It's Important To Keep Looking for Good Stock Picks, But the Macro View Is Critical (and not clear):
A backdrop to the poor price charts is the "unusually uncertain" economy that Bernanke mentioned in testimony; and the "noisy market" that El Erian describes, as part of the slower growth, lower returns "new normal" that Gross declares.
Paul Volcker, former Fed Chairman, warns that usual recession and recession recovery is not to be expected. In a July 23 statement, he said "We are not in what we consider a normal recession ... This is not a bounce back. We are suffering from some very large, undermining problems."
Alan Greenspan, former Fed Chairman, is more optimistic. On August 1, he said, "I think we're in a pause in a recovery, a modest recovery, but a pause in the modest recovery feels like quasi recession."
There is a lot on the information menu over the next few months. Yes, the earnings reports have been very good, but once that is behind us, we have Greek bailout funding decisions in August, campaign handicapping in September and October, tax policy positioning by incumbents seeking re-election, and an election in November; a lame duck Congress during November and December whose leadership has made noises about passing legislation that the newly elected Congress would be expected to disapprove; and there are substantial questions about the extent and timing of new federal tax rates, and a lot of other issues, including a plodding to soft economy report by the last Beige book.
The July 28 Beige Book summary said:
Economic activity has continued to increase, on balance, since the previous survey, although the Cleveland and Kansas City Districts reported that the level of economic activity generally held steady. Among those Districts reporting improvements in economic activity, a number of them noted that the increases were modest, and two Districts, Atlanta and Chicago, said that the pace of economic activity had slowed recently.
The president of the St Louis Fed, James Bullard, said:
The U.S. is closer to a Japanese-style outcome today than at any time in recent history … a better policy response to a negative shock is to expand the quantitative easing program through the purchase of Treasury securities.
If deflation is actually a real risk we face and since there isn't much room to the Fed Fund rate, what might the Fed do (and how much do you want to invest when all seems to hinge on government policies and Fed actions)?
In his "unusually certain" testimony, Bernanke said the Fed is prepared "to talk further policy actions as needed". Negative overnight rates are unlikely, so what else might he do? Continued Quantitative Easing is a possibility, including buying intermediate Treasuries to control rates -- something, according to David Rosenberg, Bernanke suggested in a 2002 speech. An action as dramatic as that we think would spook the markets. Bernanke has said he does not expect a double dip recession or deflation, but should that come to pass, these words from his speech could be prophetic:
Sustained deflation can be highly destructive to a modern economy and should be strongly resisted. ... So what then might the Fed do if its target interest rate, the overnight federal funds rate, fell to zero? One relatively straightforward extension of current procedures would be to try to stimulate spending by lowering rates further out along the Treasury term structure–that is, rates on government bonds of longer maturities. There are at least two ways of bringing down longer-term rates, which are complementary and could be employed separately or in combination. One approach, similar to an action taken in the past couple of years by the Bank of Japan, would be for the Fed to commit to holding the overnight rate at zero for some specified period. Because long-term interest rates represent averages of current and expected future short-term rates, plus a term premium, a commitment to keep short-term rates at zero for some time–if it were credible–would induce a decline in longer-term rates. A more direct method, which I personally prefer, would be for the Fed to begin announcing explicit ceilings for yields on longer-maturity Treasury debt (say, bonds maturing within the next two years). The Fed could enforce these interest-rate ceilings by committing to make unlimited purchases of securities up to two years from maturity at prices consistent with the targeted yields .... Lower rates over the maturity spectrum of public and private securities should strengthen aggregate demand in the usual ways and thus help to end deflation. Of course, if operating in relatively short-dated Treasury debt proved insufficient, the Fed could also attempt to cap yields of Treasury securities at still longer maturities, say three to six years. Yet another option would be for the Fed to use its existing authority to operate in the markets for agency debt (for example, mortgage-backed securities issued by Ginnie Mae, the Government National Mortgage Association).
Overall, we think remaining defensive, and keeping substantial dry powder is prudent for those in late stages of accumulation or who are depending on portfolios to maintain lifestyle.
Securities Cited: SPY,INTC, IBM, CVX, T, CAT, MRK, ABT, MM, BMY, HON, NSC, ETN, WHR, CB, WMB, PPG, VFC, DOV, SJM, VAL, HSC.
Holdings Disclosure: As of July 30, 2010, we own T in some, but not all managed accounts, we do not own any other securities mentioned in this article in any managed accounts.
Disclaimer: Opinions expressed in this material and our disclosed positions are as of July 30, 2010. Our opinions and positions may change as subsequent conditions vary. We are a fee-only investment advisor, and are compensated only by our clients. We do not sell securities, and do not receive any form of revenue or incentive from any source other than directly from clients. We are not affiliated with any securities dealer, any fund, any fund sponsor or any company issuer of any security. All of our published material is for informational purposes only, and is not personal investment advice to any specific person for any particular purpose. We utilize information sources that we believe to be reliable, but do not warrant the accuracy of those sources or our analysis. Past performance is no guarantee of future performance, and there is no guarantee that any forecast will come to pass. Do not rely solely on this material when making an investment decision. Other factors may be important too. Investment involves risks of loss of capital. Consider seeking professional advice before implementing your portfolio ideas.