Phillips 66 (NYSE:PSX) clearly continues to outperform, posting yet another solid quarter. While the refining segment earnings were down, the chemicals and midstream segments more than made up for the slack.
Q1 2014 Overview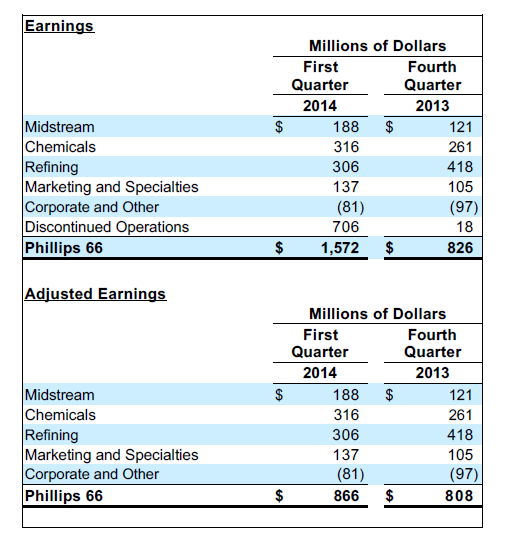 For the quarter, Phillips 66 posted earnings of $1.57 billion, up 90% from $826 million last quarter. However, when adjusting for one-time items, namely gains from the sale of Philips Specialty Products ("PSPI"), adjusted earnings came in at $866 million, up 7% from $808 million last quarter. On a per share basis, this represents adjusted EPS of $1.47, up from $1.34 last quarter, and easily beating analyst estimates of by $0.12.
Phillips 66 was extremely aggressive on the capital return front, paying dividends of $229 million and buying back 8.4 shares for $640 million (about $65 per share). In addition, the company was able to repurchase 17.4 million shares of its common stock via the sale of Philips Specialty Products to Berkshire Hathaway (NYSE:BRK.B). When combined, these initiatives returned over $2.20 billion in capital to Phillips 66 shareholders.
Below is a breakdown of Phillips 66's results by segment:
Refining
Phillips 66 saw its refining segment post adjusted earnings of $306 million, down 27% from $418 million last quarter. However, this decline is hardly as bad as it seems. The company had several refineries undergo maintenance in the quarter, impacting volumes.
When looking at the refineries by location, we can clearly see the impact of lower volumes in play. In the crucial "Central Corridor," Phillips 66 saw its earnings fall 42%. However, in areas such as the US East Coast and Europe, Phillips 66 saw its refining earnings recover nicely, from a loss of $139 million to a small $16 million profit.

Indeed, Phillips 66 refining segment's margins were strong in Q1. The company saw margins in the Atlantic Coast/Europe rise 45% to $7.46, enough to eek out a profit. In the Gulf Coast, margins were relatively flat, thanks to increased feedstock prices for LLS. However, this trend has been reversing, with parity to WTI fast approaching. Also note the decline in margins for the Central Corridor, down 18% from $18.50 to $15.21 per BBL.
Midstream
Phillips 66's midstream segment posted adjusted earnings of $188 million, up a massive 55% from last quarter. In general, all of its sub-segments were much stronger. Transportation volumes were up, leading to earnings increasing $12 million to $62 million. Also, thanks to higher propane prices, the NGL business posted earnings of $43 million, up from $34 million last quarter. However, the outperformer here was Phillips 66's equity investment in DCP Midstream (DPM), with earnings up 124% to $83 million. Phillips 66 benefited from increased incremental cash flows related to DCP issuing common units to fund acquisitions last quarter.
Chemicals
Finally, let us look at Phillips 66's Chemicals segment. Chevron Phillips Chemical Company ("CPChem"), a 50-50 joint venture with Chevron (NYSE:CVX), saw its adjusted earnings increase 21% to $316 million. The driver of growth for this segment has been the Olefins and Polyolefins business, with earnings up 8% to $283 million. Furthermore, thanks to improved benzene prices, earnings from CPChem's specialties chemical segment surged 31% higher to $38 million. In general, CPChem has been able to boost margins while keep plant utilization steady.
Do note that CPChem is the focus of large capital investments by Phillips 66 and Chevron, with over $7.0 billion in projects scheduled through 2017. As a result, EBITDA is slated to nearly double to well over $3.0 billion per year.
Conclusion
While the refining segment was weak, Phillips 66 appears to have posted a strong quarter nevertheless. Indeed, it seems as if the company has been able to largely decouple itself from its refining segment. Only 35% of Q1 2014's segment earnings came from its refining operations compared to 65% last year. This level of diversification is nearly unheard of in the downstream sector.
Phillips 66 is a rare example of a cheap growth stock, with the company slated to grow EPS by over 11% this year, yet it trades at a measly 11x forward P/E and 7.40x enterprise multiple. Phillips 66 is also a future dividend star, with a dividend growth rate in excess of 25%. Furthermore, if you have held Phillips 66 since its spin-off from ConocoPhillips (NYSE:COP), you are now up over 150% not including dividends.
Disclaimer: The opinions in this article are for informational purposes only and should not be construed as a recommendation to buy or sell the stocks mentioned. Please do your own due diligence before making any investment decision.
Disclosure: I am long PSX, COP. I wrote this article myself, and it expresses my own opinions. I am not receiving compensation for it (other than from Seeking Alpha). I have no business relationship with any company whose stock is mentioned in this article.