Shares of Allergan (NYSE:AGN) have jumped on this morning's earnings report, and at least one option trader is betting that the stock will hold current levels.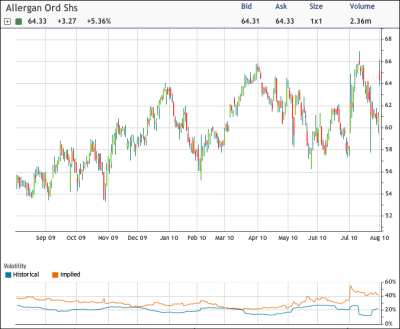 The provider of eye care and specialty pharmaceutical products is trading at $64.33, up 5.36 percent this morning after reporting a 36 percent increase in second-quarter net income. AGN broke though $66 earlier in the session but has been declining steadily since. Shares remain in the range that the stock has been bouncing in since October 2009, with the high end set with the two-year high of $66.95 in mid-July.
The average option volume in AGN is just over 3,000 contracts, but three times that number has already moved today as puts outpace calls by 2 to 1. The biggest trade is in the October 60 puts, where 2,500 were sold for $1.70 against open interest of 758 contracts.
Other trades have hit since, with put selling in the September 55 and 60 contracts, but the volume at both strikes was less than open interest, so these could have been closing positions of long puts as well. This new put selling is a bet that shares will hold above yesterday's lows.
The implied volatility of the options has been crushed with the release of the earnings report, as is usually the case. The average implied volatility has fallen 20 percent, to 34 percent. But that is still in line with the highest reading for the 30-day historical volatility in the last year.

Disclosure: No positions