The Walt Disney Company (NYSE:DIS) has seen its stock increase almost 26% in the past year. The stock has been pushed up by earnings and strong performances from some of Disney's recent popular movie releases. Given the impressive rate of growth and all the talk about the bull market coming to an end, can Disney continue on its upward trend? I think the answer to this question is a definitive yes, and I'll show you a couple of key reasons why I like Disney moving forward.
The Short Term
Disney releases Q2 earnings on May 6th post-market. Q2 has a tough act to follow after Q1 of 14 saw Disney revenues increase 9% year over year and EPS increase an incredible 32% over Q1 of last year. So far, Q2 looks to produce some Disney magic of its own as well- analysts are projecting almost a 20% increase in EPS year over year as well as upwards of 6% revenue growth year over year. I like the prospects of this for the stock, especially considering the how earnings have driven the price upwards as of late.
Source: FactSet
Analysis and Moving Forward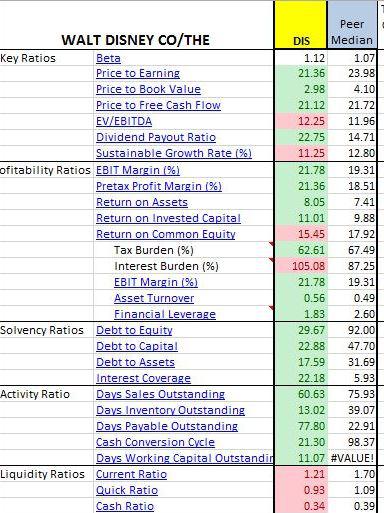 Looking down through Disney's comps, you'll notice that a lot of their metrics are better than their competitors. The first thing that stands out to me from the numbers is the Key Ratios section. The numbers at the worst seem to suggest that Disney is fairly valued- to me, it looks like Disney may be slightly undervalued. Despite your opinion on Disney's value, the company shines all the way across the board. I particularly like Disney's low debt to equity ratio compared to its competitors.
A quantitative analysis is always good to look at for every company, but you can't talk Disney without looking at it qualitatively. The company has an extreme amount of diversity in the 5 segments that they operate in- media networks, parks and resorts, studio entertainment, consumer products, and interactive. Media networks is the largest business segment for Disney followed by parks and resorts, studio entertainment, consumer products, and interactive. Out of the 5 key segments, I'd like to highlight media networks, studio entertainment, and interactive.
The media networks segment is the leading contributor to Disney's revenue. The segment houses ESPN, which continues to grow revenues for Disney. ESPN has 5 channels already and plans to release a 6th in August of 2014. Look for this segment to continue to drive Disney's growth.
The studio entertainment houses Disney's movie operations. This segment has some serious potential moving forward- Disney acquired Lucasfilm in 2012 and is set to release the first of three new Star Wars movies in 2015. The cast for the movie was just released on Tuesday, April 29th. Disney plans on adding three new movies to the series in the upcoming years along with other additional TV shows and programs on its family of networks. Star Wars could kickstart some serious growth in the studio entertainment segment and spill over into other business segments like consumer products.
Despite the potential Star Wars hysteria that could strike Disney's studio entertainment segment, the most intriguing segment in my opinion that could see a great deal of growth and drive Disney forwards is the interactive segment. The interactive segment grew 26% in 2013, the biggest growth of any of Disney's five segments. With all the growth in smartphones and mobile devices, this segment could become an even bigger portion of Disney's bottom line moving forward. The segment is still the smallest of all of Disney's segments, which means there could be a great deal growth in store in the future. I've added some links below to some articles about Disney's new and fairly highly-anticipated upcoming Infinity gaming platform. The platform works as an attachment to almost any Sony, Wii, or Xbox console, and has a mobile version on the way as well. If this works out well for Disney, this could be the start of successful future trend.
A couple other things forecast more growth for Disney moving forward- the company has a shown growing EBIT margins for the past couple years and is projected to go well above its five-year average for 2014. This suggests further increases in profitability that could help increase returns for investors. Disney's investors have also seen a dividend that has increased each of the past 4 years- this trend is likely to continue with Disney performing as well as it has of late, giving investors another reason to put Disney into their personal portfolios.
Source: DIS 2013 Annual Report, FactSet
Disclosure: I have no positions in any stocks mentioned, but may initiate a long position in DIS over the next 72 hours. I wrote this article myself, and it expresses my own opinions. I am not receiving compensation for it (other than from Seeking Alpha). I have no business relationship with any company whose stock is mentioned in this article.