On Wednesday, shares of social media giant Twitter (NYSE:TWTR) were punished after the company's first quarter report. The company beat analyst estimates for revenues and non-GAAP earnings, issued Q2 revenue guidance above expectations, and raised its 2014 revenue forecast. However, this was not enough, as analysts and investors focused on growth metrics and an expensive stock. This pushed Twitter shares to post-IPO lows, as you can see in the chart below. Today, I'll break down the results, and reiterate why this may be an opportunity for long-term investors (not short-term traders) to buy.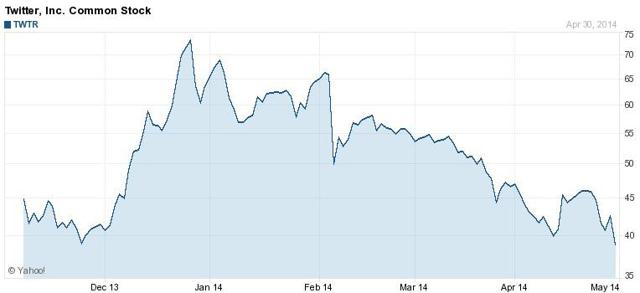 Click to enlarge
(Source: Yahoo! Finance)
Q1 Results:
Twitter announced Q1 revenues of $250.49 million. This number was a bit ahead of analyst estimates for $241.47 million. Additionally, Twitter came in well above its own guidance range provided at the Q4 report, $230 million to $240 million. On the bottom line, the company reported flat non-GAAP earnings ($0.00 per share). The company actually reported a slight non-GAAP profit of $183k. Analysts were looking for a 3 cent per share loss, so Twitter did much better than expected here. Additionally, the company blew away its adjusted EBITDA profit forecast, coming in at nearly $37 million versus guidance for $10 million to $16 million.
Twitter announced the following operational highlights, taken directly from the Q1 press release linked above:
Average Monthly Active Users "MAUs" were 255 million as of March 31, 2014, an increase of 25% year-over-year.
Mobile MAUs reached 198 million in the first quarter of 2014, an increase of 31% year-over-year, representing 78% of total MAUs.
Timeline views reached 157 billion for the first quarter of 2014, an increase of 15% year-over-year.
Advertising revenue per thousand timeline views reached $1.44 in the first quarter of 2014, an increase of 96% year-over-year.
Here's where some of the concerns came in. The average monthly active user number rose 30% year over year in Q4, for example, so there is a slowdown there. Facebook (NASDAQ:FB) has also seen a slowdown in its user base growth as well, but those concerns seem to be ignored. Twitter is still growing, but apparently, investors and analysts were looking for more. It's interesting here because the early argument with Facebook was a concern over monetization. Once Facebook really started producing solid revenues and strong earnings, the stock soared. Twitter is coming in well above estimates for revenues and earnings, yet nobody seems to care. Is there a double standard here?
Guidance disappointment?
Let me first start with Q2 guidance. Twitter guided to revenues of $270 million to $280 million, where the midpoint was ahead of analyst estimates for $272.94 million. Again, look at what Twitter guided to for Q1, and where the company came in. If Twitter's guidance proves to be conservative again, you could be looking at a quarter that's around $290 million or so.
But it was the full year forecast where Twitter disappointed many, and I think this was an unfair punishment. Twitter gave 2014 revenue guidance of $1.20 to $1.25 billion for the year. The company actually raised its forecast, which at the Q4 report was for $1.15 billion to $1.20 billion. However, the street estimate was for $1.24 billion, so the midpoint of the new forecast was "light".
Here is my beef with this "disappointment", and there are two parts. First, at least Twitter is transparent and provides guidance. Facebook doesn't provide guidance, which may be a reason why the company has been beating estimates handily lately. The second reason is that this is only the second time that Twitter has issued guidance as a public company. What happened the first time? Twitter smashed its own estimates. The company could easily be giving conservative guidance. We just finished the first third of 2014. Twitter could easily raise its guidance at the Q2 report or the Q3 report. Considering how Twitter and Facebook have beaten estimates so far, does anyone honestly think that 2014 revenues will actually be in this $1.20 billion to $1.25 billion range? I would be surprised if the company doesn't come in closer to $1.3 billion, or maybe even above that. When all is said and done, I think this guidance will prove to be conservative. Additionally, the company upped its adjusted EBITDA range. The old range was for $150 million to $180 million, and that forecast now stands at $180 million to $205 million.
So it will be interesting to see what happens with analyst estimates going forward. If analysts take down their 2014 revenue forecast, it will make it easier for the company to beat. If analysts raise their forecasts, you could argue analysts are being hypocritical. Remember, the year is early on, and this is only the company's second public report. Do you really think management would give guidance that it felt it couldn't beat? Additionally, analysts were looking for a non-GAAP profit this year of two cents per share. Since Twitter beat by three cents in Q1, and non-GAAP profitability seems to be better than expected, analysts will have to raise their estimates. Twitter's monetization story seems to be doing quite well, but it is getting lost in the shuffle.
You wanted a better valuation:
In my most recent article on Twitter, I detailed how Twitter shares could double going forward. That article was not an earnings trade article, and showed how potentially over a series of years, the Twitter growth story could play out. Twitter shares have obviously come down since then, which could provide an opportunity for those that still believe in the long term future of this name.
In that article, I compared Twitter against Facebook and a number of other social media names, momentum names, and tech giants: LinkedIn (NYSE:LNKD), Zillow (NASDAQ:Z), Tesla Motors (NASDAQ:TSLA), Google (NASDAQ:GOOG), and Apple (NASDAQ:AAPL). This comparison detailed 2014 growth estimates and valuation metrics for this year based on those numbers. The table below is an update of that table. Two quick notes: The Google price to sales number is based off the higher trading Class A (NASDAQ:GOOGL) shares. The Facebook P/S number does not include the two pending purchases, which could add about 10% to the P/S number.

*All earnings numbers above are non-GAAP except for Apple, and thus these are non-GAAP P/E values. Tesla's analyst estimates for revenues are also non-GAAP.
**Apple numbers are based on fiscal year ending in September 2014. All others use a calendar year.
I know the critics still point to this high price to sales valuation. However, when you put Facebook's P/S around 14 or so thanks to the two deals, maybe Twitter doesn't look that crazy anymore. Remember, this was a name that was trading at over 30 times expected 2014 revenues back in late December. Now that the P/S is under 18, the bear case does take a hit. Sure, that doesn't mean shares can't fall any further, but it is hard to recommend a huge Twitter short at $39 when it was around $75 a few months ago. In fact, Twitter's valuation is getting closer to that of Zillow as well. Back in that December article, Twitter's P/S was nearly 20 points higher than Zillow's, and the gap is about 3 now. Remember, in arguing the bull case, I'm not talking about buying Twitter for the next couple of weeks. I'm detailing a growth story that will play out over a number of years. In fact, looking at 2015, Twitter trades at 11.03 times currently expected sales, with Facebook at around 9.76 times. So the gap narrows as we go further out.
Let me also make a key point here. Twitter is not Facebook. While that might seem obvious, many do not seem to get it. Everyone looks at the success of Facebook and its billion plus users, and they expect Twitter to be there as well. It's not going to happen that quickly, especially considering Twitter started out a few years after Facebook did. Facebook was started as a way for college students to connect. That was not the initial goal of Twitter. Additionally, the difference between these two sites is why Twitter has a market cap a little north of $20 billion, while Facebook has one north of $160 billion if you include the two acquisitions. Twitter's revenue growth rate is still above that of Facebook, which is why the argument can be made that Twitter shares can trade at a premium. Most articles out there killing Twitter in the past day or two are doing so because of the Facebook comparison. Is that really fair?
Mixed analyst reaction:
It would be exhaustive to cover every single analyst note since the Q1 report was released, so here's a list for your enjoyment. There are a couple of interesting points. First, while a lot of price targets were reduced, a number of analysts either kept buy ratings or continue to have price targets that represent considerable upside. For instance, Goldman Sachs lowered its target from $69 to $52. While that price target cut is large, the firm's current target still represents more than 30% upside from current levels. On the other hand, you have one firm that reiterated a Sell rating and a $38 price target. It was a bit awkward to see this rating Wednesday, as the stock was around or below that $38 level for a large part of the day. This firm's rating or price target may need to change soon, because it would be kinda funny to have a sell rating on a stock that is under your price target.
Short interest and the lockup:
One item many have been interested in with regards to Twitter is short interest. Twitter's short interest has continued to rise as we get further and further away from the IPO. The most recent short interest update showed another rise to a new high, as seen in the chart below.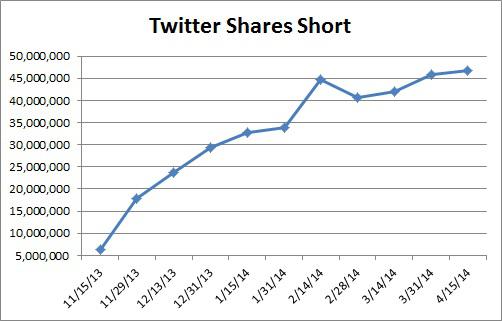 At some point, you would think that some of these shorts would decide to cover. This is a name that's already lost about half of its value since its peak. Obviously, the upcoming lockup expiration is the next big thing for the stock. Bears think that this event will cause another fall in Twitter shares. As I covered in my latest article, however, a number of major holders have stated that they will not sell right now. You might expect some employees or minor holders to cash out some shares, especially if those shares are a majority of their compensation. But do you really think anyone who has the financial flexibility to hold on to shares will sell when they are at post-IPO lows? Don't you think these people will wait until shares are a little higher? I'm not saying these people will wait for $75 again, but could they at least wait until $50? It seems reasonable.
Final thoughts:
Twitter beat on both the top and bottom line for Q1, but it was not good enough for the street. While Q2 guidance was strong, the company did not raise its full year forecast enough. However, it is still early in the year, and Twitter's non-GAAP profitability seems to be doing quite well. I don't hear many talking about that. While many analysts reduced their price targets, a number of them maintained buy ratings. Many of the reduced price targets still represent considerable upside, and short interest hit another new high in mid April.
In the end, Twitter is an expensive stock, but it also provides the most expected growth in relation to peers. Throughout the whole recent Sterling crisis in the NBA, many networks were using Twitter heavily for their debates. When the Sterling punishment came out, networks immediately showed tweets from NBA owners, players, and other celebrities. The Weather Channel recently used Twitter as a way to track tornadoes and provide important safety information. Twitter is here to stay, and the growth story will play out going forward. For those that are looking for a short-term pop, this may not be the stock for you. But for those that believe in the long-term potential of this business, pullbacks like these are the best times to buy. If you want to argue this won't be a $70 stock again anytime soon, that's fine. But if you believe it will get back to $50, that's a very nice gain from current levels.
Disclosure: I have no positions in any stocks mentioned, and no plans to initiate any positions within the next 72 hours. I wrote this article myself, and it expresses my own opinions. I am not receiving compensation for it (other than from Seeking Alpha). I have no business relationship with any company whose stock is mentioned in this article.
Additional disclosure: Investors are always reminded that before making any investment, you should do your own proper due diligence on any name directly or indirectly mentioned in this article. Investors should also consider seeking advice from a broker or financial adviser before making any investment decisions. Any material in this article should be considered general information, and not relied on as a formal investment recommendation.