In our College Edge research, we strive to find excellence. We are looking for companies that do things differently, have a unique approach, and can offer superior long-term returns. Our community found one in Limited Brands (LTD), which recently had lots of discussion in our fashion forum.
5 Value Questions
1) Is this a great business?
2) Does it have good management?
3) What price should I pay for it?
4) What is the margin of safety?
5) How should we execute from here?
1) Limited Brands sells offers lingerie, fragrances, cosmetics, shower gels, lotions, antibacterial soaps, candles, accessories, and spa products under the Victoria's Secret, Pink, La Senza, Bath & Body Works, C. O. Bigelow, The White Barn Candle Company, and Henri Bendel brands. The Business:
In the notoriously fickle fashion industry, Victoria's Secret has been a clear leader in intimate apparel since 1963
Victoria's Secret and Bath & Body Works are dominant franchises with attractive economics

Each has dominant market share in its category with no significant number two competitor
They both have sustainable high teen operating margins
Consistently high ROIC
They exhibit significant scale advantages
Our CSP Fashion expert, Jen Klein, had this to say about Victoria's Secret.
Victoria's Secret is one of the most well-known lingerie, loungewear, and beauty stores. Their PINK line is especially popular with college-aged students (expect to see many students wearing PINK sweatpants around the dorm and even to class!). In fact, the VS PINK line even has created special college collections with school logos on them.
Their PINK line is a great example of how they have been able to appeal to the sexy feel of all females.
Taken straight from their 10-K:
At Victoria's Secret, we market products to the late-teen and college-age woman with Pink and then transition her into glamorous and sexy product lines, such as Angels, Very Sexy or Body by Victoria. While bras and panties are the core of what we do, these brands also give our customers choices in clothing, accessories, fragrances, lotions, cosmetics, swimwear and athletic attire.
This strategy allows them to target markets across the economic spectrum, across demographics, and across the world.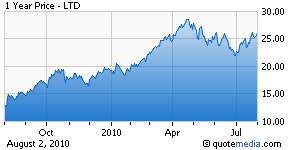 It is this broad, sexy appeal and dominant market share that has me confident that Victoria's Secret and Bath & Body Works will be just as dominant a decade from now as they have been for the past five decades.
1) Is this a great business? YES
The company was founded in 1963 by Leslie Wexner, and he is still the CEO today at age 72. He has built this company from nothing into a nearly ten billion dollar company over several decades. Even though he is a 72-year old billionaire and has run the company his entire life, he is still the CEO. That's dedication.
2) Does it have good management: YES
The company is currently trading at 14X trailing earnings, or a 1.04 PEG ratio according to Yahoo finance. Both seem too cheap for a company with such dominant brands, somewhat predictable cash flows, and juicy 2.50% dividend.
Analysts are expecting about 13% growth in earnings per share for the next five years, which represents modest revenue growth combined with steady margin expansion.
A mature company like Limited Brands with two dominant brands, a long history of success, and a juicy 2.50% dividend should trade for at least 1.50X its growth rate in my opinion. Currently, this would reflect a more reasonable 19X trailing earnings, resulting in a $33 fair value for the company. The current valuation of 1.00X growth is our floor.
3) What price should we pay for the company?
Between $24 and $33. While we wait for fair value, we can collect the nice 2.50% dividend.
4) What is the margin of safety?
Given our fair value estimate of 33$, we have about a 40% margin of safety from current prices. In addition, the dividend and dominant brands make this a pretty safe pick.
5) How should we execute from here? I am initiating a position at today's prices. I may look to add to the position on any further drop. I consider this a great long-term play as it is hard to beat their two dominant brands. The dividend is an extra bonus.
Disclosure:
Long LTD