The Institute for Supply Management released its monthly manufacturing index a short time ago and, while this important sector of the economy continues to expand, it is doing so at the slowest pace since last November with the weakest reading in over a year for new orders.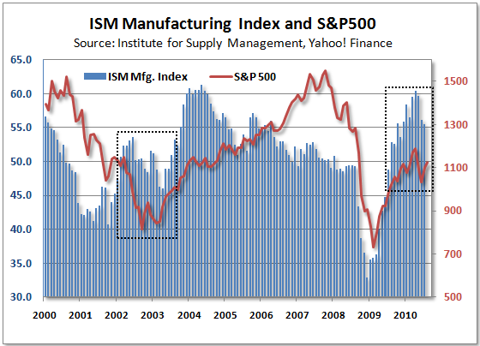 Click to enlarge
The overall index fell from 56.2 in June to 55.5 in July, well down from the levels seen in the spring. The current level, however, still signals growth for the manufacturing industry since, in this index, numbers above and below 50 indicate expansion and contraction, respectively.
New orders slowed sharply, down five points from 58.5 in June to 53.5 in July, and, aside from growing inventories (a bad sign in itself) is now the weakest component in this report. The employment index rose from 57.8 to 58.6, however, managers are not likely to be doing too much hiring given the trend in new orders, their most important leading indicator.