By Julian Murdoch
If you want to "green" your portfolio, there are plenty of investment vehicles offering exposure to alternative energy companies. But compared with traditional energy exposure, are they worth it?
Today, let's stick to basics and consider how the various solar, wind and nuclear energy ETFs stack up to the mother of all energy plays: oil. In the wake of the Gulf Coast oil spill, are alternative energy funds poised for a jump?
Solar
But first, a caveat. When looking at oil equity ETFs, you can compare how various companies' performance stack up against the price of oil. But that type of comparison isn't possible in the alternative energy universe — there are no wind or solar futures. And while there are uranium futures, the price of uranium has very little do with production of nuclear energy or the construction of new nuclear facilities, which is what an ETF really captures.
Instead, using the theory that as oil prices rise, alternative energy becomes more feasible and attractive as an investment, I'm going to play a little fast and loose and compare apples to oranges; namely, I'll compare various equity-based alternative energy ETFs with iPath's S&P GSCI Crude Oil Total Return ETN (NYSEARCA:OIL).
One of the two major solar ETFs may have the fun name of TAN (Claymore Global Solar ETF), but lately, its returns have been anything but sunny.
Click charts below to enlare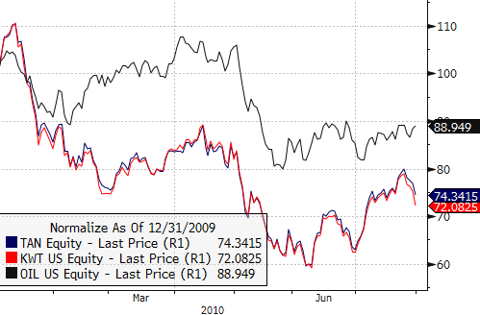 Both TAN and KWT (the Market Vectors Solar Energy ETF) are down over 25 percent, compared with iPath S&P GSCI Crude Oil Total Return ETF OIL's drop of 13.35 percent (which we're using as our general proxy for oil in this survey). But if you look at the shorter-term — say, over the month of July — both solar ETFs rose over 20 percent by July 24, while oil remained fairly flat.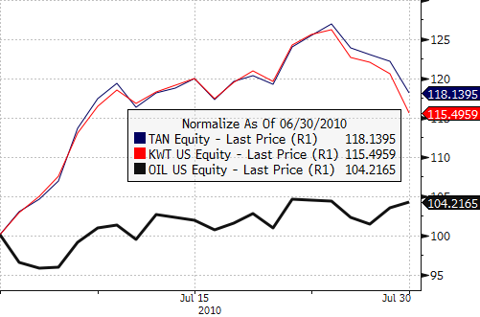 Unfortunately, that increase was short-lived. Earnings for First Solar (NASDAQ:FSLR) and MEMC (WFR) — two of both funds' main holdings — reported on Friday.
First Solar, the top holding for both TAN and KWT, beat its earnings expectations; that should have been good news, but instead, the stock dropped 7.42 percent on the day. Pricing pressures and reductions in governmental subsidies — particularly in solar power giant Germany, which cut solar power subsidies anywhere from 11 to 16 percent — were behind the bearish sentiment.
Meanwhile, chip-maker MEMC, the third-largest holding for KWT and 10th-largest for TAN, missed its estimate by 3 cents and fell a whopping 15.2 percent.
Wind

Last week held big news for US wind power companies too, as the American Wind Energy Association (AWEA) released its Mid-Year 2010 Market Report. Unfortunately, the news doesn't look so great.
AWEA reports that the US installed only 700 megawatts of new generating capacity in the second quarter of 2010. That means new capacity added during the first half of 2010 is 71 percent below where the industry was a year ago.
Slightly more troubling are construction projections for the rest of 2010 and beyond. For 2010, AWEA estimates that installations will likely be 25-45 percent below 2009 levels. Beyond that, here's what the report says:
There is a dramatic drop in the project development pipeline after the 5,500 MW under construction-that is, there is no demand beyond the present "coasting momentum." Without stable policy, without demand and new power purchase agreements and without new turbine orders, the industry is sputtering out.
The year-to-date performance of the two major wind ETFs suggests a similar sinking feeling; both funds are down over 27 percent on the year: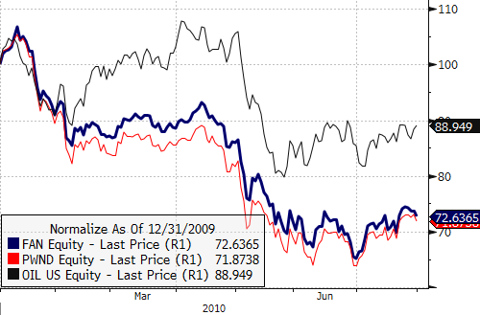 Of course, investors should remember that these ETFs are global, not US-based. Both ETFs are heavily skewed toward the the European Union and China, with US companies representing just 15 percent and 11 percent of FAN and PWND, respectively. It makes sense, considering that for wind, overseas is where the action is: Both the EU and China installed more megawatts worth of turbines than the US in 2009.
You can see the global effect in the funds' short-term rise: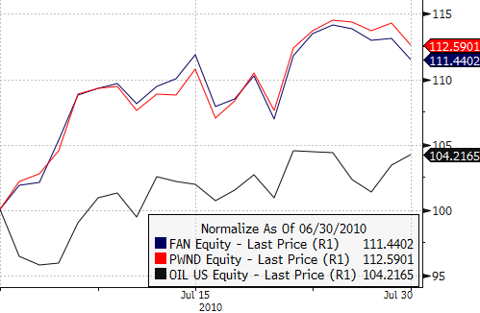 Both funds were up in July, but this rise is most likely due to bounce back in the euro, which was up over 6 percent in July alone.
Nuclear
When I last looked at nuclear in March ("How To Play Rising Uranium Demand"), PowerShares Global Nuclear Energy ETF (NYSEARCA:PKN) was the fund to beat. Not much has changed.
PKN is still the best performer compared with the Van Eck Market Vectors Nuclear ETF (NYSEARCA:NLR) and iShares S&P Global Nuclear Index Fund ETF (NASDAQ:NUCL). Of course, this time, rather than having the highest year-to-date gains, PKN is merely down the least: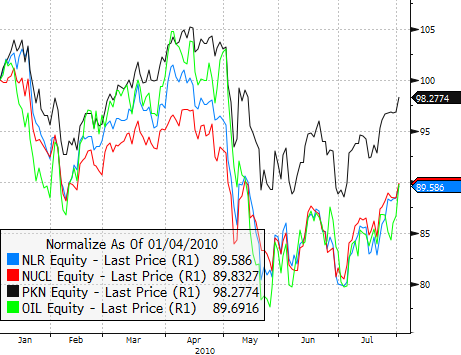 But like solar and wind, nuclear had a relatively good July, with all three finishing the month up slightly over OIL: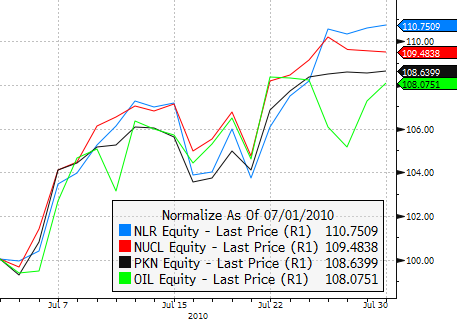 So, compared to solar and wind, nuclear's a relative bright spot in the alt-energy space. And it's all because of China.
China is now apparently the world's largest energy consumer, a dubious title it took from the US just last week. As Lara Crigger mentioned in last week's podcast, China has 24 nuclear facilities currently under construction, with more to come. The World Nuclear Association predicts that China will reach 200 nuclear reactors by 2030 — up from just 11 at the moment. That's a lot of construction coming down the pipeline.
The BP Effect
As we get some distance from the initial Deepwater Horizon disaster and begin to suss out what the BP (NYSE:BP) oil spill will mean for the oil industry in the coming years, we can start to ask: How will the spill impact alternative energy?
Right after the spill, it would have been easy to say that alternative energy sources such as wind, solar and nuclear would benefit from the backlash, but 3 1/2 months out, it still hasn't happened.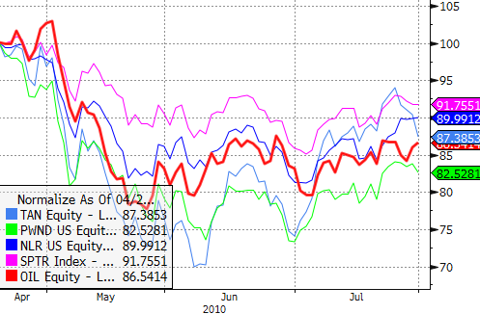 In fact, year-to-date, none of the big alternative energy ETFs, not even the nuclear ones, has bested the S&P 500, which is down 8.65 percent since the disaster. However, two funds, the nuclear NLR and solar TAN, did manage to beat OIL, which is down 13.35 percent since April 22. Moral of the story: Sometimes losing the least makes you a winner.
Still, don't count out alternative energy yet — there are still rumblings in the market that alt energy may yet come out ahead because of the BP disaster. Offshore drilling expenses are expected to rise due to increased liability risk and possible additional safety requirements. But soon, more than half of global oil supplies will come from offshore drilling (according to IEA estimates). Together, that means oil may get more expensive — and as we know, high oil prices tend to favor investment in alternative energy.
Disclosure: No positions