If you've been watching the market over the last couple of weeks, you can see that investors are clearly less than amused with high multiple momentum stocks. As I've pointed out in a couple of my recent articles, high flyers like Amazon (NASDAQ:AMZN) and Netflix (NASDAQ:NFLX), amongst others, have been clipped as money moves from momentum stocks to value stocks.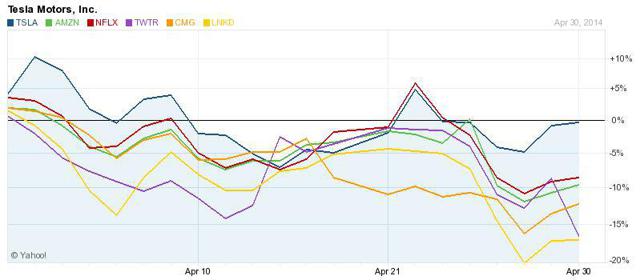 As you can see from the above chart, the high flyers find themselves anywhere from 8% to 17% off for the last month. Tesla (NASDAQ:TSLA), on the other hand, seems to be weathering the storm just fine.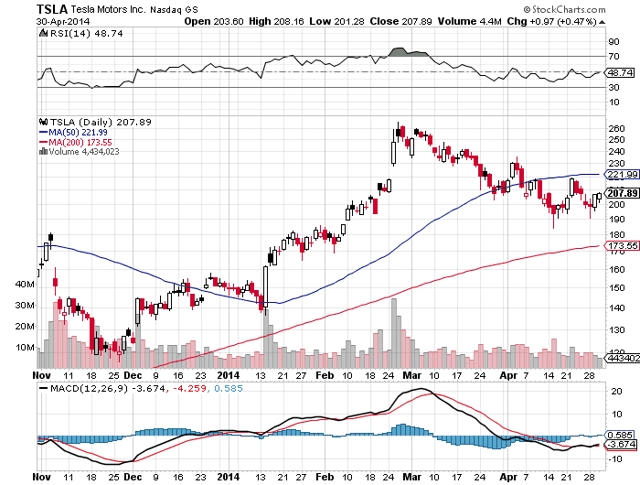 Tesla remains in the small dip that it's been in since peaking at its highs near $260 in late February of this year. Since then, I've written several times that this could be a great dip to buy on for those looking to get into Tesla - which hasn't seen too many pullbacks since its IPO. This dip represents one of the larger periods of the time the stock has churned without moving up with some authority.
The technicals for the company's uptrend continue to be intact, and it seems like the stock has some serious support around the $200 level. Is it possible that the market is starting not to see Tesla as a momentum stock? More on this in a bit.
But first, what's new in the world of Tesla? We have earnings coming up one week from today, exactly.
Here's what analysts are going to be expecting heading into Tesla's earnings on May 7th:

As is generally the story with Tesla, the earnings themselves are likely not so much to going to be about the numbers, rather - the speculative commentary made by management about future endeavors. Investors will probably be looking to see how initial reaction to sales in China have gone, as well.
In keeping with my assertion that the FTC is deeply rooted in common sense, they also seem to side with Tesla on the direct sale issue. Seeking Alpha reported last week:
Tesla Motors (TSLA -0.1%) appears to have a friend in the Federal Trade Commission on the issue of the direct sale of automobiles to buyers.
In a blog post on the FTC website, the agency says it's "bad policy" for consumers accustomed to using the Internet to compare and shop be forced into the dealership network.
The automaker has run into some roadblocks in several states where powerful dealership associations have been hard to brush aside.
This is no doubt a small victory for the company, and for those of us that consider ourselves defenders of common sense, in general. I had argued several times over in previous articles that the direct selling ban imposed by some states, namely New Jersey, was ridiculous politics.
Additionally, work continues on Tesla's Gigafactory for lithium ion battery production. In the vein of creating redundancy, like a corporation setting up a server network, Elon Musk has chosen to move forward in two separate states - all the way to breaking ground - before choosing one and moving forward. This, he said in an Albequerque Journal article, to assure that it gets done in a timely fashion:
Two months ago, Tesla Motors announced four states were still in the running for its new $5 billion battery factory that would employ up to 6,500 workers - Arizona, Nevada, New Mexico and Texas.

The company wants to begin building by the end of this year, and it was expected it would soon announce the actual site to get the plant.

Instead, "What we're going to do is move forward with more than one state, at least two, all the way to breaking ground, just in case there's last-minute issues," Tesla Motors Inc. CEO Elon Musk told Bloomberg earlier this week. "The No. 1 thing is we want to minimize the risk timing for the gigafactory to get up and running."
The company is likely to expand on this commentary during its earnings call coming up next week. For now, though, Tesla seems to be weathering a bit of the "momentum" storm.
The reasoning for this, I'd argue, is that out of all of the momentum stocks with their wicked valuations, Tesla could be the only one that investors may actually consider as reachable in the near future. Trading at a massive forward multiple is a tough thing to do - people expect quarter after quarter of aggressive progress every quarter. Investors expect all goals that the company set out for to be met and exceeded. Stocks like Facebook (NASDAQ:FB) and Pandora (NYSE:P) met their quarterly estimates, but alluded to less than hyper-aggressive growth in their guidance. That was enough to throw a wrench in the gears and promptly curb the stock price for each of these companies.
The fact of the matter is that whatever goals Musk has set out to hit as a company thus far, he's exceeded. Tesla investors see this, and they're clearly alright continuing to pay the high multiple price for the company's stock. Otherwise, why wouldn't Tesla pull back with the rest of the momentum lot?
Lest we forget, the Model S - the company's nascent foray into the vehicle industry, has turned out to be one of the most critically acclaimed vehicles in the history of the industry. So, forgive me when I once again suggest that Tesla has the goods to not only support its valuation, but potentially rewrite the auto industry standards in the process.
As long as the company can continue with its best foot forward, as it's done, I don't believe the stock is going to give way anytime soon. TSLA has shown its strength as a stock that people feel they have priced fairly. TSLA has weathered the storm for now, and time will tell the tale on how the company will fare going forward.
Best of luck to all investors.
Disclosure: I am long FB. I wrote this article myself, and it expresses my own opinions. I am not receiving compensation for it (other than from Seeking Alpha). I have no business relationship with any company whose stock is mentioned in this article.