By Jared Cummans
Recent years have seen a tremendous expansion of the ETF universe, in terms of both the number of products and total assets. Though the majority of ETF assets are still in domestic equity funds, the bulk of the innovation has taken place in other corners of the market; options for fixed income and commodity exposure have multiplied, and the level of granularity available through international equity products has been enhanced considerably.
But the last few years have also witnessed a significant increase in options for less 'sexy' components of the portfolio. A number of relatively new products offer unique spins on domestic equity exposure, ranging from products that implement alternative weighting strategies to those that utilize screening methodologies to identify components of larger equity universes expected to outperform their peers.
FaithShares Method
Oklahoma City-based FaithShares offers a suite of products that take a unique approach to domestic equity exposure. Starting with the 400 largest U.S. equities, Faith Shares first filters out any companies that do not meet the investing requirements of certain religious affiliations, such as stocks with ties to tobacco, alcohol, or gambling (among many others). The methodology also ranks companies by environmental, social, and overall governance factors to come up with a "faith-based" basket of stocks.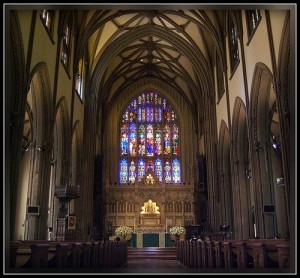 The FaithShares products have obvious appeal to investors with the desire to avoid exposure to significant "sin stocks," but these funds aren't necessarily just for regular churchgoers. Some investors have the misconception that faith-based investment vehicles consist exclusively of Christian book stores and Bible publishers. In reality, these funds are defined more by what they exclude than what they include. These funds have significant overlap with more traditional domestic equity indexes like the S&P 500 or Russell 1000; household names such as Intel, McDonald's, Microsoft, and Coca Cola are among the holdings.
Some are surprised to see that there are multiple faith-based ETFs, each tailoring its holdings to a different religious denomination. While the holdings of these ETFs are similar, there are some very significant differences as well [see page 10 of this PDF for a matrix detailing the nuances].
FaithShares Baptist Values Fund (NASDAQ:FZB)
FZB tracks the FaithShares Baptist Values Index, an index is designed to measure the performance of U.S. large capitalization companies that are in accordance with the guidelines for social screening recommended by various Baptist denominations. The Baptist Values Index has a zero tolerance policy for companies involved in gambling, tobacco, alcohol, pornography, and/or abortion.
FaithShares Catholic Values ETF (NASDAQ:FCV)
FCV follows the FaithShares Catholic Values Index, which is designed to measure the performance of U.S. large capitalization companies that operate in accordance with the U.S. Conference of Catholic Bishops' Socially Responsible Investment Guidelines. Companies considered for inclusion in FCV are evaluated based on their Catholic Values, which cover the following areas: respecting human life; promoting human dignity; reducing arms production; pursuing economic justice; protecting the environment; and encouraging corporate responsibility.
The Catholic Values fund is the only fund in the FaithShares lineup to exclude firms with operations related to contraceptives. Also noteworthy: it avoids stocks with interests in stem cells and makes a case-by-case analysis on nuclear power companies.
FaithShares Christian Values ETF (NASDAQ:FOC)
FOC measures the FaithShares Christian Values Index, a benchmark designed to measure the performance of U.S. large capitalization companies screened based on a composite of the guidelines of various Christian denominations. The CHV Index excludes companies involved in gambling, anti-personnel landmines, tobacco, alcohol, pornography, abortion, and/or stem cells. Interestingly enough, it has no restrictions on contraceptives, firearms, or weapons manufacturers, and is just fine with nuclear power as well.
FaithShares Lutheran Values Fund (NYSE:FKL)
FKL tracks the FaithShares Lutheran Values Index, which measures the performance of large cap companies that operate in accordance with the guidelines for social investing and shareholder advocacy recommended by various Lutheran denominations. The Lutheran Values Index avoids companies involved in certain harmful products and services, nuclear military weaponry, and hazardous environmental impact. The Lutheran Values Index also focuses on the environment, choosing companies that demonstrate respect to the world around them.
The Lutheran Values Fund is perhaps the least restrictive of the group; gambling, pornography, and tobacco are off limits, and alcohol firms are examined on a case-by-case basis. But there are no restrictions on stocks with operations related to abortion, contraception, firearms, or stem cell research.
FaithShares Methodist Values ETF (NYSE:FMV)
FMV seeks to replicate the performance of the FaithShares Methodist Values Index, which is constructed in accordance with the investment philosophy of the United Methodist Church. Companies considered for inclusion in the Index are evaluated based on several areas, including respect for the natural world, the social and economic communities, and the political community.
The Methodist Values Fund takes a unique approach to cutting down the acceptable universe. The presence of a specific business activity won't necessary eliminate a company; the firm must derive significant revenues from one of the prohibited areas–alcohol, firearms, gambling, weapons, pornography, and tobacco–to be excluded.
Dow Jones Islamic Market International Index Fund (JVS)
This ETF isn't a FaithShares fund; it's offered by Javelin, a Princeton, New Jersey based ETF issuer which was founded in 2008. JVS follows the Dow Jones Islamic Market International Titans 100 Index, an index that consists solely of common stocks that meet Islamic principles. Certain businesses are incompatible with Shari'ah laws, and stocks of companies whose primary businesses are in these areas are excluded. These businesses include alcohol, conventional financial services, casinos and gambling, pornography, tobacco manufacturers, pork related products and weapons companies.
The biggest of these exclusions is the ban on finance firms; JVS essentially operates as a global equity fund that has no finance exposure.
Disclosure: No positions at time of writing.
Disclaimer: ETF Database is not an investment advisor, and any content published by ETF Database does not constitute individual investment advice. The opinions offered herein are not personalized recommendations to buy, sell or hold securities. From time to time, issuers of exchange-traded products mentioned herein may place paid advertisements with ETF Database. All content on ETF Database is produced independently of any advertising relationships. Read the full disclaimer here.