Richard Smith, at Naked Capitalism, has observed:
"I'm not sure why people say there isn't a CRE crash. It's just happening in slow motion, so far."
Realpoint has issued a report reviewing the status of CMBS (commercial mortgage backed securities). The following graph shows the steady degradation of performance for those securities over the past year, demonstrating Smith's point.
click to enlarge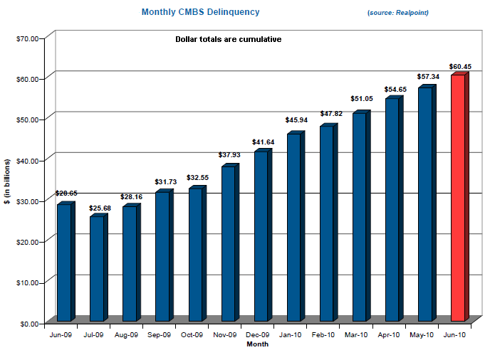 According to Realpoint, 7.7% of the $784.9 in CMBS were delinquent as of June. They project that this could lead to 11-12% delinquency by the end of the year under "more heavily stressed" scenarios.
The February Oversight Report (.pdf) of the COP (Congressional Oversight Panel) chaired by Elizabeth Warren concentrated on the state of CRE (Commercial Real Estate). The following graph from that report shows one major source of problems for today's CMBS. According to Realpoint, 81% of all CMBS delinquencies come from the years 2005-2007. Over those three years nearly 80% of CMBS were interest only or partial interest only. Is this similarity a coincidence? I think not. Although not all delinquencies may result from these creative financing deals, it has to be more than pure coincidence that both of these two 80% metrics occur for the same problem 3 years.
In our review of the COP report in February we wrote:
The amazing laxity in underwriting from 2004 through 2007 did drop in 2008, but only to a level above 2003 and much higher than years before that. In 2009 the graph implies that lenders were going back into lax bubble standards. Part of the 2009 number may result from an effort to renew or rollover debt coming due for principal payments that had been issued as interest only initially and were continued in that status.
The COP report estimated that CRE had declined in value about 40% from the peak in 2007. Realpoint reports that the loss severity across all defaulted loans was 52% in the first quarter and 49% for the second quarter. Investors are losing more than just the average decline in real estate value for two reasons:
1. Loan default probability increases as real estate values decline and there will be far fewer defaults for properties close to the original value than for those that have lost a lot.
2. There will be "frictional" losses because of fees.
With regard to the first point, Realpoint provides the following data for losses on liquidated loans in 2010:

It appears that healthcare real estate loans are in much better shape than other categories. Multifamily has the largest percentage loss; Office real estate has the largest dollar amount of loss.
But CMBS is only part of the problem. Actually individual loans (unsecuritized) from banks are more than double the loans in CMBS. From my February article:
Commercial banks issued about 45% of he CRE loans (about $1.5 trillion). Asset backed securities are the next largest holder of these loans at 21%. The remaining third are spread out among insurance companies, savings institutions, GSEs (government sponsored enterprises), governments directly, agency and GSE backed mortgage pools and a small amount labeled "all other.
The COP estimated that nearly 3,000 banks were in trouble (as of year-end 2009) because of CRE loan exposures. This compares to a number around 1,900 identified by bank analyst Chris Whalen in June, 2009. In contrast, there are 792 banks on the unofficial problem bank list today (compiled from publicly available records and identified by name), 775 banks on the FDIC watch list (presumably strong overlap with the Calculated Risk 796, but not verifiable because the FDIC does not list names) and 272 banks already failed (FDIC records) in this crisis. Of course the banks still have residential mortgage exposures in addition to CRE loans. Unrecognized losses there are probably still greater than for CRE loans. It is no wonder that MyBudget360.com has projected approximately 1,000 FDIC bank failures for this economic cycle. Unless the strength of this recovery improves, that number could be on the low side.
Yves Smith, Naked Capitalism, wrote today:
It wasn't all that long ago that the media and banking industry commentators would worry about the coming train wreck in commercial real estate. But peculiarly, that topic has more or less receded from view. It appears the public has only so much interest in banking stories, and the frenzied coverage of financial services non-reform plus eurozone sovereign debt woes, which are really eurozone bank woes, took center stage.
With the steady advance of CRE loan problems added to the continuing burden of an unresolved mortgage loan problem, attention may return to the severe burden on banks that has been highlighted by Warren's COP and Chris Whalen. Banks have been reporting healthy profits the past two quarters by reducing bad loan reserves. This is a questionable activity when the size of loan losses seems to still be increasing.
This story seems to be centered on optimism of economic recovery being curative for bad loans vs. bad debts that are still mounting in value. Richard Smith may prove prescient - this may be crash in slow motion.
Disclosure: No positions.