Royal Dutch Shell PLC (NYSE:RDS.A) or (NYSE:RDS.B) is an integrated energy company with both upstream and downstream operations. It produces the equivalent of 3 million of barrels of oil per day, which makes it one of the top producers. Last year, I wrote the articles 6 Reasons Why You Should Consider Royal Dutch Shell With A 5.5% Yield and Time To Pick Up Oil Majors. Since both articles, the stock has outperformed in a meaningful way, it's time to revisit these articles. Are the previously identified 6 reasons to consider RDS still valid?
Click to enlarge
RDS.A Total Return Price data by YCharts
1. RDS attractive dividend yield
Right now, RDS yields about 4.7% annually. This is paid out in a quarterly dividend. Returning capital to shareholders is high on the list of priorities of management, which is always a good thing. I still think the recent ~70% payout ratio, indicating a willingness to return a lot of capital to shareholders, is an attractive feature of RDS.
2. RDS is in great financial shape
Last year, I wrote:
Royal Dutch has a strong cash flow and more projects coming online. The company can afford substantial capital expenditures to get more projects online even in tough to drill regions.
At the time, the company was producing ~$8 billion in FCF. Right now, its FCF is close to 0. However, the company is still in solid financial shape. Capex is huge right now, but with operating cash flow of $40 billion matching the company's debt, the company is still in sound financial shape
3. RDS projects
Shell still has a well-diversified portfolio of projects, both upstream and downstream projects as well as projects in stable markets and politically more fragile markets. Although it is well-diversified, this is perhaps not optimal from a return on capital perspective. The new CEO is cleaning out the closet and selling assets that management expects will not meet the ROIC requirements they are looking for, given the environment. In his excellent February 24 article, fellow contributor Pim van Keulen details the shift in strategy by van Beurden.
4. Proven Reserves
Shell has 11+ years of proven reserves left. Its reserves are still in the neighborhood of ~14 billion boe. This is a substantial amount, and although one of the great challenges of oil majors is to keep their reserves adequate, Shell managed to do this effectively over the last few years. Unfortunately, the firm struggles to achieve ROIC equal to those achieved by Exxon Mobile (NYSE:XOM) or Chevron (NYSE:CVX).
5. Margins
Last year, I noticed a slight improvement in margins, but nothing major. This remains a problem today. Given the strong performance of the stock since my last article, it looks like the market is buying into van Beurden's strategic moves so far.
6. Valuation
Last year, RDS was noticeably cheaper than its big oil competitors Exxon and Chevron. Only BP, plagued by trouble, was cheaper. At the time, I wrote:
In my opinion the company is attractively valued with price/tangible book value of 1.2 and a P/E ratio slightly below competitors Exxon and Chevron at 8.5. When we look at Enterprise Value/Free cash flow, Royal Dutch is slightly more expensive than Exxon, but way ahead of Chevron.
I've included charts on Tangible Price/Book and EV/EBITDA to show you how things have changed. Keep in mind that Exxon and Chevron have a much more attractive history of capital allocation.
This time, I've compared the companies on Enterprise Value/EBITDA, because RDS has virtually no FCF at this time.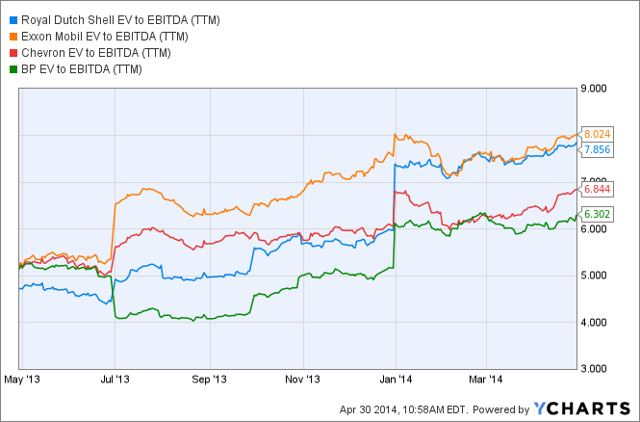 Click to enlarge
RDS.A EV to EBITDA (TTM) data by YCharts
On Tangible Price/Book value, Royal Dutch Shell is more attractive than these three competing oil majors. Last year, it traded at a very modest level of 1.2. In ancient history, the company has traded at much richer multiples to tangible book, but I wouldn't rely on lofty past valuations to determine intrinsic value.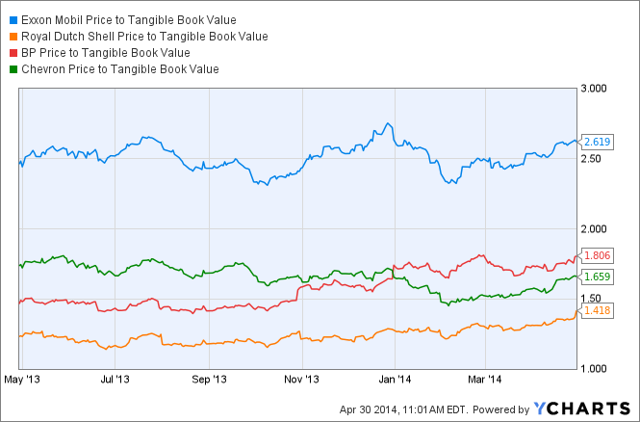 Click to enlarge
XOM Price to Tangible Book Value data by YCharts
When compared on PE ratio, the company is no longer trading slightly behind competitors Exxon and Chevron, but leading the pack with a P/E ratio of 15+.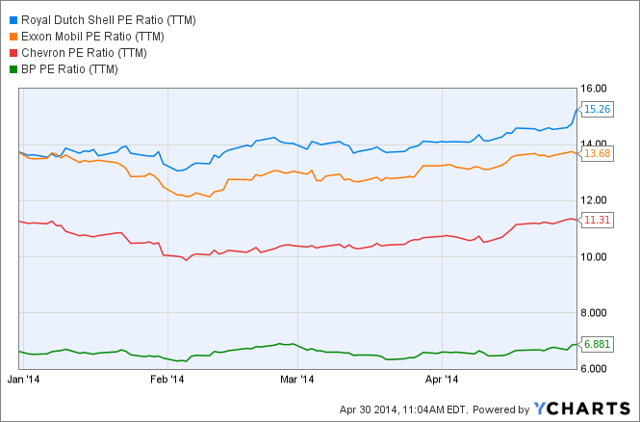 Click to enlarge
RDS.A PE Ratio (TTM) data by YCharts
To put these valuations in perspective, I think it's important to evaluate the track record of capital allocation by management.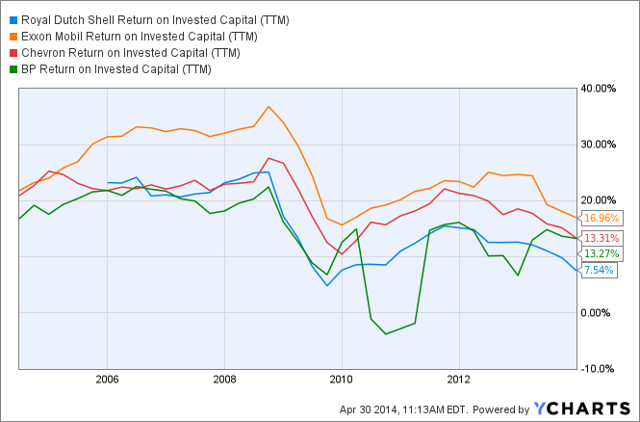 Click to enlarge
RDS.A Return on Invested Capital (TTM) data by YCharts
Unfortunately, management at the U.S. companies have a much better track record over the past 10 years of achieving solid ROIC. I can't explain why this appears to be a consistent pattern, but if this gap in efficiency isn't closed, RDS should be valued slightly below its US competitors. For the record, I like Exxon as well and wrote 6 Reasons Exxon Mobil Is Currently A Buy on June 11.
Conclusion
The oil majors are faced with the challenge of keeping reserves up in a world that is running out of easy oil, and where alternative energy sources are starting to materialize. Shell has been a little too eager getting involved in ventures that turned out to underperform in terms of value creation for shareholders. The new CEO implemented a new strategy, and the stock price has surged anticipating changes for the better.
Last year, the valuations of oil majors and other energy companies were modest enough that they could be considered sound bets to show a small outperformance over the market. Possibly with less volatility and while paying out steady dividends.
The recent surge, after a positive earnings surprise and on hopes that the new CEO will improve long-term ROIC, creates a good opportunity to cut back or exit. At this time, there are many stocks with a better chance of outperformance.
Disclosure: I have no positions in any stocks mentioned, and no plans to initiate any positions within the next 72 hours. I wrote this article myself, and it expresses my own opinions. I am not receiving compensation for it (other than from Seeking Alpha). I have no business relationship with any company whose stock is mentioned in this article.