Aceto Corporation (NASDAQ:ACET) is an international marketing, sales and distribution of products for 3 business segments: Human Health, Pharmaceutical Ingredients and Performance Chemicals. It has business operations in nine countries. (source: Aceto.com)
Aceto is a small cap stock with a current market cap of about $635 million. Shares have risen significantly in 2013 but pulled back nicely in early 2014 to allow myself and other investors to get in. Earnings continue to see growth and the company is focused on growing the business. Second quarter fiscal 2014 saw increases across the board compared to previous year:
| | | | |
| --- | --- | --- | --- |
| | Q2 FY 2013 | Q2 FY 2014 | Difference |
| Operating Income | 6.6M | 10.7M | Up 62.5% |
| Net Income | 4.5M | 6.8M | Up 49.7% |
| Net Sales | 114.0M | 116.5M | Up 2.2% |
| Gross Profit | 20.7M | 27M | Up 30.3% |
| EPS | $0.17 | $0.24 | Up 41.2% |
Below are additional reasons to consider investing in ACET:
Aceto acquired 100% of PACK Pharmaceuticals, LLC ("PACK"), a national marketer and distributor of generic prescription and over-the-counter pharmaceutical products. This will allow Aceto to expand further into the finished dosage business in collaboration with Rising which was acquired in 2011. The growth has positively impacted the Human Health segment which used to account for 14% of the gross profit in 2010 and now accounts for 40% of total gross profit.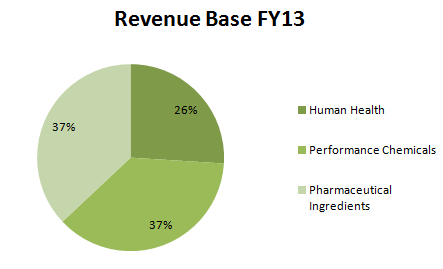 Aceto continues to pay a steady dividend with no interruptions since the 2008/2009 correction. In fact, Aceto has a track record of 47 consecutive years of dividend payments.
Low debt of 7.5% compared to industry average of 69%.
Price to sales ratio is a 1.21.
ROE, ROA, and ROI are all above 10% (TTM). ROS is at 6%.
Technically, the stock has been in an uptrend since early 2012. The 50-day weekly moving average has acted as a strong support. I would use that line to strategically place buy orders as long as the story remains intact. The RSI has been in the buy zone for the same period.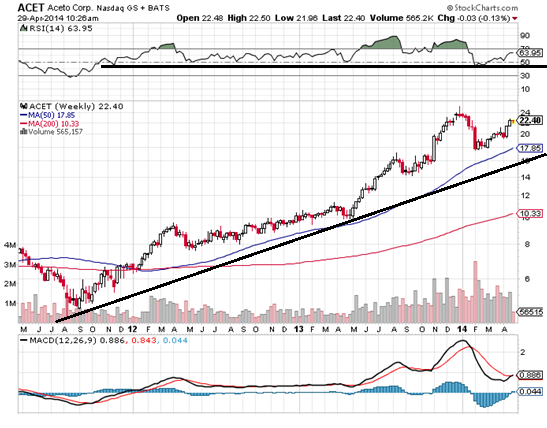 Aceto is set to join the S&P SmallCap 600 as of 4/30 close and replace PolyOne (NYSE:POL); which in turn is moving to the S&P MidCap 400.
At the moment, earnings are projected to grow to $1.17 by 6/30/14 and $1.32 by 6/30/15.
Main Concerns
2012 and 2013 were spectacular years for Aceto. Shares climbed from almost $7 in early 2012 to around $24 by December of 2014. Shares did pull back to $17 but have now climbed back to just above $22. As an investor I would be weary in investing a full position at these levels.
Quarterly estimates have been guided down indicating there seems to be some consensus on a little pullback. I would initially also expect some fees and expenses related to the merger; however the deal will add to earnings in the first year and should be increasingly accretive afterwards. Additionally, management expects the PACK acquisition transaction, including deal-related expenses, to be approximately $0.08 per share dilutive to fiscal 2014 earnings, slightly accretive to the fiscal 2015 earnings, beginning in Q2, and increasingly accretive in years after that.
Aceto management is hosting a conference call, which will be made available from May 1 to May 8, to discuss the transaction details at 8:30 am EST on May 1, 2014.
I would also keep an eye out for segment pullbacks. The Performance Chemicals segment recently reported an 11.5% decline in sales and a 2.3% decline in gross profit. The Pharmaceutical Ingredient segment saw a 5.8% decline but still manages a gross profit increase due to increased re-orders. This is also something to keep an eye out for on the next earnings date for more detail.
Conclusion
Aceto is in a good position to continue growing globally. The healthcare industry is showing excellent signs of growth and Aceto's strategic acquisition and anticipated synergies between Pack and Rising should fuel further growth. No acquisition/merger comes without challenges. Investors need to stay tuned for details and updates from Aceto's management. While gross profit has continued to rise, there is some slow down in the segments which I will personally be tracking slowly. These metrics should guide further investment decisions.
Investors should scale in since the market is showing recent strong volatility and it seems like a correction might be brewing. However, my view on the market is medium-term bullish with market/industry indicators pointing to further growth.
Disclosure: I am long ACET. I wrote this article myself, and it expresses my own opinions. I am not receiving compensation for it (other than from Seeking Alpha). I have no business relationship with any company whose stock is mentioned in this article.