The 25 day SEC-enforced quiet period on underwriter research on Paycom Software Inc. (NYSE:PAYC) that began with the firm's April 14 IPO will come to an end on May 9. The IPO underwriters will be permitted to release detailed research reports on the provider of cloud-based human capital management and payroll software with the conclusion of the quiet period, likely leading to at least a brief rise in the price of PAYC shares.
PAYC's disappointing IPO priced at $15 per share, falling well short of the expected price range of $18-$20 per share. The stock has been stagnant ever since, hovering between $15 and $16 per share; PAYC closed at $15.41 per share on April 30.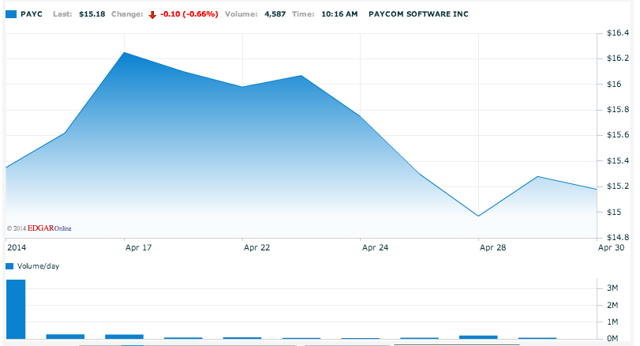 Click to enlarge
PAYC's underwriters, including Barclays Capital Inc., JP Morgan Securities LLC, Canaccord Genuity Inc., Pacific Crest Securities LLC, and Stifel Nicolaus & Company Incorporated, may attempt to inject life into the stock with an infusion of positive reports on PAYC beginning on the ninth.
Relation Between Reputation, Quantity of Underwriters and Share Price at Quiet Period Expiration
The results of both recent academic studies and our own research over the past two years have led to empirical evidence of a correlation between the reputation and quantity of IPO underwriters and an increase in share prices at the end of the quiet period.
Prices will typically begin to increase a few days before the quiet period expiration. Seasoned investors realize that the underwriters will only release positive reports on a recently-underwritten firm, and purchase shares early in order to capitalize on the release of the reports.
These early buys generate a perception of increased demand, causing a rise in share prices before the quiet period has actually expired.
Overview of Paycom's Offerings
PAYC offers a cloud-based human capital management software solution in an SaaS format, providing clients with resources and analytics to manage functions ranging from talent acquisition and payroll to human resources and time and labor management.
The firm believes that the limited customization required to use its core system and the user-friendly software it provides allow its solution to be easier to adopt and more cost efficient than other solutions, such as legacy on-premise products or combinations of other service providers.
PAYC faces numerous competitors offering some or all of the products rolled into PAYC's comprehensive solution, many of which have access to far greater financial resources than PAYC. Major competitors include Cornerstone OnDemand Inc (NASDAQ:CSOD), Oracle Corporation (NASDAQ:ORCL), SAP AG (NYSE:SAP), Workday Inc (NYSE:WDAY), Ceridian Corporation, Automatic Data Processing Inc (NASDAQ:ADP), Paychex Inc (NASDAQ:PAYX), and The Ultimate Software Group Inc (NASDAQ:ULTI).
Dedicated Management
Chad Richison founded PAYC in 1998, and has served as President, CEO and a director ever since. He previously worked in sales for Automatic Data Processing Inc. and Payroll 1.
Mr. Richison holds a B.A. in Mass Communications-Journalism from the University of Central Oklahoma.
Expiration of Quiet Period Could Pay Off For Paycom
Solutions like PAYC's certainly are a part of the future of human resources, but the firm faces heavy hitting competitors. Automatic Data Processing in particular is far better established and capitalized than PAYC, and competes with PAYC directly.
However, it should be noted that PAYC has seen growing profits over the past few years, posting a net income of $7.7 million for the year ended December 31, 2013.
We recommend aggressive investors consider betting on a possible surge in price for PAYC at its quiet period expiration.
We invite readers wishing to read and join the discussion about IPO quiet period expirations to click the +FOLLOW button above the title of this article.
Disclosure: I have no positions in any stocks mentioned, and no plans to initiate any positions within the next 72 hours. I wrote this article myself, and it expresses my own opinions. I am not receiving compensation for it (other than from Seeking Alpha). I have no business relationship with any company whose stock is mentioned in this article.