Tesla Motors (NASDAQ:TSLA) announced it was entering into an agreement with Alibaba, China's e-commerce site, to help promote Tesla ownership in the country.
With the vast sums of manufacturing money beginning to filter through the Chinese economy and increasing concerns over pollution, Tesla senses a growing market emerging for its electric Model S vehicle.
Tapping the Chinese Market
The boom in the Chinese economy has allowed more individuals to own cars than ever before. The recent slowdown in the country's manufacturing sector has slowed auto sales to some degree, but many experts feel that those living in coastal and rural areas are an untapped market.
With plans to build manufacturing plants in China, Tesla is joining a number of other American vehicle manufacturers, such as Ford (NYSE:F) and Chrysler. With growing concerns about pollution in China, Tesla feels its electric cars will enjoy increased demand.
The Alibaba Advantage
Alibaba is China's primary e-commerce site. It was founded in 1999 by Internet entrepreneur Jack Ma, who chose the name "Alibaba" because it was a word that seemed to be recognized by people in all walks of life, all over the world.
Originally a business-to-business site to connect businesses with the parts and services they need, the site quickly added a consumer-to-consumer site, cloud computing site, and payment escrow service called "Alipay." Together, these companies comprised the Alibaba Group. In 2012, Alibaba handled about $170 billion in sales through its various sites. Alibaba plans to launch its New York IPO in the coming months, which could be the largest tech stock offering in history.
In the partnership with Alibaba, Tesla expects to be able to allow customers to make payments through the site.
The Tariff Issue
Tesla made the move to partner with Alibaba to counteract some of the disadvantageous tariff policies put in place by the Chinese government. The cost of a Tesla in the United States is about $71,000. However, the added tariff for bringing the automobile into the country adds another 25 percent to the price, driving it to $118,000.
Tesla's Manufacturing Plans
Having a manufacturing plant in China would help to avoid these additional costs and would allow the company to get a greater foothold in the market. Elon Monk, Tesla's CEO, states that the company will be gearing up for manufacturing in China over the next three to four years.
He voiced an intention to invest heavily in building charging stations in the country to serve the growing customer base for the vehicle.
Outlook Enchanting For Tesla Investors in 2014
With aggressive moves such as this, Tesla seems determined to position itself for lucrative future prospects. Under Elon Musk's leadership, the company can be expected to accomplish its goals for entering the Chinese market successfully, if not on the projected time schedule.
The slowdown in Chinese manufacturing may have some effect on Tesla's ability to both produce and sell the number of cars it projects to make the investment viable. In addition, competitors such as Nissan (OTCPK:NSANY) could dilute Tesla's competitive edge.
Given Tesla's very strong market performance in 2014 (see below, as compared with domestic competitors), and the likely very large demand for energy-efficient, carbon-reduction solutions throughout Chinese cities, we continue to rate TSLA a Buy in 2014.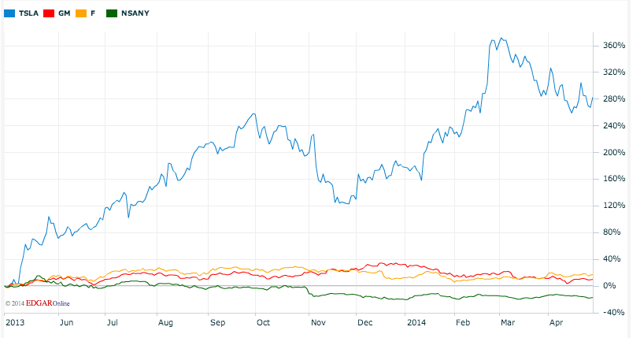 Click to enlarge
(Nasdaq.com)
We invite readers wishing to read and join the discussion about Tesla to click the +FOLLOW button above the title of this article.
Disclosure: I have no positions in any stocks mentioned, and no plans to initiate any positions within the next 72 hours. I wrote this article myself, and it expresses my own opinions. I am not receiving compensation for it (other than from Seeking Alpha). I have no business relationship with any company whose stock is mentioned in this article.