Asia seems to have recovered from the global financial crisis well, and Hong Kong is no exception. Its ETF has held up nicely, but remains off its pre-crisis highs and has leveled off in recent months. Whether Hong Kong can continue to grow remains to be seen.
Sophie Leung of Bloomberg reports that Hong Kong's exports rose 26.7% from June of last year, trumping the median estimate of 22.8%. This comes on the back of a 24.4% gain in May.
For June, shipments came in at $34.4 billion, showing that countries in Asia are experiencing a robust recovery. Shipments to Asia grew 27.4% from a year earlier.

Some think, however, that growth will be moderated as European governments try to reduce their debt. In addition, "the gradual end of post-crisis restocking by businesses," as well as monetary tightening in countries such as India and Brazil may dampen growth.

Along with growing exports, a recent sale of a rare luxury residential site in Hong Kong has also reflected a robust economy. According to Joyce Li of The Wall Street Journal, the site- located in Hong Kong's upmarket Peak district- was sold at a government auction for $1.34 billion.
The auction marked the fourth in the fiscal year ending March 2011. Last month, a site at Ho Man Tin was sold for HK$10.9.
Analysts expect the real estate sector to remain robust through mid-2011, "supported by a slew of government land auctions and strong demand for new property launches."

On the tourism frontier, Hong Kong remains a big attraction to foreigners and mainlanders. But a recent video of a tour guide aggressively imploring her clients to buy more merchandise has not helped the industry, reports Sonya Bryskine of the Epoch Times.
If the matter isn't contained, tourists may end up at other destinations such as Taiwan and Australia.

iShares MSCI Hong Kong Index Fund (NYSEARCA:EWH)
click to enlarge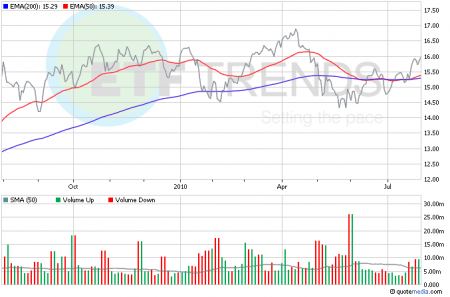 Sumin Kim contributed to this article.
Disclosure: None