The Coca-Cola company (NYSE:KO) is the world's largest beverage company, refreshing consumers with more than 500 sparkling and still brands. The company has grown geographically since its founding 127 years ago and now operates in more than 200 countries.
Its best known brand is of course Coca-Cola but it also sells large brands such as Sprite, Fanta, Powerade, Minute Maid juice and Dasani water.
The Fundamentals
The company has a solid market position with one of the world's most recognizable brands and has a long history of profitable expansion, both geographically and product-wise. It has always remained true to its core Coca-Cola drink but also expanded the brand with diet drinks and in the last couple of years with Coca-Cola Zero.
In addition it has created or acquired other soft drink brands and brands in other beverage categories such as water, juices, energy drinks and sports drinks. As a result the company today is a very diversified branded beverage company.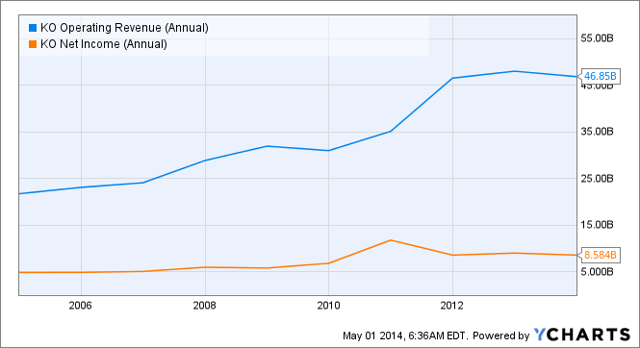 KO Operating Revenue (Annual) data by YCharts
As can be seen on the chart above, this expansionism has resulted in a healthy increase in revenues over the last ten years. However, net income doesn't seem to be following at the same pace, resulting in lower margins.
Since 2009 revenue has increased from $30,990 million to $46,854 in fiscal year 2013 -- a growth rate of 51%. Net income, by contrast, increased from $6,824 to $8,584 for a growth rate over the period of 25.8%.
Its latest numbers showed a global volume growth of 2% but with a reported net revenue decline of 4% and reported EPS down by 6%. Adjusting for currency issues improves the numbers but it nonetheless looks like the company continues to struggle a little bit with generating income growth.
In its outlook for the rest of 2014, the company estimates that currency exchange rates will cause a negative effect on operating income of about 7%. This negative impact will be mitigated to some extent on the EPS level because of the planned share repurchases of $2.5 - 3 billion during the year.
In the long-term, however, the company needs to be able to grow its bottom line and not just boosting EPS by share repurchases. And to achieve that, the company needs a good strategy. To that end, the company has come up with something it calls its 2020 Vision.
It consists of six Ps with the following goals:
Profit: More than double system revenue while increasing system margins
People: Be a great place to work
Portfolio: More than double servings to over 3 billion per day
Partners: Be the most preferred and trusted beverage partner
Planet: Global leadership in sustainable water use. Industry leadership in packaging, energy and climate protection
Productivity: Manage people, time and money for greatest effectiveness
I think there are a lot of ambitious goals in the 2020 Vision. That's a good thing as I believe it is absolutely necessary in such a global competitive environment in which the company operates. There is a lot of talk about revenue growth which is great. However, I would have liked if there had been a keener focus on expanding margins. After all, that is the main thing that has been lacking over the last couple of years, in my opinion.
At the end of the day, though, shareholders should do just fine if the company manages to realize its vision.
Risk Factors
One risk has already been touched upon, namely currency risk. As the company sells globally but reports in US dollars, depreciating foreign currencies will drag down its reported USD numbers. Over time, however, currencies tend to even out and as such is not a big risk for the long term. Macroeconomic risk factors are certainly a risk but it being a consumer staples company, the risk should be limited. Even in a severe recessionary environment, most people should be able to afford a can of Coca-Cola. The biggest risk is perhaps the increased health focus both in the developed and developing world. Sugary drinks are not as favored as they used to so it is important to come up with alternatives. Coca-Cola Zero is part of the answer but there is a risk of competitors coming up with alternatives that are more popular.
Valuation
Coca-Cola is not exactly a small, hidden company that nobody has heard about so its success is most likely already priced into the stock. But we need to take a look at its valuation, anyway.
| | | | |
| --- | --- | --- | --- |
| | Coca-Cola | PepsiCo | Dr. Pepper |
| Price/Sales | 3.9x | 2.0x | 1.9x |
| Price/Earnings | 21.7x | 19.4x | 16.6x |
| Yield | 2.8% | 2.6% | 2.8% |
Source: Morningstar.
Dr. Pepper Snapple Group (NYSE:DPS) is priced the lowest of the three on both Price/Sales and Price/Earnings. Coca-Cola and Dr. Pepper are priced even on the dividend yield while the former is the most expensive on Price/Sales and Price/Earnings. PepsiCo (NYSE:PEP) is the most expensive when measured by yield.
It should be remembered that Dr. Pepper is a lot smaller than the other two so the market might be pricing it somewhat lower in order to account for the risk of being smaller.
Coca-Cola is not cheap when compared to its competitors. The S&P 500 has a Price/Earnings ratio of 18.0x so it isn't cheap when compared to the overall market, either. I would say it should command a slight premium to the overall market given the company's defensive nature but it's hard to argue that it is particularly cheap.
The Dividend
Coca-Cola has been paying a quarterly dividend since 1920 so the company is fast approaching its first century of dividend payments. Not bad! Furthermore, the company has been increasing dividends every year for 51 years. The last dividend increase was from $0.28 per share to $0.305 per share, or an increase of 9%.
On a split-adjusted basis, the company's dividend per share has increased from $0.125 in 2004 to the current level of $0.305. That means the dividend is up 144% over the period for a compound annual growth rate of 9.4%.
The analyst community expects Coca-Cola to grow its EPS by an average of 6.7% annually over the next five years. If we combine that with its dividend yield of 2.8% and expect the multiple to stay the same we get an expected total shareholder return of 9.5% per year. That is approximately the long term expected return from the overall stock market. That's probably a little less than most dividend investors would want and slightly less than what is expected from Pepsi.
Conclusion
Coca-Cola is no doubt a great company with strong market position, a solid dividend and a reasonable growth rate. But the growth rate is probably not going to be high enough to provide investors with market-beating returns going forward. A long term dividend investor should therefore wait for a better entry point into this quality company.
Disclosure: I have no positions in any stocks mentioned, and no plans to initiate any positions within the next 72 hours. I wrote this article myself, and it expresses my own opinions. I am not receiving compensation for it (other than from Seeking Alpha). I have no business relationship with any company whose stock is mentioned in this article.