Known for its technological developments in solar manufacturing, GT Advanced Technologies (GTAT) is now breaking into mobile. Specializing in crystal growth technology and processing tools, GTAT will manufacture sapphire glass for Apple's (NASDAQ:AAPL) next, iPhone 6. Apple's future sales will be crucial in determining sapphire, and GTAT's, future.
Sapphire Glass Gaining Popularity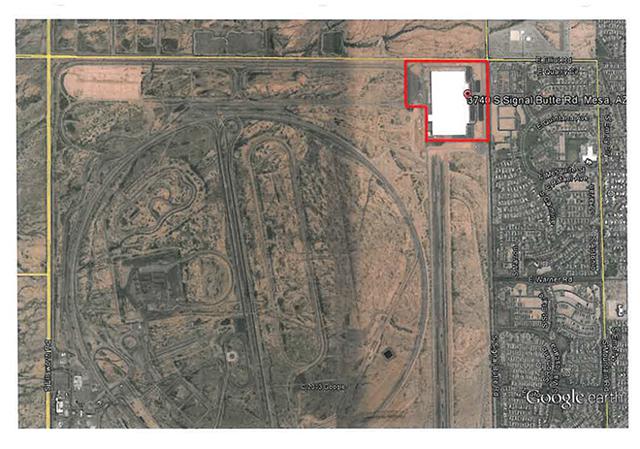 Apple wants to aggressively ramp up production of sapphire glass to accommodate for possible higher yields in future products: iPhone 6, iWatch, and the first iPhone phablet (5.5"). In November of 2013, Apple signed a deal with GTAT to build a sapphire manufacturing facility. If proven successful, GTAT will garner potential contracts and set itself as a leader in its industry. The picture above shows the new land acquired for this project and possible facility for production.
Benefits Of Sapphire

Sapphire offers very desirable unique qualities. It's very transparent in the visible spectrum for the human eyes. It scores one point below diamond in the Mohl's scale, 9 vs. 10. It has very high thermal conductivity and a melting point of 2000 C. It is resistant to acids and caustic substances that would normally damage regular glass. Sapphire glass' superior mechanical properties offer the following advantages:
3X scratch-resistant compared to Gorilla Glass
Higher durability
Improve user experience
Enhance Touch interface
Lower cost of ownership
You can read in greater details about it here.
But GTAT faces competition from Corning (NYSE:GLW). Corning produces Gorilla Glass, which has notable advantages compared to sapphire: cost and fracture strength. The cost to produce one Gorilla Glass is only $3. The sapphire glass needed 161 lbs on a small surface area (~1 square inch) to break. Corning's methods to test fracture strength introduces flaw initiation before testing. In an everyday situation (damage), the superior hardness resistant property of sapphire glass will provide much better protection against any flaw initiation.
Supply chain will be another issue that resides for both GTAT and Apple. As Eric Virey, senior market and technology analyst for LED devices and materials at Yole Development, said:
"GTAT and the rest of the Apple supply chain involved in this new sapphire component indeed have to execute an unprecedented - for the sapphire industry - ramp up, both in term of scale and timeline. Execution will be key and a lot could go wrong. This ramp up is stressing the entire supply chain, including raw materials and component suppliers."
The shift from specialty to mass markets presents a tough challenge, because sapphire was never used in large-scale consumer electronics or consumer goods products until now.
Apple Deal Could Be Worth Billions

Data on first-day sales of iPhones suggest that sales will increase with each subsequent generation. This can be attributed to Apple's loyal fan base, 86% of iPhone 5S buyers were users upgrading from previous iPhones. These loyal iPhone users are guaranteed sales for each new generation of iPhones.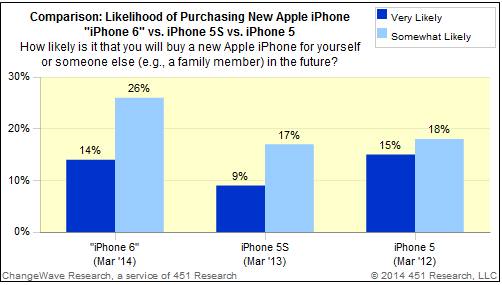 The demand for the iPhone 6 is surveyed to be much higher than the iPhone 5S, we can expect even more iPhone 6 sales on the first day beyond the expected Apple loyalists: More people will switch over to the iPhone, and these people will probably become the same devoted iPhone users who will later upgrade to newer iPhones. Essentially, increasing sales volume is almost guaranteed as more users switch to the iPhone. This is exactly what happened over previous generations of iPhones.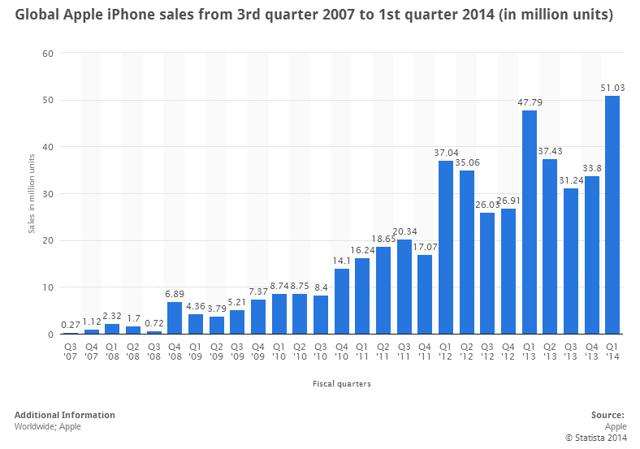 Without a doubt, sapphire glass will be more expensive for Apple. Currently, for each iPhone, Apple pays $3 per Gorilla Glass, compared to approximately $30 per sapphire glass slate. Assuming that Apple only sells about the same number of iPhones as it did in Q1 2014 -- 51M iPhones -- GTAT could make an estimated $1.5B in sales in the first quarter of sales. It is likely that demand for iPhone 6 will be higher than Q1 2014 sales. It is also very likely that the price of sapphire glass will be much lower than $30 through mass production. On a conservative estimate, GTAT should get somewhere between $450-900M per quarter. Considering the expensive glass and other improvements, the $100 increase Apple is asking starts to make sense.
Apple's rumored iWatch could have high possbility of using sapphire glass as well. Watches endure more physical abuse from daily activities, because it's worn on your wrist. You can't buy a case for it either. High-end watches often use sapphire glass for protection and as a unique feature. A study from ChangeWave Research shows a healthy amount of interest in the iWatch.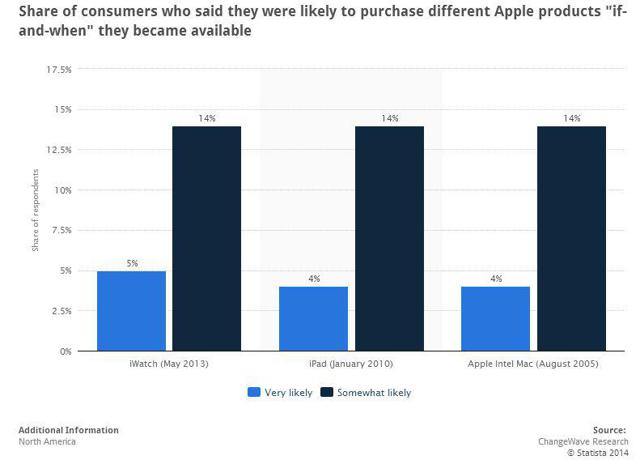 Interest in the iWatch seems to slightly edge out the first iPad and Intel Macs. Apple sold over 7M iPads for FY10 (sales only in Q3 and Q4). In 2011, over 32M iPads were sold. The iWatch has slightly higher demand, and Apple overall has much higher brand awareness than 2010. Assuming these statistics, it's reasonable to expect at least 5M iWatch to sell in the first quarter of launch and over 35M units in FY15.
I've estimated the potential revenue from sales of sapphire glass below. The expected launch date for both devices is in Q4 2014. For the iWatch, I've assumed 5M units for FY14 and 35M units in FY15. For the iPhone 6, I assumed 50M units for FY14 and 150M units for FY15.

Note, the iWatch is still a rumored product. Considering its lower price and much smaller volume, my low estimate is without the iWatch and my top line estimate is with the iWatch.
GTAT's current market cap is $2.11B. Its TTM PS ratio is 7.28. Assuming a conservative PS ratio of 2, the Apple deal could be $4.5B to GTAT's market cap by the end of 2015, if I take 2013 revenue and use it for 2015 non-Apple revenue ($300M). The projected market cap would be about $5.1B. That would mean current shareholders would see their PPS jump (2.5x) to $40 or more by 2015.
After Apple's product launches, you can expect other high-end phone makers like Samsung, Sony or HTC to adopt sapphire. The Apple deal should push sapphire glass into mass production, driving down prices. This will increase GTAT's future potential for more sales and profits from the same product lines.
GTAT's Year Of Successful Deals And Diversification
GTAT's sapphire partnership with Apple is not new to the company's diversification efforts. In 2013, GTAT acquired Thermal Technologies to produce high-temperature refractory metal furnaces. On April 4th, GTAT received $58.6 million for high-temperature refractory metal furnaces, which are used for industrial purposes. Refractory metal-based alloys and carbides are utilized in many different parts of major industries, such as:
Electronics
Aerospace
Automotive
Chemicals
Mining
Nuclear technology
Metal processing
Prosthetics
GTAT will expect revenue from these furnaces by the second half of 2014. In addition to this, GTAT recently signed a deal with Cosmos Petroleum and Mining to supply manufacturing equipment to a Malaysian photovoltaic production plant. Following the deal on April 11, the stock rose by 2.11%. GTAT's diversifying product portfolio is poised to expand, which is expected to drive further growth.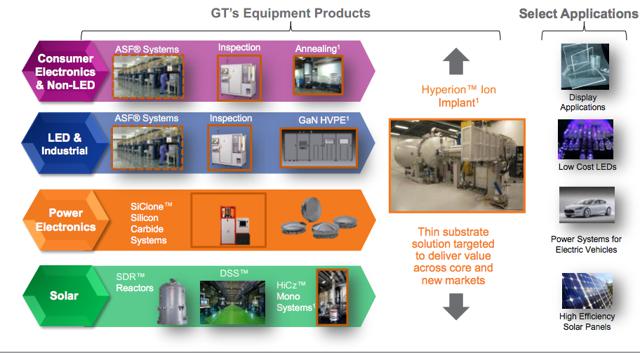 Final Thoughts And Investing Strategy
GTAT is set to be industry-leading in sapphire technology. Apple's launch products must generate successful sales for a breakthrough in the sapphire market. GTAT's diversified portfolio of products in different markets should lower overall risks in the long term.
There's a small chance that the iPhone 6 or iWatch may not get the sapphire treatment in time for this generation due to production issues. However, given the expected price hikes and consistent rumors, I highly doubt it would happen.
I believe some of this Apple deal has already been baked into the current share price. The stock price has doubled from $8 to $16 since the rumors about this deal started. Given the risks associated with GTAT's near-to-medium term dependence on Apple, I would suggest traders to explore call options to limit potential losses.
A $15 strike call option expiring Jan 15, 2016 currently costs under $6. If the Apple deal doesn't work out, GTAT will retrace its way back to $8 and under. If the Apple deal achieves its mass production number as predicted, then GTAT would be at least $40. Buying a call option would limit losses to under $6 instead of $8+, while it will lower gains by about $6 out of a possible $24+ gains. I think this is a very favorable trade-off in terms of risk/reward.

Call options expense may increase your cost per share if you execute, but you can increase the number of shares due to the lower costs of options. You can potentially make the same gains or higher, while limiting your losses to the price of the option.
Due to the volatile nature of high-impact deals on small companies, we should expect to see >50% downsides and/or >100% upsides. This is another appropriate situation for investors/traders to utilize a long-term straddle strategy where they would benefit from both upsides and downsides.
As for me, I don't short stocks or buy puts for personal reasons. My strategy will be a mix of call options and long positions because I am bullish. I believe this deal has a high probability of being successful for GTAT.
Good luck to all traders and investors.
Credit to: Jake Kwak, Ben Luong and Cydney Capello for their contribution to this article.
Disclosure: I have no positions in any stocks mentioned, but may initiate a long position in GTAT over the next 72 hours. I wrote this article myself, and it expresses my own opinions. I am not receiving compensation for it (other than from Seeking Alpha). I have no business relationship with any company whose stock is mentioned in this article.