With its strong cash position, large P/S and P/B discounts, and tangible plans for a sales turnaround, I think that Wet Seal (WTSL) right now offers one of the most intriguing opportunities of the year in the retail sector. I do not usually invest in turnaround opportunities until substantial progress has been shown. But in the case of Wet Seal the current valuation has become too interesting to pass up - without at least a sober inspection of the fundamentals. In the event of a successful turnaround, there is a possibility of a greater than 100% upside in the share price within a year.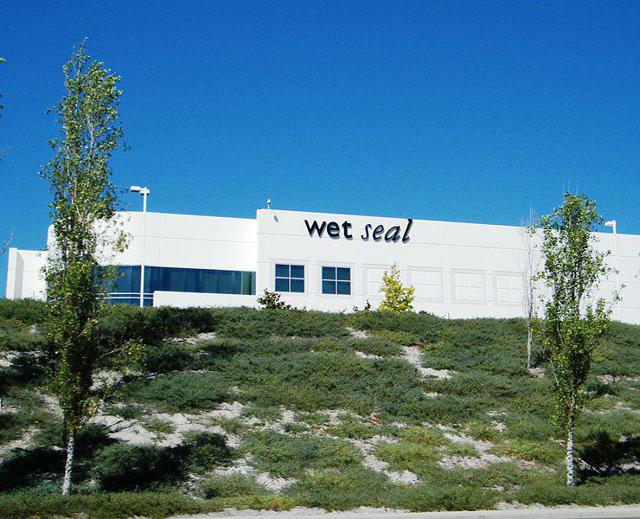 Wet Seal is a specialty retailer whose stores sell fashionable and contemporary apparel and accessories to young women. Its target consumers are aged 13 to 34 years old. The company, headquartered in Foothill Ranch, California, operated as of February 1, 2014 a total of 532 stores in 47 states and Puerto Rico, including 475 Wet Seal stores and 57 Arden B stores. Its products are also sold online at wetseal.com and ardenb.com. It was founded in 1962 and it has 1698 employees.
In recent months, shares in the company have undergone a major sell-off because of declining revenues and income. Wet Seal is in the process of conducting a turnaround in its effort to stay competitive in the teenage female retail segment. For investors looking for deep value plays, the sell-off seems to have built a good deal of downside protection into this company. Bankruptcy within the next 18-24 months is now in my opinion, because of management actions and the company's strong cash position, an unlikely outcome. I believe that Wet Seal has been sold off in a panicked way as a result of cyclical changes and analyst downgrades, and as such, upon a close inspection of the situation, I think that Wet Seal is worth at least $2.50 on the basis of a discounted expected value calculation. If Wet Seal were to recover to its 2012 metrics, which has on my calculation a good chance of occurring, it could be worth up to $5 - a price at which it was trading as recently as July 2013. As such, and given its further sell-off in the aftermath of the Arden B wind-down this past week, Wet Seal offers one of the most compelling and asymmetric risk/reward opportunities of the investing year. The company's Q1 FY 2014 earnings announcement is May 27. But by that time it is possible that the market will have awakened to the fact that this stock has been oversold; and much of the current opportunity for an attractive entry into this stock may be lost.
The current financial situation
For starters, consider Wet Seal's current financial circumstances. They are not especially pretty. The operations of the company were until Friday, April 25 divided into two segments, its Wet Seal stores and its Arden B stores. The Wet Seal stores offer apparel for girls aged 13 to 19 years that are trendy and competitively priced. The Arden B stores offer apparels for women aged between 25 to 34 years which include dresses of contemporary fashion, sportswear, and accessories. Wet Seal stores average approximately 4000 square feet and in FY 2013 their average sales per square foot were $236.
Right now it is clear that the company is losing money. Its FY 2013 revenue was $530.1 million and its net loss for FY 2013 was $38.4 million. By comparison, its FY 2012 revenue was $580.4 million. Its cash on hand (mrq) as of its Q4 2013 earnings announcement was $46.16 million, and it had at that time $0 in debt. The company's profit margin for FY 2013 was -7.24%. Its operating margin was -5.01%.
As mentioned, upon first glance, the company's financial situation does not look as though it is especially compelling. In FY 2013, net loss was $38.4 million, or $0.45 per diluted share, which actually compares favorably to a net loss of $113.2 million, or $1.28 per diluted share, in FY 2012. So there has been at least a little bit of progress on the income metric. Note that Wet Seal does also maintain a frequent buyer program, the fashion insider card. It records the unearned revenue for this program in accrued liabilities in the company's consolidated balance sheets. As of February 2, 2014 this unearned revenue was $5.5 million (by comparison: $5.7 million as of February 2, 2013).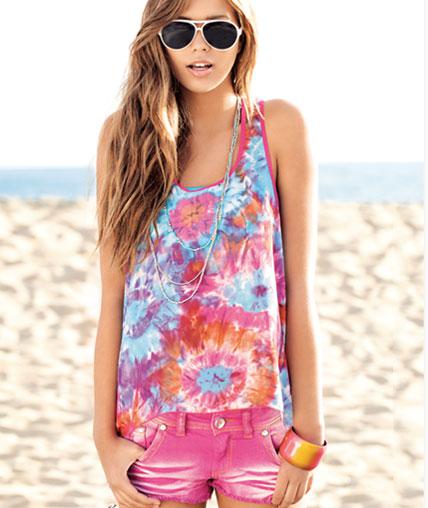 Net sales for the 52-week period were $530.1 million, compared to net sales of $580.4 million in the 53-week period of fiscal 2012. As of February 2, the company inventory totaled $31.2 million, a decrease of 7.6% from a year ago. Net sales for Q4 2013 were $124.8 million compared to net sales of $161.7 million for Q4 2012 (viz. notice that there was an extra week in Q4 2012). Gross profit in Q4 2013 was $23.4 million, or 18.8% of sales. This can be compared to its gross profit of $40.1 million, or 24.8% of sales, in the fourth quarter of fiscal 2012. The company's Q4 operating loss was $27.3 million, compared to operating loss of $25.5 million in Q4 2013. The Q4 net loss was $27.5 million, or $0.33 per diluted share. This compares favorably to a net loss of $85.8 million, or $0.97 per diluted share, in Q4 2012. Finally, Q4 2013 adjusted EPS was -0.23.
For the total year, FY 2013, consolidated comparable store sales declined by 4.1%, which includes a comparable store sales decline of 3.6% in the Wet Seal line and 7.6% in the Arden B line. Net sales for FY 2013 declined by about 3% in the Wet Seal stores. Note that comparable y-o-y same-store sales in fact increased at Wet Seal in Q2 2013 and Q3 2013. Its Earnings Call Transcript and its SEC 10-K Filing confirm these trends.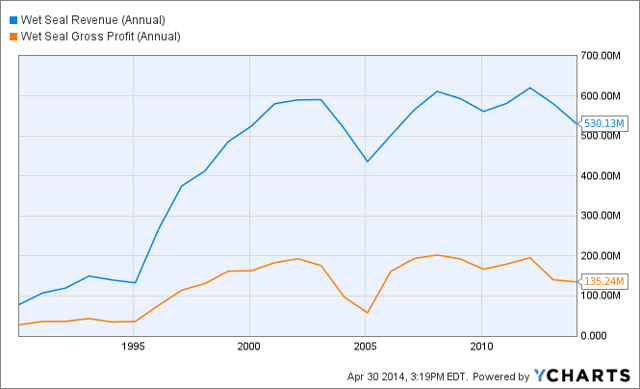 WTSL Revenue (Annual) data by YCharts
Company valuation
The recent selloff in this sector has been significant and right now for the value investor a whole lot of the situation's risk seems to be priced into the stock. Today the company is an incredible value for investors who are willing to accept the remaining risk.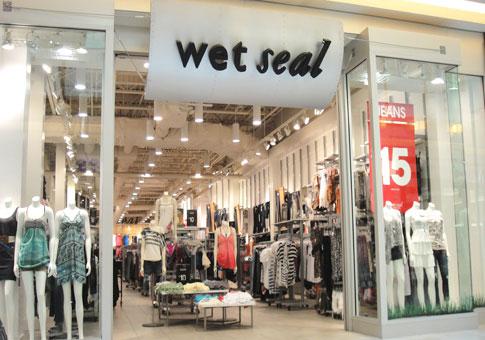 From a valuation standpoint, Wet Seal is about as inexpensive as they come. Its Market Cap as of Wednesday morning was $93.97 million and its enterprise value was $52.9 million. Its Price/Sales (NYSE:TTM) ratio was 0.18 and its Price/Book (mrq) 1.45. Its Enterprise Value/Revenue was 0.1 and its Enterprise Value/EBITDA was -4.12. In terms of valuation, these are some very intriguing numbers for the value-minded investor - whether in retail or in any other business. In the last 52 weeks the stock has lost 65% of its value, and it is now trading at a fraction of its multi-year high of approximately $5, reached several times since 2009 and most recently in July of 2013.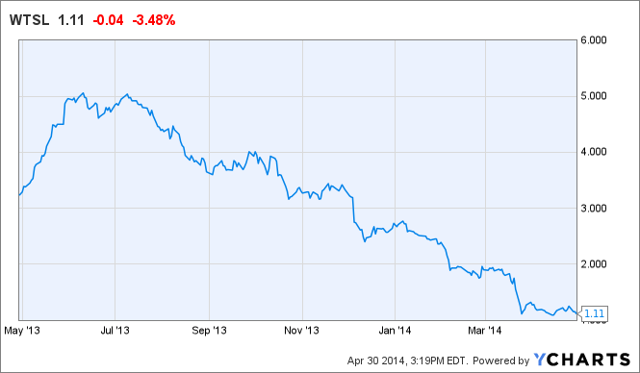 Much of the sell-off in the last couple of months was driven by analyst downgrades in the aftermath of the company's Q4 2013 financials. One analyst in particular, B. Riley, seems to have driven the emotional sell-off by listing a price target of $0.50. Wet Seal will in fact have over $0.70 per share in cash after Q1 2014, so the B. Riley target seems to be somewhat overblown. Other analysts are more confident - three have given the stock a "hold" recommendation, two have given it a "buy" recommendation, and one has given it a "strong buy" recommendation. Most of their price targets are in the $2-3 range. The average 12-month price target among analysts over the last year is $3.92.
The industry slowdown
In the last couple of years there has been a general slowdown in the teen female retail sector, as evidenced by this chart of the revenue trends of three comparably-sized fashion retailers.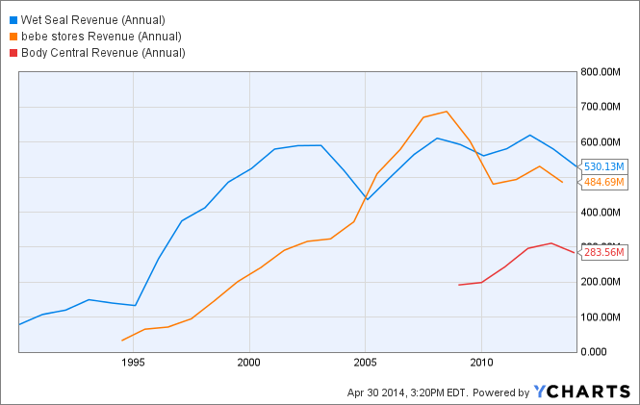 WTSL Revenue (Annual) data by YCharts
Wet Seal's immediate competitors include Deb Shops, Forever 21, and Charlotte Russe. Other competitors are American Eagle Outfitters (NYSE:AEO), Bebe Stores (NASDAQ:BEBE), Body (OTCPK:BODY), Abercrombie & Fitch (NYSE:ANF), and The Gap, Inc. (NYSE:GPS). Occasionally, older stores like J.C. Penney's (NYSE:JCP) and Macy's (NYSE:M) have been competitors - at least for the Arden B line. Many of these competitors have been struggling. For instance, in Q4 2013, ANF reported a -11.6% revenue decline. GPS March 2014 same-store sales fell 6% y-o-y. Bebe has predicted a Q1 2014 comparable store sales loss of 5.7%. Retailers across the spectrum do, by the way, anticipate a stronger April.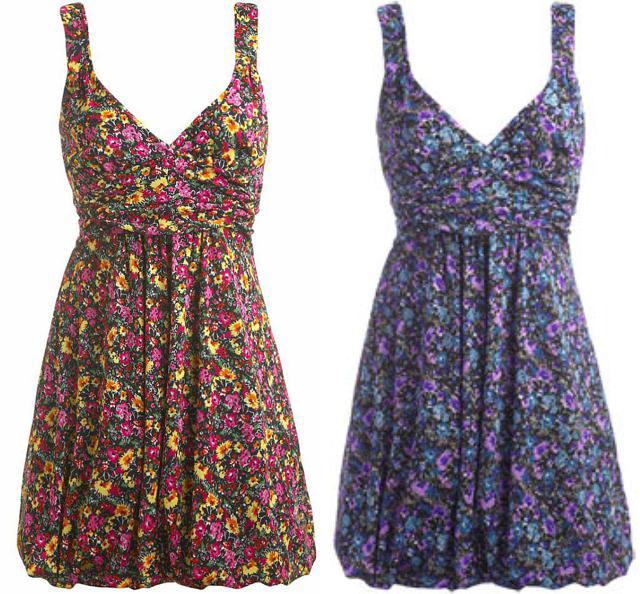 The teenage fashion industry slowdown is quite clearly a major potential headwind for Wet Seal. But the fact that the slowdown is occurring in a general way in the fashion industry suggests that the problem is not that the Wet Seal brand is losing its attraction to young consumers. It suggests rather that there are other things going on - cyclical factors such as poor winter weather, teenage unemployment, a slowdown in the discretionary income of young women, and so forth that are affecting all of the players in this field. The one major factor that is impacting the fashion industry and that does not appear to be cyclical is the rise of the online retail apparel business. Wet Seal has made strides in this last area and I will detail them below.
In my opinion, because of its small size, strong cash position, and concentrated focus, Wet Seal is a more compelling turnaround play than are some of the other, larger participants in this sector (i.e. ANF, GPS). It seems in particular to be in a stronger position than BODY, whose cash position is not as strong and whose turnaround sales troubles have continued in the last quarter.
Potential share price upside is tremendous
The current share price is a significant bargain, at least on many of the traditional metrics by which retail companies are valued (including especially Wet Seal's P/S: 0.18, and P/B: 1.45). The numbers speak for themselves. But it is important also to notice that there are conceptual reasons as well to believe that the share price has significant upside. Wet Seal, arguably, is better positioned than ANF, GPS, and some of its other larger competitors because, unlike many them, it is today a smaller company that is more nimble and in the vanguard of the "fast fashion" approach.
By "fast fashion" is meant that the company recognizes how fickle teenagers are and it changes its offerings accordingly. According to one-time Wet Seal CIO Jon Kubo, who is now no longer with the company, but whose understanding of the concept is prescient, "'fast fashion' is sort of the buzzword in apparel because the consumer is demanding this speed. If you're going to compete, you have to understand and react to that weekly - in promotion, in buy, in merchandise mix, in everything you do. So the mantra at Wet Seal right now is speed. The ability to react and change our merchandise mix to be able to understand demand, to be able to do a promotion and evaluate it within 24 hours, is everything for us in retail."
"Fast fashion" has given a smaller retailer like Wet Seal much faster lead times than those of other, larger teen retail chains. The process works as follows. Each day the company's stores receive approximately six cartons of new, unique, and trendy merchandise. Not many of the company's offerings remain unsold for longer than six weeks. Few SKUs are ever replenished. Fashion-aware teenage women must buy now rather than wait - the product might not be in the store the next time they go shopping. Wet Seal relies on a 215,000-square-foot distribution center that is equipped to handle 970,000 cartons a year with fast turnaround. Wet Seal employs a processing system that receives, disperses, and ships new merchandise to the chain's stores within 24 hours of receipt at the distribution center. The sorting process is powered by sophisticated crossbelt sorters that sort in an automated way in order to reduce labor and increase efficiency. The sorting process is currently sophisticated enough, according to modern materials handling, to allow Wet Seal to service up to 1000 stores without any significant increase in logistical costs.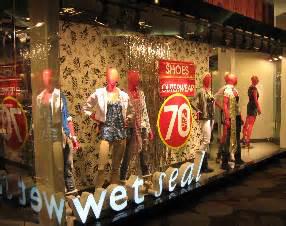 In speaking of the current sorting process, Charlie Torok, Wet Seal's current vice president of logistics, said, "When we were a stand-alone supplier of junior clothing, our price points were higher than they are now. As competition has increased and retail has changed, we changed our model by reducing our price points, buying strategically and reducing our supply chain costs." The other major retailers in the sector all seem to be copying the "fast fashion" approach that has been pioneered by Wet Seal and a couple of the sector's other smaller retailers. They are moving to become more like what Wet Seal already is. At the very least, because it has already transformed itself into a "fast fashion" retailer, I do think that it is unlikely that Wet Seal would need in the near future to allocate significant expenditures for infrastructure costs. This is reason, I think, to be confident in the cost-cutting promises of the company as the management team navigates the company's turnaround plan. As an investor I do believe on the basis of an independent analysis of the fast fashion concept that Wet Seal's claims to need no more significant logistical expenditures in the near future are in fact legitimate.
There are further conceptual reasons to believe in an upside for Wet Seal, on the basis of intangibles like goodwill and customer consciousness. Wet Seal has good name recognition and strong customer loyalty among its target demographic. Its social media presence is strong in view of its small size and in comparison to the social media presence of some of its larger competitors. For instance, on Facebook it has received 2.3M (million) 'likes.' By comparison, its competitors' Facebook 'like' numbers are as follows:
Facebook 'Likes'

Company

'Likes'

Market Cap

Wet Seal

2.3 Million

$93.97 Million

American Eagle

9.6 M

$2.18 Billion

Bebe

3.5 M

$411 Million

Deb Shops

2.3 M

n/a

Forever 21

9.2 M

n/a

Charlotte Russe

1.79 M

Gap

5.89 M

$17.33 Billion
Thus, given its market cap, Wet Seal's Facebook presence is quite impressive. On Twitter, Wet Seal has 44.8K (thousand) followers. By comparison, its competitors' Twitter follower numbers are as follows:
Twitter Followers

Company

Twitter Followers

Wet Seal

44.8 K (thousand)

American Eagle Outfitters

295 K

Bebe

71.6 K

Deb Shops

4.1 K

Forever 21

1.6 M

Charlotte Russe

72.8 K

Gap

389 K
Thus again, given its market cap, Wet Seal's Twitter presence is impressive. Other social media sites that Wet Seal is targeting, as mentioned in the CEO's recent post-earnings conference call, are Instagram and Wanelo. While Wet Seal's social media numbers are not in an absolute sense as impressive as some of its competitors (the competitors listed here are almost all larger companies), they are nevertheless - given its smaller size - impressive enough. And the bar of success for the company has been set incredibly low by the share price sell-off after the Q1 earnings report. So the company does not need to beat its competitors' numbers. It needs, at most, to stabilize its own.
According to Google Analytics, there has been a gradual decline over the last couple of years in Google searches for 'Wet Seal.' This decline, which of course varies with the shopping season, has by no means been as substantial as the company's stock price decline in the last two months would seem to suggest. The decline has been more in the range of 15% or so, and not in the range of the 65% sell-off of the stock over the last 52 weeks. Nevertheless, it is a real decline, and it ought to be taken into account by a prudent investor.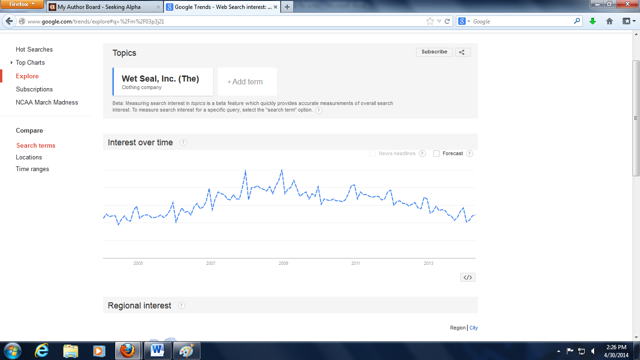 The BizRate ratings of the company are generally positive. Other online ratings agencies are similar. Not all Wet Seal customers, of course, are going to relate their shopping experiences online, but I have found BizRate in general to be a promising way of measuring consumer sentiment.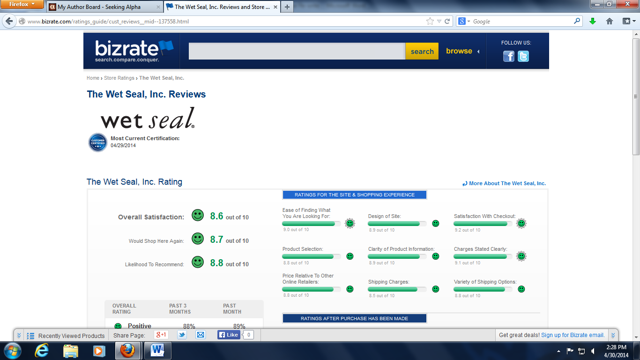 Turnaround is occurring, perhaps gaining traction
One catalyst that will probably give the Wet Seal turnaround a fiscal jolt in the coming weeks and months is the decision of management on Friday, April 25 to wind down its Arden B brand. Arden B, which is sold through mall-based stores and an e-commerce website, generated net sales of $60.4 million last year. This made up 11 percent of all consolidated net sales for FY 2013. 31 of the company's 54 Arden B store locations will be shifted by the end of FY 2015 to Wet Seal Plus merchandise for at least an interim period. The remaining 23 locations will transition from Arden B to regular Wet Seal merchandise. The latter conversion from Arden B to Wet Seal will take place before the back-to-school season in late July. Through lease expirations and the exercise of early termination provisions, the company in total is planning to close 31 Arden B locations - 15 through the remainder of FY 2014 and 16 in FY 2015.
The wind-down will incur certain costs for Wet Seal. As part of the wind-down the company anticipates $100,000 of charges for severance costs in Q1 2014 and approximately $300,000 of charges for store employee retention programs in Q2 and Q3 FY 2014. It is also notable that the company anticipates non-cash asset impairment charges of up to $3 million in Q1 FY 2014 as a result of its Arden B store assets.
At the same time, however, there will probably be certain savings that occur as well as a result of the Arden B wind-down. Management estimates, for instance, that the cost savings and the release of some of its employees from its Arden B stores will result in annualized pre-tax cost savings of $1.3 million beginning in Q2 FY 2014. While this will not in an immediate way offset the $3 million in impairment charges, nevertheless it will within a little more than two business years make up for those charges. Notice in particular, as evidence of this, that the Arden B stores have in the last couple of years experienced much steeper sales declines than the Wet Seal stores. As I mentioned earlier, for the total year, FY 2013, consolidated comparable store sales declined by 4.1%, which includes a comparable store sales decline of 3.6% in the Wet Seal line and 7.6% in the Arden B line. The company's strong cash position should enable it to withstand the immediate fiscal hit of the Arden B closings, and the subsequent savings that will arise as a result of stanching the Arden B sales bleed should be substantial. CEO John Goodman, speaking of the decision to end the Arden B line, said that "We are making progress against our strategic plan to enhance Wet Seal's product, merchandising, customer engagement and overall store performance, as well as drive growth in our e-commerce business. Importantly, our transition strategy for Arden B accelerates our opportunity to expand in the growing junior plus market." After CEO Goodman made the Arden B announcement on Friday, April 25, there was relatively meager trading volume - an indication, I think, that Wall Street has overlooked this turnaround play.
Other aspects of the turnaround strategy are also gaining traction. For instance, as part of the turnaround the company is focusing on improving its communication with its customers through what it calls "playfully disruptive" lease-line marketing, improved visual merchandising, and targeted social media outreach. Its Facebook and Twitter postings have been increasing in recent months.
In particular also, in FY 2013 Wet Seal introduced several cost cutting initiatives in an effort to turn around its margins. Through staffing efficiency measures it reduced its costs by $2.5 million. Other in FY 2013 cost savings yielded $2.1 million. In speaking of the turnaround strategy, CEO Goodman said "The core elements of our 2014 plans include product, merchandising and customer engagement initiatives; driving significant growth in our e-commerce business; transforming our Wet Seal real estate portfolio; and pursuing the significant opportunity we see in the plus-size market."
Financing and institutional holdings suggest downside protection
There is downside protection for investors in Wet Seal's strong cash position. The company had no debt prior to Q1 of this year. Then, in addition to the $46.16 million cash with which it started Q1 FY 2014, on March 26 Wet Seal closed a $27 million financing deal. The agreement was with a single institutional investor - Cowen and Co., LLC, which acted as sole placement agent on the transaction. The agreement in particular was to issue $27 million of convertible notes as well as warrants for the purchase of Class A common stock in a private placement. The convertible notes will bear interest at a 6% rate per year, and mature in March 2017. The convertible notes are convertible at the holder's option into shares of the company's Class A common stock at a price of $1.84 per share. In association with the sale of the convertible notes, the company will also issue warrants for the purchase of 8.8 million shares of its Class A common stock. The exercise price of the warrants is $2.12 per share, and the warrants will be exercisable beginning six months and one day after their issuance, through September of 2019. Presumably, the company will be using the newly-acquired debt for balance sheet purposes. CEO Goodman said of the deal that "This transaction enhances our capital structure at a time when our industry is challenged by a number of macro issues, most notably mall traffic and teen shopping patterns."" In my mind the fact that the convertible caries a strike price of $1.84 and the warrants a strike price of $2.12 suggest that the lender in the case considered these prices - north of the current share price - to be an attractive entry point.
Further downside protection is suggested by the fact that 79.6% of Wet Seal was, as of late last year, institutionally held. As of December 31, the four largest institutional holders were the Clinton Group, Inc., with 6.6 million shares and 7.83% of the company's total market capitalization, Ameriprise Financial, Inc., with 6.1 million shares and 7.22% of the company's total market capitalization, Huber Capital Management, LLC, with 3.98 million shares and 4.71% of the company's total market capitalization, and Dimensional Fund Advisors LP, with 3.68 million shares and 4.36% of the company's total market capitalization. Obviously these numbers are a little bit old and, given the company's Q4 2013 report, the institutions might have changed their holdings since December 31. But by December 31 Wet Seal's share price had already undergone a dramatic decline from its highs last summer. And many of its major institutional holders were still at that time staying on board with the company. At the very least the institutional holdings suggest that there is substantial institutional interest in the company, and that the company is not at this point a magnet for uninformed retail investors. The interested institutions presumably have done their due diligence.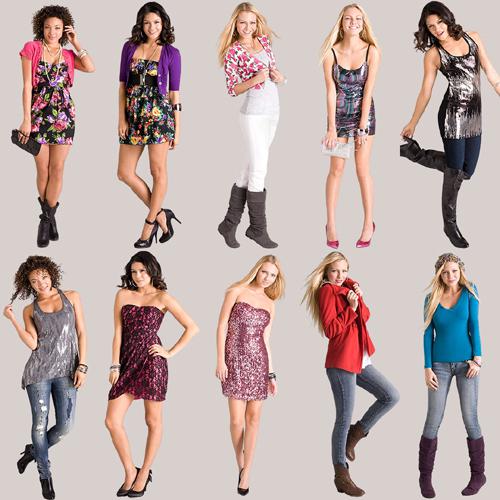 As for further institutional information, it is interesting to notice that the Clinton Group, an activist shareholder with communication ties to management, entered the company at $3 and had the opportunity to leave at $5+. Instead the Clinton Group chose to remain on board and remain invested in the turnaround. In March, amid the revelation of the Q4 2013 downturn, the Clinton Group sent Wet Seal a letter of confidence. Clinton Group CEO George Hall wrote in the letter that "We believe Wet Seal is well positioned to emerge from the market-wide slowdown in teen apparel retailing significantly stronger than its competitors and better aligned with the teenage girl's shopping habits."
Management actions suggest further downside protection
Insider purchases are a confirmation of management confidence. The extensive insider purchases that have been made at Wet Seal in the last month do seem to suggest that management believes that the share price has hit bottom. CEO John Goodman purchased 42,016 shares on March 27, increasing his stake in the company by 4.9% to 891,540 shares. Goodman right now owns $1,114,425 in Wet Seal shares. Director Adam Rothstein on March 25-26 purchased 48,104 shares, increasing his stake in the company by 92.7%. Director John Mills on March 26 purchased 25,000 shares, increasing his stake in the company by 21.3% to 142,506 shares. SVP/GMM Kimberly Bajrech on April 1 purchased 10,000 shares, increasing stake in the company by 30.8% to 42,427 shares. SVP/BMM Debbie Shinn on April 1 purchased 10,000 shares, increasing stake in the company by 17.6% to 66,739 shares. EVP Lesli Gilbert on April 3 purchased 10,000 shares, increasing stake in the company by 11.1% to 99,929 shares. Director Adam Rothstein again on April 15 purchased 20,000 shares, increasing his stake in the company by 20% to 120,000. These notable insider purchases have been extensive and have raised the total insider ownership of the company to well over 3%.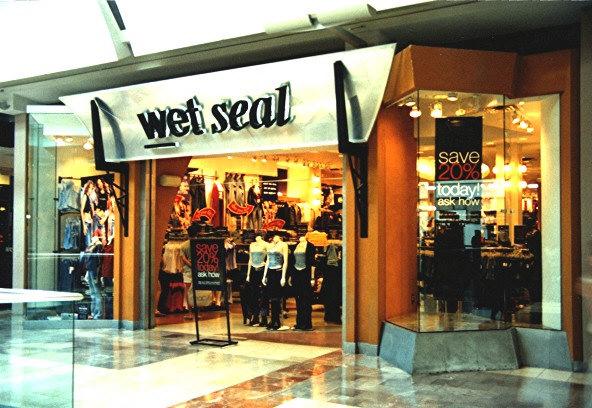 Management could, of course, be trying through its share purchases merely to be putting on a public show of confidence in the company's future. But if that were the case then I think that management could have gotten that message across with fewer and smaller share purchases - purchases by the CEO alone could have been enough to convey that message. The insider purchases are arguably reliable because the board members do have access to monthly data that the public does not have. The size and number of the purchases in my mind suggest at the very least that management does believe in the turnaround story.
Business catalysts could provide a positive jolt
There are several catalysts that could set Wet Seal's share price on a more positive trajectory.
Catalyst #1: the Arden B wind-down
One obvious catalyst is the Arden B wind-down: there is the possibility of a significant upside catalyst from Wet Seal's exit of the Arden B Business. The company knows now that its plans for a niche marketing venture did not issue in the sales that it intended. One immediate advantage of the Arden B closings is that the company no longer has to bite the bullet and accept the pre-tax losses of its Arden B retail line. Another advantage is that there will be greater integration/synergy savings with the company's mainline Wet Seal brand. I do not have access to statistics to back up this claim. Nevertheless, it does stand to reason that the savings will come from the fact that the company's distribution facilities will no longer have to produce, sort, and deliver two wholly different brands of consumer clothing, aimed at two wholly different demographics. Nor will the company have to set up its stores and merchandise in two wholly different ways, for different purposes. Instead the company will now be able to focus on streamlining its clothing delivery system, targeting a single demographic market in the process.
Catalyst #2: Wet Seal is a potential acquisition target
Another catalyst is that Wet Seal is a potential acquisition target. The stock is at the very least attractively priced for such an acquisition. It is interesting to notice that in a December 18, 2013 company filing, the New York-based hedge fund, Clinton Group, announced its interest in finding financing options to purchase Wet Seal, and to take it private. On that day Wet Seal's stock closed at $2.67. According to the March 20th letter from the Clinton Group, "Despite these many improvements in the Company's foundation and infrastructure, and the positioning of the Company in the "fast fashion" sector where all other teen retailers wish to be, the stock is down significantly since the summer of 2013. The price decline is unwarranted and will likely reverse sharply once the macro environment improves." Other reports from The Street late last year suggest that there have been other private equity firms as well that have expressed interest in a Wet Seal acquisition - Sun Capital Partners, Inc., Golden Gate Capital, and Sycamore Partners. Investment bank Peter J. Solomon Co. LP last year was fielding offers for the company. KarpReilly Capital Partners LP has also looked at the company. If these firms were interested in Wet Seal at a stock price north of $2.67, I can only imagine that their interest in Wet Seal at a stock price south of $1.40 would be even greater. Taking Wet Seal private sometime this spring or summer would come much more cheaply now than it would have done last fall.
Catalyst #3: improving weather conditions and mall traffic
Still another catalyst that ought to be a driver of the company's sales going forward is the improving weather conditions: in large part it was the reduction in mall traffic, due to poor winter weather conditions, which damaged the company's sales strategy in the fourth and first quarters. In particular there were significant ice storms that affected sales January and February in the Southeastern United States. Shopping trends were disrupted on into March. Wet Seal's competitors were also damaged by the unseasonably cold weather, along with a general sluggishness in consumer discretionary spending and an increased unemployment rate among youth. The company's management should be reporting on this in the May 27 conference call, in a way that ought to be a positive for investor sentiment.
Catalyst #4: the shorted float
Also, a mini-short-squeeze: as of March 31, 2014, there were 5.35 million shares sold short of Wet Seal stock. This was 6.1% of the float, and certainly a decline from the short highs of the last several months. This does not seem to be large enough to touch off a full-fledged short squeeze, but there does seem to be the possibility of a mini-short squeeze upon the announcement of good company news.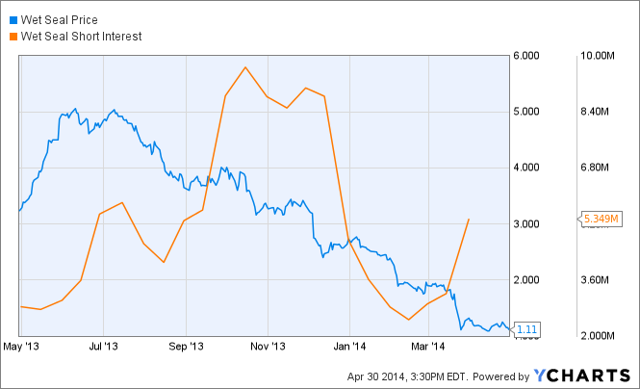 Catalyst #5: management is focusing on growing trends
The right sales and demographics focus: as part of the turnaround the company is concentrating on its e-commerce division and also on the plus-sized market among teenagers. Strengthening the e-commerce division will enable the company to compete with Amazon and other online retailers. In November 2013 the company implemented a new e-commerce platform with state-of-the-art marketing and mobile commerce capabilities. In FY 2013 Wet Seal generated 6% of its total sales through e-commerce. The stated goal of the company is to grow this number to 10% by the end of FY 2014. Also, American teens are growing fatter at a rapid rate, and focusing its attention on this expanding demographic seems to be a promising strategy for Wet Seal.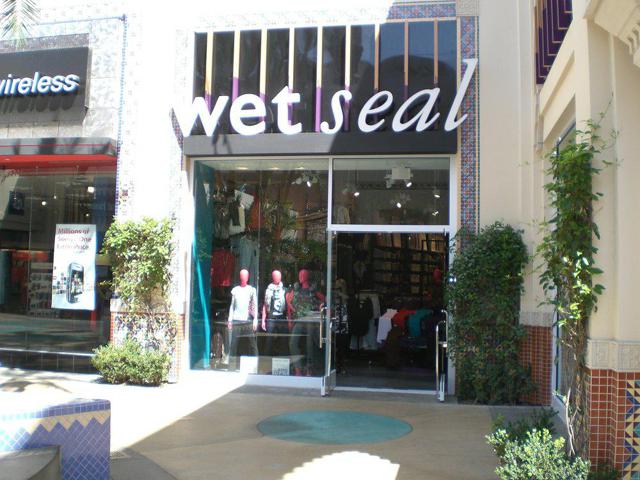 Catalyst #6: investor realization that management is willing to make the tough calls
Another near-term catalyst for the share price is that the company is quite clearly making the right decisions. The success of the company is in large part dependent upon its ability to anticipate the changing fashion preferences of its customers, and, ultimately, to provide its customers with products that will in a timely manner reflect these changing preferences. With this in mind, the company has this last quarter been making the difficult decisions - including especially its decision to close its Arden B stores - that can return it to profitability at a future date. The management is by any means afraid to let people go during times like these, or to make the decisions that it needs to make to keep the company profitable. In fact my own view is that the company's decision to close its Arden B brand will prove to be a major catalyst for this stock.
The opinion that the company is making the right decisions is also shared by the Clinton Group, which stated in its March 20 letter to the company that "Wet Seal stands ready to monetize the convergence of social media and eCommerce, and to extend its strategy profitably beyond the traditional mall-based retailing of its past. We are pleased with the steps management has made to address an altering landscape, including the building of outlet stores with a significant return on capital, an increased focus on plus-sized clothing and rationalizing stores in underperforming malls."
Further evidence that the company is willing to tighten its belt can be found in its recent decision to trim its board of directors. This has been in part, of course, at the instigation of activist investors. In particular the company has reduced its cash compensation for its Directors by 20% for the remainder of FY 2014 and it has reduced the number of its Director nominees from nine to seven. Ms. Kathy Bronstein and Ms. Dorrit Bern resigned from the Board of Directors earlier during the month of April.
Catalyst #7: Management understands teenagers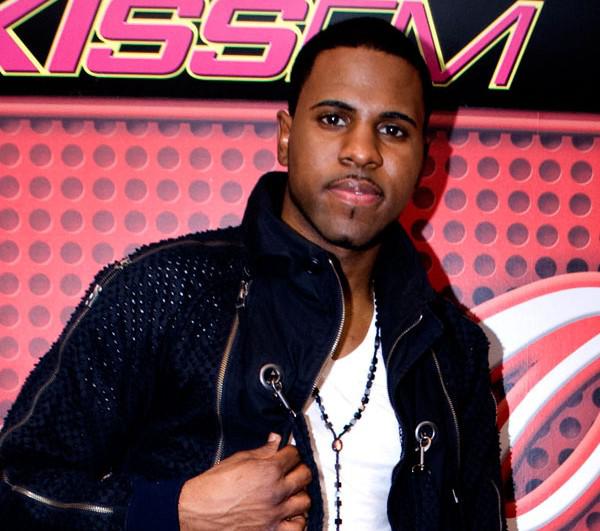 Finally, another catalyst is that the company does still appear to have its finger on the pulse of the teenage consumer market. Teenage women are a notoriously flighty customer base. So it is good to see management making efforts to remain in touch with the interests of teenage women through its recent Jason Derulo (pictured here) promotion. Wet Seal of course is known for its alliance with Crush by ABC family. Moreover, much of the company's turnaround strategy is dependent upon its social media, or 'new media' presence. The company has shown itself to be savvy in this advertising sector in the past, partnering with AwesomenessTV on a reality series, The Intern, which aired in four weekly installments in the month of December. AwesomenessTV is one of the most popular video destinations for teens on YouTube. The Intern was created exclusively for Wet Seal and it tracked the experiences of two interns as they spent time at the company. Brian Robbins, founder and CEO of AwesomenessTV, had glowing things to say about the show: ""Wet Seal is a brand that teens love, and 'The Intern' allows us to offer our AwesomenessTV audience not only an entertaining new series, but also an insider's look at what it takes to score an internship in fashion."
CEO Goodman has more than 20 years of experience in fashion and was the former CEO of teen retailer Charlotte Russe. CFO Benrubi has been with the company since 2005. EVP Gilbert has had extensive experience at Talbots. SVP Bajrech's affiliation with Wet Seal began in 1993. The management team is experienced and comfortable in riding out the cyclical changes in the teen fashion industry.
Some Potential Risks
Is Wet Seal a value trap? A turnaround on borrowed time? Another Coldwater Creek? Or is it an incredibly attractive risk/return opportunity? This situation has at the very least an enormous upside at the current share price level. Nevertheless, there are certain risks which ought to be considered.
Risk #1: comparable store sales decline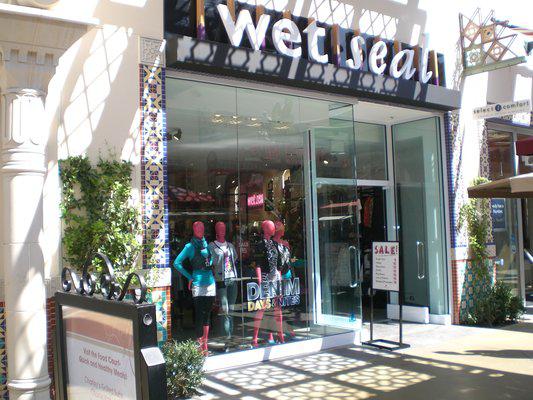 One major risk is that comparable store sales growth will remain where it currently is, in the negative mid- to high-teens. Net sales at Wet Seal stores during Q4 FY 2013 slipped 18.7% to 137.2 million (source: Wet Seal Investor Relations). Same-store sales slipped 15.4% due to lower mall traffic. Same-store sales at Arden B stores during Q4 2013 slipped 25% due to lower mall traffic. Net sales at Arden B stores were 13.3 million. Overall consolidated comparable store sales declined 16.5%. Wet Seal offered an explanation in its SEC filing: "We attribute the declining performance trend to a number of factors, including softness in mall traffic, an intense promotional environment throughout the specialty retail apparel segment, weakness in certain of our merchandise trends and in fast fashion merchandise in general, and challenging economic conditions."
My own view is that these numbers should improve significantly upon the company's closing of the Arden B line. On the basis of my independent research and inspection of the balance sheet numbers, I do find CEO Goodman's recent comments on this topic credulous, "We entered fiscal 2014 in a clean inventory position. Our first quarter outlook primarily reflects continuing softness in mall traffic and ongoing promotional pressure, as well as significant weather challenges, and we will continue to manage inventory appropriately."
In order for its turnaround to be successful, Wet Seal must continue to strive for suitable economies of scale in its distribution centers. It also needs to continue to grow its e-commerce business. It is notable on his score that even in the midst of the company-wide downturn, there has nevertheless been y-o-y quarterly growth in the company's e-commerce business. It is notable also that the company, as emphasized in its Q1 shareholder conference call, is heavily emphasizing its digital marketing, mobile and social media platforms, and website traffic generation. So the management appears to know the inning and the score of the game that they are playing.
Risk #2: inconsistent profitability history
Even in spite of the fact that the great majority of Wet Seal's stores today are profitable, nevertheless the company has at times had an inconsistent profitability history - such as the period from 2004 to 2007. Its historical operating margins have been in the single digits. On the income metric, management is clearly aware of the challenges. It did provide investors with some degree of confidence by reaffirming on Friday its Q1 EPS and comp guidance. In particular it reiterated its previous financial guidance for Q1 2014, including net Q1 loss of -0.16 to -0.19 EPS. It also reaffirmed comparable same-store sales in the negative mid- to high-teens. By comparison, analysts surveyed by FactSet expect a Q1 loss of -0.18 EPS. (source: Zacks Investment Research) My own view is that even in spite of the company's inconsistent profitability history, the bar has been set so very low at this point that the company only barely needs to become profitable again for shareholders to come rushing back.
Risk #3: shareholder dilution
The company has not been afraid to dilute shareholders before, quadrupling its outstanding share count from 2006 to 2008. Investors should be aware that a potential risk is that management might dilute them through equity raises if sales continue to be soft and if it needs the cash.
Notice also, however, that the company has also in the past engaged in substantial share repurchase programs. Its share repurchases of its Class A common stock have been as follows.
| Year | Repurchase |
| --- | --- |
| 2013 | 5.7 million |
| 2012 | 0.2 million |
| 2011 | 12.3 million |
| 2010 | 2.3 million |
| 2009 | 2.0 million |
Risk #4: Downturn is not merely cyclical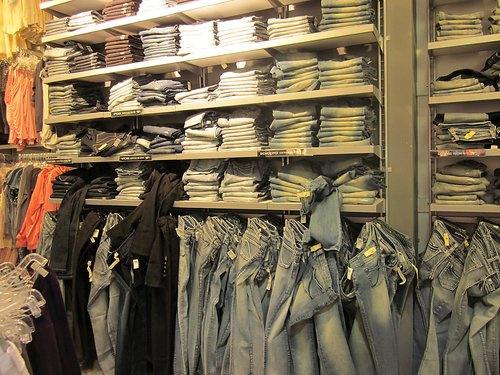 Another major risk, related to the comparable store sales decline, is that the downturn is not merely cyclical. The question that needs to be asked in circumstances like these, when one is trying to determine whether a stock will turn around, is whether the company's sales trends are permanent or not. Is the decline in teen mall shopping a temporary phenomenon or is it a permanent loss of business? Obviously American teenagers are not about to cease being obsessed with fashion at any time in the near future. But will they from here on out express their fashion choices in other ways than they have characteristically done in the past? Will they turn more dramatically to online retail for their apparel? These are questions that are being asked throughout the retail industry right now. They are too large for the scope of this article, but a couple of comments do seem to be in order. The first is that Wet Seal is channeling much of its energy right now into its e-commerce business, so the company knows that it needs to continue to remain competitive in that venue. The second comment is that at the very least, if the downturn is merely cyclical, then Wet Seal is, because of its strong cash position, well-positioned to ride out any temporary softness in its sales.
Conclusion
Lord Rothschild's famous quote, "blood in the streets, it's time to buy" is undoubtedly an applicable saying in today's retail apparel industry. Wet Seal's stock price will either double within a year or - on the most pessimistic scenario - the decline in the company's sales will depress its share price even further (perhaps almost to its current cash position of $0.70 per share). No truly magnificent investment decision is without its controversy and risks. But the truly magnificent investment decisions involve a concerted look at the details and a determination that there is indeed still value to be found. In short, if sales and operating margins can improve - and the company is in my opinion taking the steps that it needs to take to bring this about - then this could be one of the most significant share price turnarounds of the year. As the Clinton Group wrote in its recent letter to Wet Seal management, "With some additional spending by teenage girls, which is inevitable, the Company will emerge from this market downturn stronger and better than it was when the stock was at $5." Today, by my calculation, the company is trading at least 75% lower than the averages in its sector of retail apparel. With its substantial pile of cash, including the $27 million in extra financing, Wet Seal should have plenty of time to turn its situation around.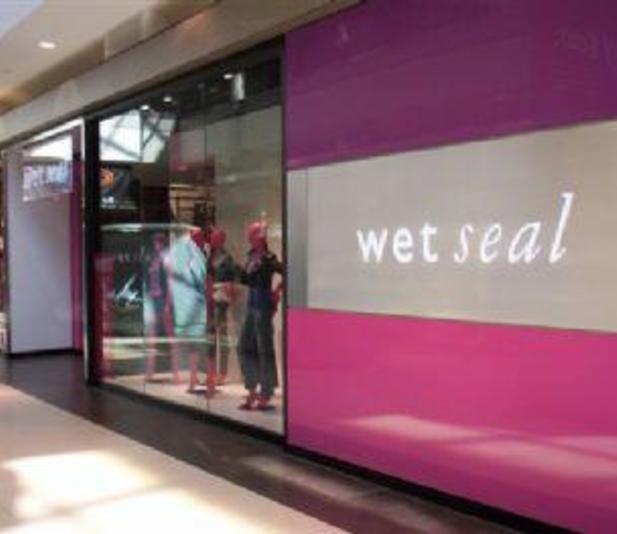 How in particular could Wet Seal be a double within a year and perhaps once again return to its $5 highs? Consider the following trajectory. Suppose Wet Seal reduces its Q2 and Q3 same-store sales declines to single digit numbers. This does not seem to be out of the realm of possibility, given that much of Wet Seal's mid- to high-teen declines this last year were due to a weather-related mall decline. Also, it is quite possible, given the gradually improving economic conditions, that American teenage women will begin in the next couple of quarters to have a greater amount of discretionary income. Together with a concerted growth in its plus-size lines and its e-commerce business, these trends could enable Wet Seal to stabilize its same-store sales and its revenue within a year. The trends might even be enough to make Wet Seal close-to-profitable again. Currently, Wet Seal's P/S multiple is 0.18. Abercrombie and Fitch , which is not a particularly profitable company and whose stock price has declined by 25% in the last year, still trades at a P/S multiple of 0.66 - more than three times that of Wet Seal. Bebe , which is not a profitable company, trades at a P/S multiple of 0.84. The Gap trades at a P/S multiple of 1.10 and a P/B multiple of 5.79 - several times the current multiple of Wet Seal. A stabilization of Wet Seal's revenue growth could, I think, be sufficiently impressive to the market to cause investors to conclude that Wet Seal is worth a higher P/S and P/B multiple than it is currently getting. If it were at that time to recover just to Bebe's P/S multiple, it would be worth $5.18 per share. But I am not expecting that much to happen within a year. All that I am anticipating within a year is a possible recovery to $2.50 and then only after a further amount of time a recovery to $5.
Finally, as for its technical indicators (if one believes in such things), the stock is still very much in oversold territory right now. The stock is currently trading below its 50-day moving average of $1.49 and its 200-day moving average of 2.50.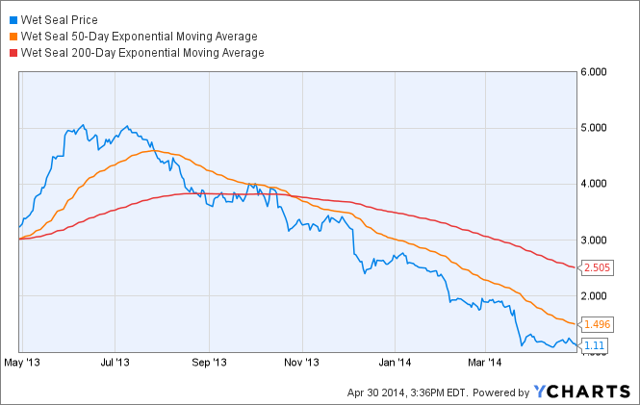 But it has bounced from its 52-week low of $1.05. As such, it is no longer a falling knife - there has now been support for about a month at the current price levels. On the basis of the Arden B decision, I think that we have reached an inflection point for this stock. My opinion is that there is a good chance that Wet Seal will be trading again above $2.50 within a year. If its turnaround works on 2012 levels then the company's shares will be selling in the $5 range. At this time the bar for Wet Seal has been set VERY low, and the company has very little that it needs to do to reach that bar and meet its turnaround goals.
Disclosure: I am long WTSL. I wrote this article myself, and it expresses my own opinions. I am not receiving compensation for it (other than from Seeking Alpha). I have no business relationship with any company whose stock is mentioned in this article.
Additional disclosure: I am an independent stock analyst and I am in no way affiliated with the Wet Seal company. Do not take the advice in this article as a sole basis for your stock choices. Consult with your financial advisor before acting on the recommendations in this article.
Editor's Note: This article covers one or more stocks trading at less than $1 per share and/or with less than a $100 million market cap. Please be aware of the risks associated with these stocks.