Last week, I issued an article forecasting Penn West's (NYSE:PWE) Q1 operations as follows: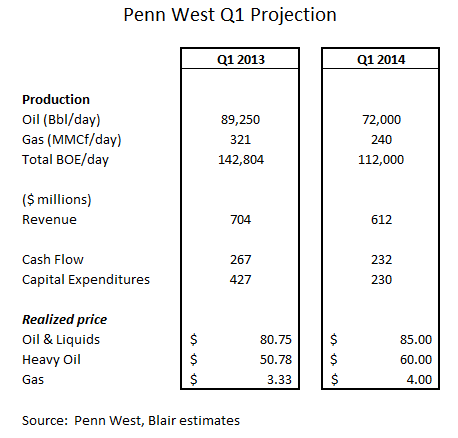 Actual production was pretty well in line with that projection, but financial results were substantially better, primarily as a result of higher-than-expected realized commodity prices.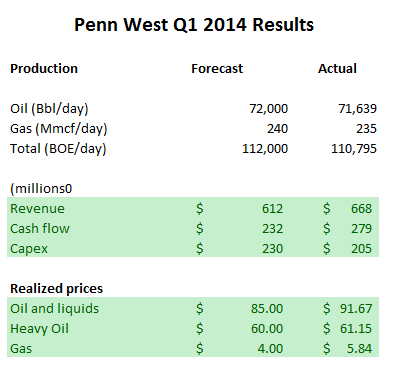 Source: Penn West Q1 release
Penn West earned a netback of $36.67 in the quarter. While the company's press release did not disclose finding and development costs for the quarter, it did indicate that its drilling program enjoyed a 100% success ratio, and completed all planned wells for $205 million versus a budgeted $230 million. If the quarter's drilling resulted in finding and development costs anywhere close to 2013's average of $17.17 per barrel, Penn West would have a recycle ratio north of 2.1, which is very healthy. Data on Penn West's finding and development costs will be published over the coming weeks.
The execution of Penn West's capital program is impressive. Completing planned wells with $25 million less outlay can only serve to remind investors that capital efficiency is what a large oil and gas management team is all about and that a well-executed capital plan will pay off over time. Management sees cost efficiencies going forward, as described in the earnings release.

This is precisely what Penn West has needed but lacked for a few years - a disciplined and targeted program to prove up and develop the massive potential of Penn West's almost 3 million net acres of prospective acreage.
I have been playing PWE through call options, holding the January 2016 calls at a $5 strike in a number of my investment accounts, including Renegade Capital Corporation, my investment holding company. I paid $2.40 a share for each call, and before today's release, they were trading at $4.20, a gain of 74%. I expect them to do a lot better over the coming months.


Source: Renegade Capital Corporation account data
I hold an identical call position in my personal account, together with 12,000 shares, bringing my total current holding to 32,000 shares. I did sell calls on 10,000 shares that were shorter duration for a decent gain not that long ago.

Disclosure: I am long PWE. I wrote this article myself, and it expresses my own opinions. I am not receiving compensation for it (other than from Seeking Alpha). I have no business relationship with any company whose stock is mentioned in this article.