In a recent article Larry Swedroe took up the question of "Do Dividends Lower Stock Prices?" In his piece he offers some examples of how dividend payments as opposed to other corporate actions or options (share buybacks, debt pay down, cash retainment) seek to hold down share price over time. Most of his illustrations seemed fair and realistic, so I think it's theoretically plausible to say that dividend payments could seek to hold back share prices. This would be true both instantaneously when the dividend is paid as well as on a longer-term basis, with the assumption that alternate corporate actions would increase the capitalization the market would otherwise apply to a company.
Of course all of his assumptions are suppositions, and there's no accurate way to know if alternate cause and effect situations like cash retention or share buybacks, compared to dividend payments, would actually lead to higher share prices. I can just as easily sit here and tell you that building cash reserves instead of paying dividends could lead to bad corporate investments, and subsequent share price destruction greater than that hypothetically seen via dividend payment.
Mr. Swedroe also states in his article:
Dividends are not a free lunch. They return the capital the company has to its shareholders, reducing the value of the company.
While perhaps this is somewhat of a semantics discussion, I would opine that dividends should not be considered a return of capital by a company, but more a way of conveniently sharing ongoing earnings with equity holders. In that respect they are a free lunch - a way for investors to lock-in profits on a periodic basis, without worry or care about share price or irrational market behavior. If your investment does an Enron, at least you've locked in some return along the line. Consider a dividend as a hedge on your investment, management malfeasance, or irreparable damage to a security's market value.
And while dividend payments do decrease the amount of cash sitting in corporate coffers on a quarterly or more frequent basis, the market isn't going to necessarily reward a company just because it has a growing wad of cash. Apple's (NASDAQ:AAPL) cash stash, for example, has been a source of considerable controversy, and many have been critical of the company for not doing enough with it. Although with Apple finally posting a solid quarterly number and the stock moving for the first time in quite a while, perhaps that criticism will wane. But would Apple's stock price be higher if it were paying a higher dividend?
(click to enlarge) AAPL - 2 year chart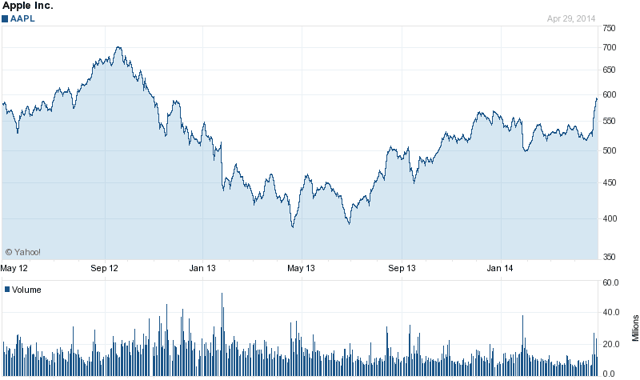 Click to enlarge
So the ultimate "value" of a company is in the eye of the beholder, or speaking more broadly, the eye of the market. The market takes a variety of factors into account as it plays judge and jury with security specific capitalization on an ongoing basis. Mr. Swedroe may be right that cash leaving a company's bank account lowers the number on the left hand side of the balance sheet, but speaking on a more intrinsic level, I don't think it's fair to say that dividends reduce the value of a company.
Getting To The Question At Hand
In a strategic sense, investors should not be worried about the mechanism of the dividend per se, but should consider whether there is an eminent disadvantage in taking dividends. In other words, do dividends affect the function and forward positioning of a company so much that investing in those that pay them creates a severe, undeniable total return discrepancy? Do dividends actually lower total return?
Mr. Swedroe has intimated in the past that a focus on dividends is not the correct way to invest, instead advising investors to follow earnings and other fundamental data points. For investors predicated on the price function of total return this is probably sound advice. However, there are total return investors that are more focused on the income function of total return - dividend growth investors. Dividend growth investors tend to be somewhat apathetic to price, preferring a stable, growing dividend to a necessarily robust stock price. So they will focus efforts on finding those companies with solid payout profiles, rather than obsessing over whether a stock's price will move up or down over the next six months or not.
Though I'm not inclined to quote the various studies and papers that have been done on the performance of dividend payers versus non-dividend payers, as both sides have beaten that horse to death, it is interesting how two totally divergent sides to the argument exist. Seeking Alpha author Chuck Carnevale in an article some time ago even suggested that dividend payers actually provide a "return bonus" compared to companies with similar earnings growth patterns that do not pay a dividend. While that piece was interesting, my guess is we could also find instances where the opposite is true.
So while in Mr. Swedroe's examples it may be fair to conclude in theoretical form that over the long-term dividend payments may hold back stock prices, I don't think there's any evidence to believe that dividend payments hold back total return. Mr. Carnevale's examples actually show otherwise, with the takeaway that dividend payments have an effect of juicing returns.
To conclude that dividends do damage to total return, we'd again have to enter the world of make believe. We'd have to say that the company shedding dividends would, on an annual basis, be able to provide investors with a return on "dividend money" that the market recognizes with a market capitalization advance in excess of monies released to shareholders. That sounds like an iffy proposition, at best.
My sense is that there is good reason to believe that payment of a dividend causes increased managerial stewardship of company coffers, leading to less corporate waste, better focus, and perhaps even better total return over the long haul. But I don't think there's any way to make a definitive assertion, despite the litany of research that may say otherwise. Instead, as I continue to believe and opine, return is a function of specific security selection, and not a function of chosen strategy or generalized stock picking tactics.
To conclude, while in theory the payment of dividends may hold back stock prices, there doesn't appear reason to believe that dividends, on a wholesale basis, hold back total return. If that's the case, there's no reason to denigrate a dividend focused strategy or criticize those that profess it.
Disclosure: I am long AAPL. I wrote this article myself, and it expresses my own opinions. I am not receiving compensation for it (other than from Seeking Alpha). I have no business relationship with any company whose stock is mentioned in this article.
Disclaimer: The above should not be considered or construed as individualized or specific investment advice. Do your own research and consult a professional, if necessary, before making investment decisions.