It is no secret that I am a huge fan of Omega Healthcare Investors (NYSE:OHI). Over the years I have gradually screened the Real Estate Investment Trust sector and I found Omega Healthcare Investors to be one of the most convincing healthcare REITs in the marketplace. I think Omega Healthcare Investors is a solid investment for income investors seeking both recurring income and the potential for capital appreciation and might also be an interesting alternative for investors who gravitated toward an investment in Health Care REIT (NYSE:HCN). Healthcare REITs like OHI invest in senior care facilities which are operated by third party healthcare providers. The main reason I like Omega Healthcare Investors is because it gives investors exposure to two convincing secular trends: U.S. real estate and the rising demand for senior healthcare.
Two megatrends benefiting OHI
The United States, despite its current economic problems, remain one of the most attractive countries for immigration and I would venture to guess, that America only becomes more attractive for immigrants when the U.S. economy does better. Immigration and population growth also lead to larger cohort of people aged 65+ who require medical assistance and, possibly, will be institutionalized. In addition, a steady flow of new residents has profound impacts on the value of real estate in a country. An investment in Omega Healthcare Investors combines both themes.
Of course, in order to benefit from an investment in Omega Healthcare Investors, investors need to have a long-term investment horizon. Senior healthcare is a megatrend that will only gradually play out and does require a significant amount of patience on the side of the investor. Nonetheless, Omega Healthcare Investors is an excellent bet on both the U.S. and the rising demand for medical facilities in the coming decades.
I have previously written about Omega Healthcare Investors as a cornerstone investment for retirees who desire a dependable dividend-paying stock with little need for attention. Omega Healthcare Investors might also be a suitable investment for investors who desire low portfolio turnover and who want to minimize transaction costs.
First quarter results
Omega Healthcare Investors delivered first quarter results on Tuesday which were solid (as expected). The REIT reported:
Reported funds from operations (FFO) of $84.4 million or $0.68 per common share compared to $70.1 million or $0.62 per common share in the year ago quarter -- a plus of 20% (10%).
Adjusted FFO of $88.8 million or $0.71 per common share compared to $71.7 million or $0.63 per common share in last year's first quarter -- an increase of 24% (13%).
Net income available to common stockholders of $55.8 million or $0.45 per diluted common share vs. net income of $38.1 million or $0.34 per diluted common share in the year ago quarter -- an increase of 46% (32%).
I have also previously pointed out that Omega Healthcare Investors has been investing aggressively in new facilities: In the first quarter 2014 the REIT continued its growth strategy and funneled $117 million into new investments and allocated another $4 million to capital renovation projects.
Omega Healthcare Investors has presented another solid quarter with improvements in both net income and, more importantly, funds from operations. Given OHI's strong first quarter performance, I expect further dividend increases throughout 2014.
Technical picture
Omega Healthcare Investors has done well for shareholders: Over the last year the stock returned 8% and over the last two years 63%. The stock also has gained momentum since the beginning of February 2014 when equity markets quickly rebounded from the sell-off at the end of January. Since the beginning of February, Omega Healthcare Investors has returned approximately 14% and I see further upside potential for the remainder of the year.
Consolidations, of course, can happen any time, especially after OHI's run up since February, but pullbacks in share price always offer investors a good opportunity to purchase more of a quality stock. The power here lies with investors who don't need to trade.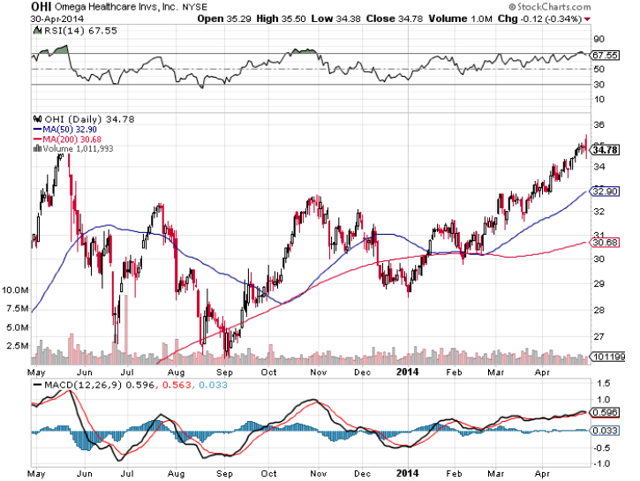 (Source: StockCharts.com)
Conclusion
Omega Healthcare Investors remains a solid REIT pick for investors looking for a steady income stream even though OHI's stock price has increased substantially over the last two years. First quarter results have shown that the healthcare REIT continues to deliver growth which is reflected in a solid 5.75% dividend yield. Omega Healthcare Investors' dividend stream also carries the implicit promise of further dividend increases down the road (the REIT just recently announced its seventh consecutive increase in its quarterly dividend). An investment in Omega Healthcare Investors is particularly attractive for investors who desire low portfolio turnover and who want to implement a serious, long-term financial plan to achieve financial independence.
Disclosure: I am long OHI. I wrote this article myself, and it expresses my own opinions. I am not receiving compensation for it (other than from Seeking Alpha). I have no business relationship with any company whose stock is mentioned in this article.