Old School Value Stock Portfolio Performance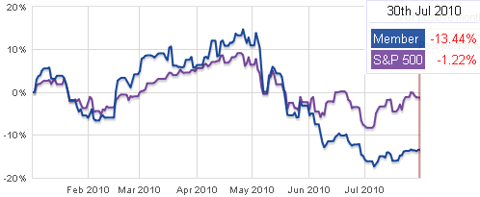 Here is the June and July portfolio update. The past couple of months have been tough on my portfolio as many of my high flying positions from last year crashed significantly.
In May I was down -13.76% and June was no better at -14.18%. July was a strong month for the market but the OSV portfolio underperformed with a gain of 2.72%.


June Transactions
Sold out of Radio One Inc. (NASDAQ:ROIAK) (ROIAK: 0.96 0.00%) for a total gain of 550%.
I am still happy with the end result but I made a BIG mistake by not selling earlier and trying to gain a few more cents. If you haven't gone through my previous portfolio updates, I was up over 1200% on ROIAK but greed got the better of me again. It does hurt to see your gains go from over 1200% to 550% but I'll take it any day.
Bought and Sold Pinnacle Gas Resources, Inc. (PINN) (PINN: 0.3216 0.00%) for a 10% gain.
A risk arbitrage play that was sitting on its closing price until the market volatility hit and shares dropped enough to allow a quick and easy 10%.
The downside is that volume was so low I could only buy about $300 worth.
Sold Elbit Systems Ltd. (NASDAQ:ESLT) (ESLT: 55.12 0.00%) at a -5.45% loss.
Originally bought the stock in January, where I thought it was a deep value opportunity selling for much less than its Net Net Working Capital, but I had made a mistake in my calculation and actually bought at the NNWC.
Thankfully, ELST released good quarterly numbers and the price jumped to where I could offload despite a small loss.
July Transactions
Sold out of ValueVision Media Inc. (VVTV) (VVTV: 1.82 0.00%) for a total gain of 357.5%.
Much like ROIAK, I failed to sell when it was above its intrinsic value and therefore missed out on a bigger profit. But I did sell after deciding that the performance of the company came to the point where I couldn't justify holding it any longer.
Sold out of Tronox (TRXAQ.PK: 0.00 N/A) for a loss of -66.7%.
Goes to show how difficult investing in bankruptcies are. In April I was pleased with how the company was proceeding with its operations and I was confident that the reorganization plan would reflect value to equity holders, but it wasn't to be.
The Proposed Joint Plan of Reorganization [POR] threw a curveball to equity holders.
I'm out of bankruptcies for the foreseeable future.
Bought and Tendered Fidelity National Information Services, Inc. (NYSE:FIS) (FIS: 28.72 0.00%)
A special situation opportunity brought to my attention by Value Uncovered.
Financing has been settled and there doesn't seem to be anything further that could upset the transaction.
No news on the dutch auction, and with all special situations, no news is good news.
Sold out of Emmis Communications Corp. (NASDAQ:EMMS) for a 1.2% gain.
Bought a good sized position at the end of June expecting an easy 10%, but sold out upon news of activists forming a group to vote against the buyout.
As you can see, I've been doing a lot more selling than buying. Cash now makes up about 27% of the portfolio. With my cash position increasing every month, my goal for the remainder of the year will be to break even again. Market wins in 2010.
Disclosure: I hold all stocks except sold positions.