Saying "I told you so" isn't always a sign of bad manners – not when good news is involved. Well, I did tell you to expect this: China has now raced past Japan to become the world's number two economy.
Just last Christmas I wrote that China would blow past the Chinese economy this year. And so it has. Yi Gang, China's top currency regulator, says China has "in fact" overtaken Japan as the world's second-largest economy.
When I made the prediction through the China Stock Digest, China's gross domestic product numbers had just been revised upwards. The new total GDP rose to almost $5 trillion (and growing). Japan's GDP was approximately $5.2 trillion and the economy was shrinking.
With China's accelerating growth, it was only a matter of time before Japan's sputtering economy was left in the dust.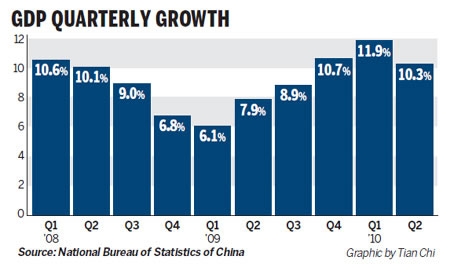 Courtesy: China Daily
The new guessing game will be figuring out when China's economy will surpass that of the U.S. But that's a game for pundits.
Investors need to know how the world is changing now.
Focus on Profit, Not Fear
Before the Japanese economy hit the skids, Americans were obsessed with fears of a takeover of the world's economy by Japan. We'll soon be hearing the same dire warnings about China. But trust me. They're a complete waste of time.
Focus instead on where money will be made in this shifting balance of economic power. The stakes are in the trillions of dollars and growing.
Beijing and Washington finally realized this year that there's a lot more money to be made by cooperating than by fighting for dominance. By the same token, we investors don't need to pick sides among the world's two great economic powers. We simply need to know where the money is flowing.
Chinese consumption is the key to unlocking the puzzle. One Wall Street Journal writer estimates that the Chinese middle class is growing by an astonishing fifty million people every year. Even if that number is inflated, Chinese buying appetites are creating what will be the world's largest consumer market.

Courtesy: China Daily
Serving that market is a business opportunity like no other. Companies like Apple (NASDAQ:AAPL), Louis Vuitton (LVMH) and even GM (NYSE:GM) are focusing on future expansion in China. They realize that the greatest profits from selling consumer products are realized not by the manufacturing country, often China itself, but by brand name companies. Value-added brands are profit centers.
But, not all Chinese have the resources to buy luxury goods. China's GDP per capita was only $3,620 last year. China's output per person was ranked 124th globally by the World Bank. China's per capita output is still just a fraction of Japan's $37,870 and the U.S.'s $47,240.
The average income for city dwellers was just $2,700 last year according to Chinese officials. Chinese city dwellers are key targets for lower-cost western brands. Companies like Yum Brands (NYSE:YUM), McDonald's (NYSE:MCD) and Starbucks (NASDAQ:SBUX) are aggressively expanding in China with this booming market in mind.
As part of its economic recovery China is engaged in a nationwide infrastructure build-out. This massive expansion is driving growth in much of Asia. One of the key players to benefit is Caterpillar (NYSE:CAT).
Global Plays
China's industrial colossus is also transforming the world energy scene. Oil prices are range-bound now because of the U.S. economic slump. But China just passed the U.S. to become the world's biggest energy consumer.
As Chinese companies span the globe to buy new energy resources, world prices will certainly feel the effects.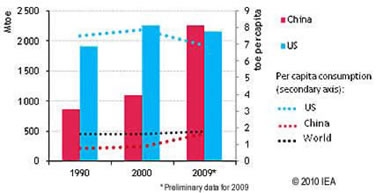 Courtesy: Brian Resny and the International Energy Association
China's per capita energy consumption is still far below that of the U.S. As the Chinese become increasingly car crazy, oil prices will come under growing pressure. The same goes for raw materials used in the building of infrastructure and heavy consumer goods like autos.
Chinese companies will also be scrambling to take advantage of growing wealth. For the names of Chinese companies expected to make big gains this year, go here.
Don't despair about the U.S. even though pundits whine that "everything is made in China now." The fact is China's share of the global total of manufacturing value reached just 15.6 percent in 2009. That's slightly higher than Japan's share of 15.4 percent. The USA continues to hold its rank of first place with 19 percent.
Here's the bottom line. China is quickly coming into its own as the world's largest market opportunity. The nation's growing wealth is a colossal event that we can all benefit from if we invest wisely.
Revaluation of the yuan is inevitable. As the value of China's currency goes up, the nation's consumers will become wealthier and consume even more. Keep in mind that China needs to raise hundreds upon hundreds of millions of people from poverty in coming years.
We are witnessing the economic event of a century. And we're seeing the investment opportunity of a lifetime.
Disclosure:
No positions