It smells a bit like 2009 to me. Specifically, emerging markets are outperforming foreign markets… and foreign markets are outperforming U.S. markets.
The driving forces? One, investors perceive that China demands materials and energy vis-a-vis a "reflation trade." Two, currency traders are "short" the U.S. dollar once more vis-a-vis a "carry trade."
Reflation may not be occurring by direct stimulus. Yet there's increasing confidence that China has removed its foot from the brake pedal.
Shorting the dollar may or may not be occurring by a decision to purchase higher-yielding currencies. However, there's increasing comfort with the idea that the ultra-safe greenback is resuming its downtrend. Indeed, the PowerShares Dollar Bullish Fund (NYSEARCA:UUP) is below its 200-Day trendline.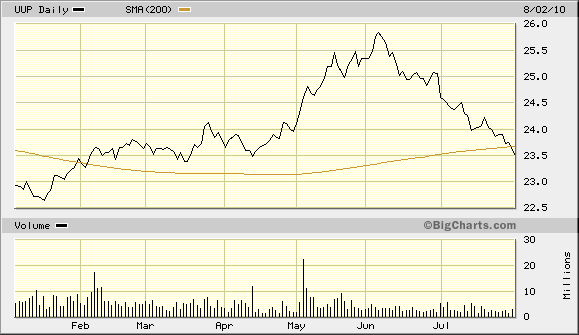 Major indexes are positive for 2010… correct? A majority of ETFs have reclaimed their 200-Day moving averages… yes? Perhaps all is right with the investment world after all.
That said, when the "risk trade" is firing on all cylinders, U.S. small caps have tended to out-hustle U.S. large caps. That wasn't the case on manic Monday, 8/2/10.
U.S. Large Caps Outperformed Small Caps on August's Opener
Approx %
S&P 500 SPDR Trust (NYSEARCA:SPY)
2.26%
iShares S&P 500 (NYSEARCA:IVV)
2.20%
Vanguard Large Cap (NYSEARCA:VV)
2.19%
Vanguard Small Cap (NYSEARCA:VB)
1.91%
iShares Russell 2000 (NYSEARCA:IWM)
1.74%
iShares S&P Small Cap 600 (NYSEARCA:IJR)
1.58%
My curiosity doesn't end there. Much like in March of 2009, Materials and Financials found themselves leading the U.S. sector pack. However, the previous front-running power of consumer discretionary companies seems muted; consumer staples fared the worst of all economic segments.
Several Sector Leaders and Laggards in August Opener
Approx %
Select Sector SPDR Energy (NYSEARCA:XLE)
3.49%
Select Sector SPDR Materials (NYSEARCA:XLB)
2.70%
Select Sector SPDR Financials (NYSEARCA:XLF)
2.52%
SPDR S&P 500 (SPY)
2.26%
Select Sector SPDR Consumer Discretion (NYSEARCA:XLY)
2.13%
Select Sector SPDR Health Care (NYSEARCA:XLV)
1.88%
Select Sector SPDR Consumer Staples (NYSEARCA:XLP)
1.15%
By no means am I looking to throw a wrench into the global industrial cycle. In fact, I've maintained a healthy amount of bullishness throughout 2010, viewing February and May-June as probable corrections.
What we may have here, then, is an achievement in articulation. Specifically, money may be flowing back into emerging market stocks, foreign developed market stocks and U.S. large caps. However, Small Cap ETFs and Consumer ETFs may require signs of strength via employment reports and small business credit issuance. Without these items, these risk assets may be left behind.
Disclosure Statement: Gary Gordon, MS, CFP is the president of Pacific Park Financial, Inc., a Registered Investment Adviser with the SEC. The company and/or its clients may hold positions in the ETFs, mutual funds and/or index funds mentioned above. The company receives advertising compensation at the ETF Expert web site from Invesco PowerShares Capital Management, LLC. The commentary does not constitute individualized investment advice. The opinions offered herein are not personalized recommendations to buy, sell or hold securities.