Although there are no deals to report today, there are a lot of rumored deals that are being discussed as the landscape changes in some key industries. A lot of these deals hinge on just one deal getting approved and that deal will probably take a year to close. In the meantime we will hear a lot of rumors of possible deals but it is important for investors not to chase stocks based on rumors because sometimes companies use rumors to put another company that they would rather buy into play.
Looking at the economic data released today, it was mixed to say the least. The news was not bad, but it was also not good. It was so-so if we are being honest. The one bright spot we saw were the Personal Income and Personal Spending figures, both of which came in rather strong and could pave the way for growth moving forward.
Chart of the Day:
The Dow Jones Industrial Average hit a fresh all-time high yesterday and that sticks with our thinking that industrials will lead the next leg higher for this bull market. The big industrial names are quite attractive when valued on various metrics and with an improving economy we could see 20% upside.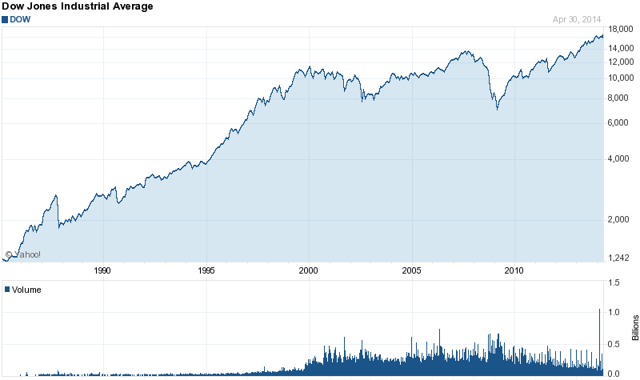 Click to enlarge
Source: Yahoo Finance
We have economic news today, and it is as follows:
Challenger Job Cuts (7:30 a.m. EST): Est: N/A Actual: 5.7%
Initial Claims (8:30 a.m. EST): Est: 315k Actual: 344k
Continuing Claims (8:30 a.m. EST): Est: 2725k Actual: 2771k
Personal Income (8:30 a.m. EST): Est: 0.4% Actual: 0.5%
Personal Spending (8:30 a.m. EST): Est: 0.6% Actual: 0.9%
PCE Prices - Core (8:30 a.m. EST): Est: 0.2% Actual: 0.2%
ISM Index (10:00 a.m. EST): Est: 54.5 Actual: 54.9
Construction Spndg (10:00 a.m. EST): Est: 0.4% Actual: 0.2%
Nat Gas Inventories (10:30 a.m. EST): Est: N/A Actual: 82 bcf
Auto Sales (2:00 p.m. EST): Est: N/A
Truck Sales (2:00 p.m. EST): Est: N/A
Asian markets are mostly closed today:
All Ordinaries -- CLOSED
Shanghai Composite -- CLOSED
Nikkei 225 -- up 1.27%
NZSE 50 -- CLOSED
Seoul Composite -- CLOSED
In Europe, markets are also closed for the most part this morning:
CAC 40 -- CLOSED
DAX -- CLOSED
FTSE 100 -- up 0.31%
OSE -- CLOSED
The Key
The current M&A landscape is set up as it always has been; like dominoes. For the two decades that we have been involved in the markets it has always been true that M&A breeds further M&A. The speed at which the dominoes fall is dependent upon many things, including but not limited to funding, the economy, multiples and regulators. Right now we see a number of deals that could be done but hinge upon the regulators in Washington and how they will view such deals.
A litmus test is always developed in regards to major deals and that is precisely what we expect to happen when Comcast (NASDAQ:CMCSA) goes to Washington to pitch their latest deal. How the regulators and politicians view this deal will be key as some smaller deals could soon follow if regulators take a favorable view of the transaction.
Next In Line?
One would have to believe that the next potential deal would involve a telecom company looking to add scale to their various offerings, and we think that with all of the noise surrounding AT&T (NYSE:T) lately that it will probably be the one to do a transaction outside of the phone business. The rumor today is that they are looking at DirecTV (DTV) as a way to become a national competitor with Comcast. One would have to think that if you offer regulators the opportunity to create two national competitors that they would take that over just one, so a deal for a satellite TV company makes sense.
The fact that it is DirecTV however does make us pause. Our thinking has been that Charlie Ergen would merge Dish Network (NASDAQ:DISH) with a telecom company and if he was unsuccessful as a buyer might very well become a seller. Dish Network would make far more sense as a takeover candidate for AT&T than DirecTV as they have a valuable portfolio of spectrum that could help AT&T upgrade their network and add much needed capacity in certain key markets across the country. Ergen does not strike us as someone needing, or wanting for that matter, to sell right now but we would not be surprised if the latest rumors surrounding AT&T were not meant to bring Dish into the fold.
One thing is for certain, if Mr. Ergen did decide to sell, he would be getting top dollar as this long-term chart shows. Selling at all-time highs in a tax efficient manner that gets you currency that pays a solid dividend would be a very nice move.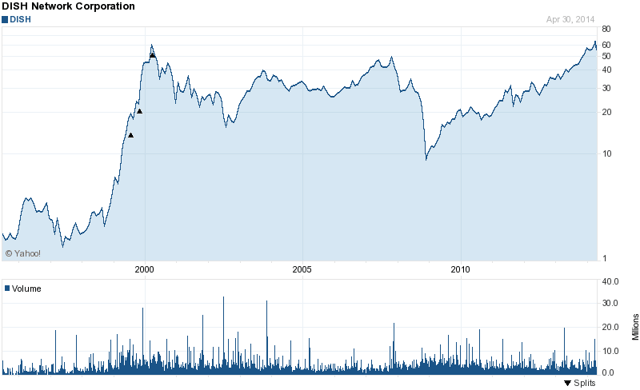 Click to enlarge
Source: Yahoo Finance
And A Sprint For The Finish
If regulators allow those two mega-deals to pass then one has to give today's rumors of Sprint (NYSE:S) trying to force through their long desired merger with the #4 national carrier a strong chance of getting the green light. Everyone has heard the opposing arguments already; three national carriers instead of four hurts consumers while two weak smaller national carriers hardly pose a threat to two much larger national carriers. If the country's regulators decide to start creating true national players in the pay TV space, and allow one of the national phone companies to partake in that consolidation then allowing a true #3 player in mobile seems probable.
The subscriber growth among the #3 and #4 carriers has been strong as of late, but that growth will have to slow unless these two companies can build out bigger networks that can handle the required capacity. For Sprint that might not be an issue with their capital infusion, but for all the smaller players in the sector it does look like a real issue they will have to face sooner rather than later.
Disclosure: I have no positions in any stocks mentioned, and no plans to initiate any positions within the next 72 hours. I wrote this article myself, and it expresses my own opinions. I am not receiving compensation for it (other than from Seeking Alpha). I have no business relationship with any company whose stock is mentioned in this article.
Additional disclosure: T has previously been recommended.