JetBlue Airways (NASDAQ:JBLU) is a budget commercial airliner that flies throughout the U.S. as well as select destinations in the Latin American region. It is the fifth-largest airliner in the country and has been consistently ranked as among the best in customer satisfaction among low-cost carriers for many years. Following last week's earnings miss, the company fell below $8 for the first time in six months, and the company's recent decision to unionize its pilots through ALPA has added to the fire that has alarmed many investors. However, these two things only go to show the great play that the airline is. For the long-term investor, the company presents a very keen investment opportunity.
Unionization through ALPA
A fellow writer on Seeking Alpha submitted an article the other day lambasting JetBlue's decision to unionize and stated that it would hamper the company's financial performance. As he put it, the decision would hurt the airliner by making it adjust its pay rates and regulations for its pilots, therefore putting an obstacle in place for the company to maneuver around.
I think this analysis is short sighted, though. Instead, the decision to join ALPA represents a slice of the airliner's long-term strategy, and the union will help JetBlue bring out the best in its pilots. Without a union, the annual compensation of its employees is in the hands of the company's own research committee, which spends valuable time into researching and analyzing wages and benefits that are competitive with the airline's industry peers. Although JetBlue pilots already make on average slightly more than pilots at other low-cost carriers such as Southwest (NYSE:LUV), having the union in place now makes it remarkably easier for the company to go about its day-to-day operations, as it now has less on its plate regarding potential labor issues. JetBlue captains Gustavo Rivera and Rocky Durham said in a joint statement,
"JetBlue pilots have voted for ALPA representation so that we have the ability to improve our professional careers."
Earnings Recap and Outlook
The first quarter of FY 2014 was not a happy one for JetBlue nor its investors. The company reported $1.3 billion in revenue, up 3.6% year-over-year, but its net income came out to only $4 million, a significant decline from the $14 million posted in Q1 2013. Diluted EPS was only a mere penny, missing guidance by seven cents.
However, much of its performance can be attributed to the horrible weather that hit the Northeast earlier this year. As an airline based out of New York, JetBlue's performance struggled as it had to cancel more than 4,000 flights - the company estimates that this reduced operating income by more than $35 million. In addition, with the move of Easter from March to April, a decent chunk of the company's typical Q1 revenue was shifted to Q2. The company predicts April revenue to rise between 9.5% and 10.5% and May revenue to rise as well. CEO Dave Barger said,
"While first quarter results were negatively impacted by severe winter weather in the Northeast, we believe our maturing network in a high-value geography together with our differentiated product and service will help JetBlue expand margins and improve shareholder returns in 2014."
Going Forward
An important piece of news is the company's decision to slash underperforming routes in favor of opening up more slots in airports such as Washington's Reagan National Airport. Twelve new slots became available for JetBlue, giving it increased leverage to do well in a market that has been of great demand by passengers. In addition, the company is also planning to begin routes to new locations such as Hartford, Charleston and the Bahamas. Increased exposure to destinations along the Eastern United States will help the company in the long run, especially being based out of the same coast.
Beginning in June, JetBlue will service its new Mint flights. These premium cabins were announced last year to serve passengers on transcontinental flights between New York and Los Angeles/San Francisco in an attempt to keep up with its competition over at American (NASDAQ:AAL) and Delta Air Lines (NYSE:DAL). They are installed on the carrier's new A321 planes and will have 16 seats (12 flatbed business class seats and four private suites similar to what you see on A380s). What this development does is help capture the elite group of travelers that make up over a third of revenue on transcontinental routes. Also, JetBlue has a newly upgraded economy cabin on the A321 with personal entertainment screens, power outlets at every seat, and free in-flight Wi-Fi. This development shows the commitment that the airline has made to capturing new elite travelers as well as its traditional economy flyers.
Valuation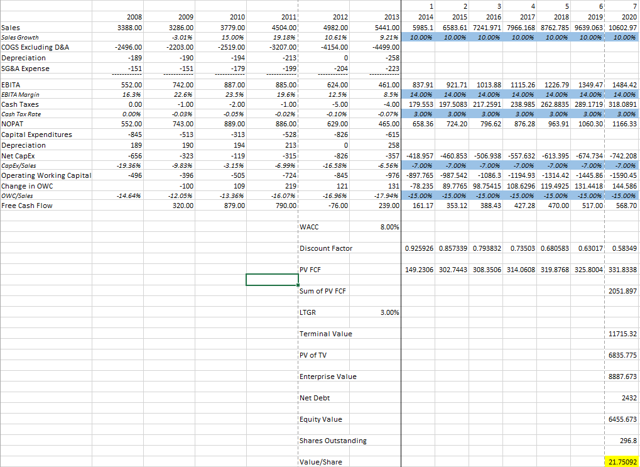 A very simple DCF I constructed shows the company to be trading at a huge discount to its theoretical price. I tried to keep this as objective and reasonable as possible, creating assumptions that are not too far-fetched from what the airline can actually expect.
Sales growth is projected at 9.00% for the coming years, and this prediction was made off of the reasoning that the airline is continuing to innovate by servicing new routes domestically, creating new experiences for flyers through the A321 and the Mint flights, and thinking about expanding internationally in the future. I set the EBITA margin at a steady 14.00%, based off of the assumption that operating costs will lower in the short term and long-term future. We have already seen the company cut costs by getting rid of underperforming and cost-inefficient flights and deciding to unionize which has eliminated extraneous research operations done by the company. Bloomberg has the WACC at around 6.00% right now, which is impressive but does not represent the company historically (the WACC was at 11.00% a short while ago) and would make the theoretical value set to 40. I averaged out the WACC over a course of five years and settled on a value of 8.00%.
Conclusion
To me, JetBlue seems like a wise opportunity for investors who are looking for exposure to the airline industry. The company is one of the biggest airlines in the U.S., ranks high among customer satisfaction, and continues to make advancements for the future. I recommend investors to pick up a position.
Disclosure: I have no positions in any stocks mentioned, but may initiate a long position in JBLU over the next 72 hours. I wrote this article myself, and it expresses my own opinions. I am not receiving compensation for it (other than from Seeking Alpha). I have no business relationship with any company whose stock is mentioned in this article.