As of August 2, 2010, a share of Computer Sciences Corporation (NYSE:CSC) stock had a market price of $46.38. We believe that CSC's long-term fundamental value is at least 15% to 35% greater than the current market price. Such price appreciation, or greater, could be experienced within the next two years as the Company grows and/or its current earning power is adequately recognized by other investors. Our conclusion results from a thorough examination of CSC's financial position, operations, industry, competitors, as well as a brief look at the Company's technical pricing patterns. For details on CSC's business, three operating segments, strategic positioning, and its global presence please read our prior post.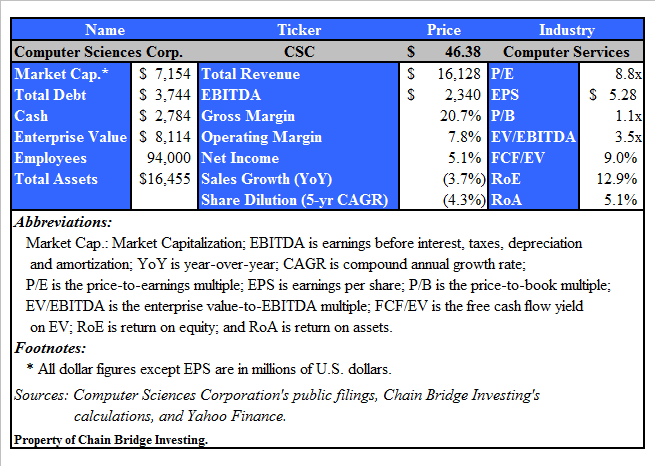 CSC's Financial Position Both Liquid and Solvent
Our analysis shows that CSC provides little fundamental downside risk to the investor. As seen in an earlier post, the Company is very liquid and solvent with a relatively large amount of cash. Such a strong financial position provides the Company with the flexibility to maneuver around obstacles, invest in growth, and return value to investors.
CSC's Revenue and Operations Exhibit Stability
CSC's revenue generation and operations have historically exhibited a degree of stability. Such stability is derived from the Company's: (1) large and diversified clientele; (2) significant operational exposure to both the commercial and the public sector; (3) strong bookings over the past couple of years; (4) position in high growth industries; (5) strong customer relationships, with existing clients accounting for nearly 80% of annual revenue; and (6) continued focus on improving the profit margins. Although these factors do not guarantee that CSC will not suffer from declines in revenue and/or profit, they do limit the downside and even make a case for the fact that the Company can continue to grow long term and maintain its history of stability.
Possible Reasons for CSC Selling at a Discount
Despite the factors above, market participants have priced CSC at a discount to its fundamental value as seen through an analysis of the following: (1) CSC's historic price-to-earnings ("P/E") multiple; (2) competitors' P/E multiples; (4) competitors' enterprise value ("EV")-to-earnings before interest, taxes, depreciation and amortization ("EBITDA") ("EV/EBITDA") multiples; and (5) CSC's free cash flow yield on its EV.
Some factors that market participants might list to justify the current market valuation include:
CSC's margins are significantly lower than its competitors'. While these margins are currently stable and increasing, they may decline in the future. Yet, even though CSC's margins are lower than competitors, the Company is not losing many clients despite some reductions in contract work - in fact it is gaining clients. CSC remains competitive for contracts and given its bookings the Company appears to be growing future business. Furthermore, as the Company shifts some of its operations to Asia and increases its selectivity of the contracts it bids on in the future, there is a good probability that the margins will continue to increase. Moreover, regardless of margins, the Company remains cheap in regards to absolute profit and cash flow. Consequently, the lower margins do not justify the current discount market participants are applying to CSC's market value.
CSC lacks a relatively strong presence in Asia and Latin America. The Company is working to remedy this situation. CSC has at least two strong incentives to encourage it to continue to increase its footprint in Asia and Latin America: (a) increased revenue and (b) increased Asian operations would significantly improve profit margins. Furthermore, the Company, to be truly diversified, needs a stronger presence in Asia and Latin America. At present, the Company has too much exposure to Europe and the United States. Consequently, the Company has not been able to offset some of the recent troubles experienced on both continents. Yet, considering that other competitors also have significant exposure to the U.S. and Europe, such exposure does not justify the discount to CSC's fundamental valuation. One should carefully monitor CSC's efforts to expand its global footprint.
CSC has significant exposure to foreign currency price fluctuations due to its international operations. This is an industry problem. The Company uses hedges, but if one wants a global company, then this is a cost of doing business. In the long run, we believe these fluctuations will largely offset each other, thus it is not enough to justify the current discount to CSC's fundamental valuation, especially relative to its competitors.
CSC continues, in the near term, to face reductions in the scope and work of certain of its established contracts. Again, this is primarily an industry problem being experienced by competitors such as IBM and Accenture. Nevertheless, we believe that when an economic recovery occurs, then these reductions of scope will decrease or be offset. Also, one should not forget that as more companies adopt outsourcing services and information technology to become more competitive, services that appear discretionary today may not be so in the future.
CSC could be victim to future reductions in the federal government spending budget in both the U.S. and the United Kingdom. Some concern has been expressed over the Company's National Health Service's ("NHS") contract, one of its larger contracts. The contract, while still being worked on, has experienced some delays and reductions. Yet, the NHS contract is not going away and the Company is likely to still receive the majority of the contract price. This contract is not discretionary in our opinion. There is still much work to be done before it is completed and possibly extended. Moreover, we like the way CSC has positioned itself in high growth sectors to offset some of the potential federal spending reductions. The investor should be aware that there is always the possibility that the U.S. does not experience future reductions in its general budget, but instead experiences increased federal government expenditures, which would likely favor CSC.
CSC is not the best company in its industry with regards to its relative profitability. This is true, yet the Company's earning power, cash flow generation, and assets more than support the current valuation levels.
Valuation: P/E Multiple Analysis
Considering the above fundamentals of CSC, the Company's current P/E multiple of 8.8 times appears too low for a stable company like CSC. As discussed above, the Company does not show any indications of experiencing a future shock or a significant deterioration of its earnings power, which normally justifies a low P/E multiple. Historically, CSC has averaged a P/E multiple of 10.3 times over the last three years and 15.3 times over the last five years. Both of which are higher than the current multiple. Assuming no growth or contraction, a reversion to either mean would justify an investment in the Company. Furthermore, at present, IBM trades at nearly 12.4 times earnings, while Accenture (NYSE:ACN) trades at nearly 16.9 times earnings. Even if these companies do not represent perfect comparables for CSC, there is enough evidence to indicate that the P/E multiple should be higher than 8.8 times. The tables below illustrates the effect that various P/E multiples and earning outcomes would have on CSC's stock price (CSC's current earnings per share are $5.28).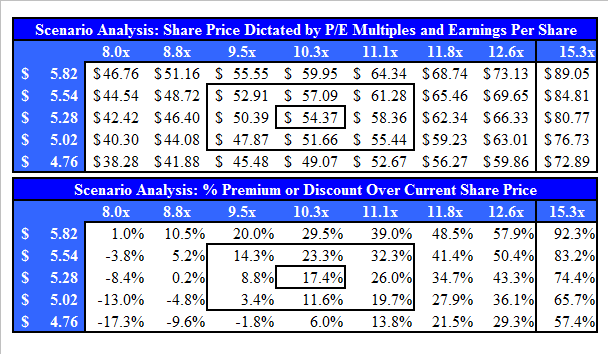 As can be seen, a return to the Company's average P/E multiple of 10.3 times over the last three years can offer significant upside for the investor. Yet, the average P/E multiple of 15.3 times over the last five years presents a very lucrative possibility. Nevertheless, at this time, we would consider a return to the 15.3 times multiple - at current earnings levels - to be very best case scenario and give it a very slim possibility.
One may argue that these tables did not delve into the possibility of a lower P/E multiple. While a lower multiple is possible, we do not see any fundamental reasons to justify a significant movement lower in the Company's P/E multiple. Moreover, we do not see much reason for the earnings per share to decline significantly in the mid- to long-term holding period. Investors in this case would have to apply their own risk preferences to determine how low the multiple could drop for them to feel comfortable holding the company. Again, at this time, there does not appear to be a fundamental justification for such a drop. The CSC's current fundamental factors appear to favor the longer-term investor.
Valuation: EV/EBITDA Multiple Analysis
Another multiple considered in the valuation of CSC was the EV/EBITDA multiple. Currently, CSC trades at an EV/EBITDA multiple of 3.4 times, much lower than the IBM's EV/EBITDA multiple of 7.4 times and Accenture's EV/EBITDA multiple of 7.0 times. Again, there is no fundamental reason for CSC's multiple to be this low without a permanent deterioration in CSC's earning power. As seen in the table below, the Company has demonstrated consistent earning power – historically.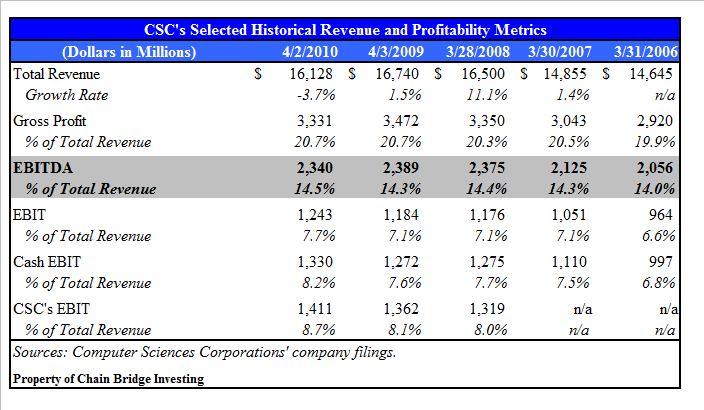 The three tables below illustrate the EV and the respective equity value that would result from various scenarios of CSC's EBITDA and EV/EBITDA multiples, assuming constant debt and cash. Again, one can see that there is significant upside to an investment in CSC as the EV/EBITDA multiple expands. As mentioned below, it is possible for the multiple to decline, but – at present – there exist few fundamental reasons that would justify such a decline. Another consideration favoring investors, is that as the Company pays down its outstanding debt levels and continues to maintain a similar cash position, the Company's equity value should, theoretically, rise.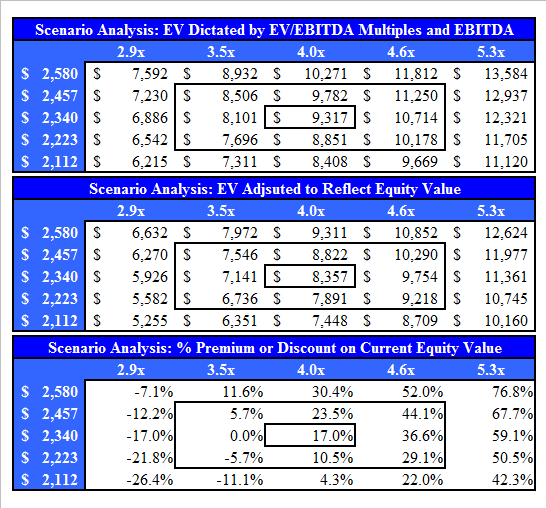 Valuation: Free Cash Flow Yield on EV Analysis
CSC's free cash flow generation ability was analyzed and the CSC currently produces enough free cash flow to yield approximately 9% on its EV and has averaged near 6.5%. Given the fact that CSC has few business altering risks to its business model, such a yield remains very attractive to the investor and is large enough given the risks to entice further investment.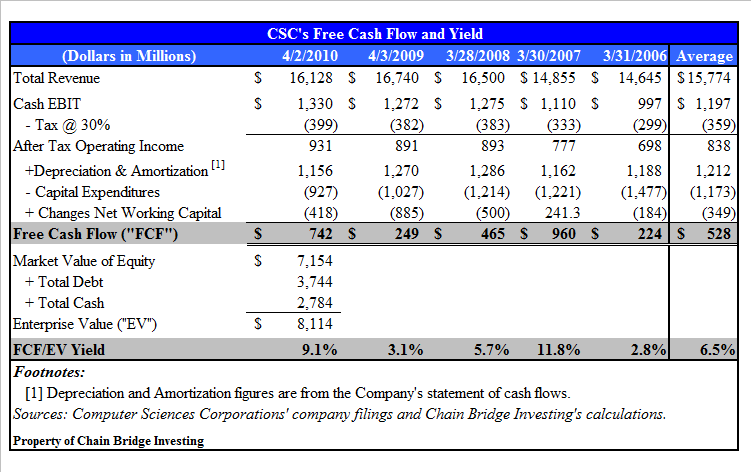 Many Factors Could Increase CSC's Growth and Value
After analyzing CSC's valuation based on P/E multiples, EV/EBITDA multiples, and free cash flow yield on EV, one should remember that there are many other factors that make CSC attractive and could justify the potential expansion of multiples and earnings power. Such factors include:
CSC does not have a history of diluting its shareholders. In fact, the Company has been a significant net buyer of its outstanding shares over the last five years.
CSC has started issuing dividends to its shareholders, which indicates that management may be satisfied with its cash position and cash generation ability. Such shareholder friendly actions may be pursued in an attempt to provide a spark for the stock price.
CSC is working on improving its profit margins and has shown recent signs of success. Such improvements seem likely to occur as the Company continues to reallocate more of its staff into Asia. Nevertheless, most of the margin improvement, not all, has come from declines in depreciation expense, which have coincided with reduced capital expenditures. Profit margins are one of the critical factors of CSC that we urge investors to monitor carefully, especially since earnings and free cash flow are driven by margin performance.
Since the CSC investors' conference in November 2009, Company management has stated multiple times that it is actively seeking potential acquisition targets. Given the strength of the Company's financial position, acquisitions that significantly improve the Company's revenue and operating results are possible. While analysts and investors usually value organic growth over acquisitive growth, CSC has a strong track record of successfully integrating its target companies into its operations and maintaining the incremental revenue from acquisitions. The ability to make future acquisitions should be viewed favorably and could also be a potential catalyst.
Furthermore, CSC's market position, size, operations, and balance sheet also make it a potential acquisition candidate in the IT services market. While one should not list this as a high probability scenario, it is a possibility and realistic given the Company's attributes.
CSC is well positioned to benefit from the maturation of several high growth and high demand industries.
Since Michael Mancuso, the chief financial officer, took his position in 2008, he has been trying to increase the Company's transparency with investors through increased information during presentations, along with focusing on margins. The Company's results and a better understanding of the business to investors could serve as a catalyst for price appreciation.
For the Patient Investor CSC represents a Good Potential Return Relative to Risk

We believe CSC has good long-term potential and could experience 15% to 35% price appreciation, if not more, over the next two years. While we don't see many long-term downside risks that the Company is currently unprepared for, CSC needs to be monitored as it may continue to drop in price due to market perceptions and technical forces. Furthermore, the Company has been exhibiting the traits of a value trap during the last two to three years. Despite increasing sales, increasing operating earnings, and decreasing shares outstanding (during the same time period), the Company's stock price has continually met with resistance near the $60.00 level. Such price action, regardless of the fundamentals, suggests caution on the behalf of the investor especially if the Company's stock price nears the $60.00 level.
CSC reports first quarter results for fiscal year 2011 on August 11, 2010 at 8:30 a.m. (EDT).
Disclosure: Disclosure: Long CSC