In investing, not trading, you have to possess the vision, the passion, the fortitude and the patience to see your investment through, otherwise there will not be a day for you to see it. This is the exact case with AudioCodes (NASDAQ:AUDC) post its first quarter earnings call. AudioCodes sold off in maniac fashion after it decided to spend extra funds to hire 12 new engineers and commit to hire 36 more engineers by year end because of its customer demands, a special $20 million grant from the Office of the Chief Scientist and its renewed gross margins expansion. In my opinion, AudioCodes executed on all fronts and guided next quarter sequentially higher on both revenues and EPS. Furthermore, the conference call was loaded with more new business opportunities than I have ever heard in 1.5 years of following the company. An example of a situation like this would be Elon Musk and Tesla (NASDAQ:TSLA). In his quest to bring a luxury electric vehicle to market, Tesla faced many setbacks and at one point was on the brink of bankruptcy, but he had the passion, fortitude and patience and found a way to make his vision become reality. Investors who stuck it out through the setbacks were rewarded handsomely. I believe the CEO of AudioCodes, has the company positioned to be a $1 billion company as it recruits engineers in one of the top breeding grounds for engineers and invests in Cloud computing and Mobility. As I have touted here, Mobility could be something very special to AudioCodes' shareholders when it hits and for the first time, yesterday's conference call touched on an initial ramp to come. I want you to sit side by side myself and the management of AudioCodes if you have the vision, passion, fortitude and patience to see it through.
Yesterday, AudioCodes released Q1 2014 results of $36 million in revenues and a gain of $0.03 per share vs. my estimates of $35.6 million and $0.04. It's important to note that the first quarter is a seasonally slow quarter for telecommunication equipment companies, so it was extremely positive that AudioCodes was able to beat my $35.6 million revenue estimate along with William Blair's low ball $34 million estimate and Oppenheimer's $35.5 million estimate. On many metrics, AudioCodes' business couldn't have been any stronger, but it was overshadowed by a slight increase in operating expenses as it gears up its R&D efforts for exciting new cloud and mobile computing platforms.
Mobile Mobile Mobile:
These are the three most important reasons to own AudioCodes for the next 12 - 18 months. In April 2013, I introduced AudioCodes' Mobility platform, in February 2014 I highlighted Hot Spot 2.0 and how AudioCodes could be a big beneficiary of it and then last month I described AudioCodes as a call option on mobility.
On yesterday's conference call, AudioCodes' CEO, Shabtai Aldersberg addressed mobile for the first time:
"We believe mobility will emerge to be a very important growing area for AudioCodes in coming quarters and years. As you know right now, our activity is comprised of mobility for service providers supporting consumer products. We just released a business addition that targets enterprises."
"The new application for enterprise leverages AudioCodes' existing Tier-1 service provider customers for the over the top solution, we are providing that technology for more than four or five years now with some of leading names that we have mentioned such as Telefónica (NYSE:VIV) in South America, Liberty Global (NASDAQ:LBTYA), GVT, Vonage (NYSE:VG), Bezeq and others. We believe that our solution for mobility and for dialing will basically be superior to other solution in the market."
"It will leverage the successes for various technologies including voice compression, SIP technology, SBC technology and few more. And we believe that we will see substantial growth in our users in coming quarters and we believe that in coming quarters we will start quantifying that product."
In answer to a question from the William Blair analyst about a recently signed mobile deal, AudioCodes' CFO Guy Avidan confirmed it was a deal for VMAS. He elaborated:
"It's VMAS. It's on the service provider side, right now we enjoyed much success in that area, we have more than 10 large customers, that win was in that space."
To reiterate, this was the first time mobility was mentioned seriously by the number one guy at AudioCodes. He's an engineer by trade and he's saying his system is stronger than the competition's. I believe him and I believe that Mobility Plus BE is ready to commence this quarter or next. Mobility should not be overlooked (as investors did yesterday) as its a 90% margin recurring revenue platform that carries a heavy punch in the over the top (OTT) market where carriers are in desperate need to fight off the OTT threat since the Facebook - WhatsApp merger. As the CFO said on the call:
"there is probably no choice for the service provider including the Tier 1s other than to offer, if you can give them the agenda, a much more comprehensive over the top solution"
Why do I think mobility is closer than we all think? The CEO again commented on gross margins which sequentially increased for the first time in over 4 quarters by 150bps to 59.5%. Here are his comments:
"More significant and relevant is our performance on the networking where we achieved 15% growth, which enabled us to achieve gross margin growth and improve it nicely to 59.5% from 58.1% in the previous quarter. We believe that this is a sustainable gross margin range or better given our focus on transitioning to better mix of products including software solutions and services."
Mobility Plus BE is a software intensive, highly leveraged platform that will, in my opinion support 3-5 million subscribers conservatively by the end of 2015 and I'm comfortable with 5-10 million subscribers by the end of 2016. This fits with the description of the product mix and follows on from his first ever commentary on Mobility Plus BE.
I have sharpened my pencil on Mobility Plus BE and VMAS and I believe that 3 million subscribers will be easily handled by the current and potentially new carriers in the years to come as it competes to offer the best OTT solution for carriers and enterprises around the globe. I believe the average user/subscriber will pay $1.50 per month. This is going to make the 3rd or 4th quarter be very exciting once the company quantifies numbers or announces a detailed partnership in Mobility Plus BE.
New Business Opportunities:
AudioCodes is seeing its best business opportunities in the 1.5 years I've followed it. Here are some of the opportunities mentioned on the call:
AudioCodes landed a Microsoft (NASDAQ:MSFT) Lync deployment with a large North American pharmaceutical company.
For the first time, AudioCodes entered China for Microsoft Lync deployments. This is potentially a very large revenue opportunity and should be viewed as a potential growth engine in the quarters to come.
AudioCodes announced in March that Deutsche Telecom (OTCQX:DTEGY) had selected its Multi Service Business Router (MSBR). On that announcement, management had stated that the Deutsche Telecom deal could lead to a domino effect with other large carriers. Bingo. Yesterday, it announced that it had landed another large customer in Latin America.
AudioCodes and BroadSoft (NASDAQ:BSFT) are working very closely and the relationship has brought large tier one service providers into their grasp. The CEO wouldn't mention names but the vibe sounded very positive as he said:
"We started to work with BroadSoft on collaborating with some of their largest partners, we cannot name specific names at this time, but I can tell you that we're dealing with some of the largest Tier-1 service providers in the world."
It's important to note, the Service Provider (NASDAQ:SP) market is more a Sonus (NASDAQ:SONS) strength but more and more we're hearing that AudioCodes is entering the SP market especially now that it's at 16,000 sessions on its SBC and is expected to reach 30,000 sessions in the next 6-9 months.
On Tuesday, AudioCodes signed up an old partner by getting its SBCs and gateways recertified by NEC. This is an important global partner which like Microsoft, Dell, BroadSoft, Avaya, Genesys and Alcatel-Lucent (ALU) could be an accretive play into Q3 and Q4 when it seems AudioCodes will have multiple angles coming together on the business development front.
Valuation:
I want to compare AudioCodes at three different price points over the past year and give the supporting data behind the company at those price points. I think this will give a clear picture to the value of AudioCodes today vs. other times as it's grown into the company it is today.
April 2013:
| | |
| --- | --- |
| Price per share: | $3.25 |
| Market Cap: | $127 million |
| Gross Margins: | 57.5% |
| Cash: | $57.5 million |
| Debt: | $20 million |
| Revenue in recent Qtr: | $32.3 million |
| Outlook for next Qtr: | $33.5 million |
| 2014 EPS: | $0.20 |
| Revenue guidance for 2013: | $135 million |
| Multiple to 2013 guidance: | 0.94 |
| Multiple to 2013 guidance (less cash): | 0.70 |
| Revenue guidance for 2014 | $143 million |
| Multiple to 2014 guidance: | 0.88 |
| Multiple to 2014 guidance (less cash): | 0.61 |
Business outlook: AudioCodes acquired Mailvision, what is now known as Mobility Plus. It was still trying to negotiate Legacy revenue with networking growth. The company was in the 1st inning of Microsoft Lync deployments.
Stock performance post sell off: By August 2013, the shares had doubled to $6.50 and were over $7 in September. This sell off was a clear overreaction.
November 2013:
| | |
| --- | --- |
| Price per share: | $5.50 |
| Market Cap: | $215 million |
| Gross Margins: | 56.3% |
| Cash: | $58 million |
| Debt: | $16 million |
| Revenue in recent Qtr: | $35 million |
| Outlook for next Qtr (Q413): | $36 million |
| 2014 EPS: | $0.20 |
| Revenue guidance for 2013: | $137 million |
| Multiple to 2013 guidance: | 1.57 |
| Multiple to 2013 guidance (less cash): | 1.17 |
| Revenue guidance for 2014 | $148 million |
| Multiple to 2014 guidance: | 1.45 |
| Multiple to 2014 guidance (less cash): | 1.10 |
Business outlook: AudioCodes launched One Voice campaign for hosting companies like it did with MSFT Lync. MSFT Lync One Voice was landing larger deals and Mobility Plus was announced that it was being trialed.
Stock performance post sell off: The shares rallied off the $5.50 bottom to hit numerous 52 week highs on its way to $9.12 per share in early March.
Today:
| | |
| --- | --- |
| Price per share: | $5.70 |
| Market Cap: | $247 million |
| Gross Margins: | 59.5% |
| Cash: | $94 million |
| Debt: | $14 million |
| Revenue in recent Qtr: | $36 million |
| Outlook for next qtr: | $37.2 million |
| 2014 EPS: | $0.20 |
| Cash Generation (est.): | $16-$18 million |
| 2014 Revenue guidance: | $150 million |
| Multiple to 2014 Revs: | 1.64 |
| Multiple to 2014 Revs (less cash): | 1.08 |
| Multiple to 2015 Revs: | 1.50 |
| Multiple to 2015 Revs (less cash): | 0.96 |
Business outlook: Mobility Plus is a live business unit with big operating leverage and a low hanging fruit customer base that seems ready to ramp new enterprise customers; China has become a new market for its core strength - MSFT Lync deployments; Deferred revenues are up 43% over one year ago. MSBR is gaining traction and the BroadSoft relationship that company denied in October 2013 is now thriving and replacing the once dominate Acme Packet relationship.
The Secondary from Hell:
I must admit that when the secondary was announced I believed AudioCodes had solid investment funds lined up waiting to invest in the company for the long term. My sources led me to believe that the shares were 3-5 times oversubscribed, which was backed by the shares trading to $8.70 per share on the day of the offering (offering price $8.00). I realized this wasn't the case when the shares didn't hold $8. I further believed that the investment bankers had placed the shares evenly between good hands and flippers (flippers are commission generating accounts of the firm). I now truly believe the shares were placed in only a limited number of good hands and the aftermath is what we saw these past few weeks, climaxing yesterday. The spot deal makes the deal virtual as the company didn't do a dog and pony show to excite new investors. I dropped the ball on this as I believed the bankers and AudioCodes were aligned.
The good news is AudioCodes is now flush with cash. It is preparing to grow rapidly and aggressively fuel R&D in order to take a stab at becoming a much more prominent networking company, hence a billion dollar company ($22 per share) that I have mentioned in a previous note. I believe it is now in a position to play ball with the big funds now that it's got three analysts to take them on the road. I believe it will be taking to the road in May-September to tell the compelling story I just laid out once again. At this valuation and with these business opportunities its time to believe that AudioCodes will finally attract large investors that want to own it for the right reasons.
The $20 Million Dollar Grant:
AudioCodes received a $20 million dollar grant from the Israeli Office of the Chief Scientist. The grant is allocated over 3 years from 2014 to 2016 in stages of $4 million, $6 million and $10 million per year roughly. The company started gearing up by hiring 12 engineers this quarter and will add up to 36 more engineers by year end in its quest to become a cloud computing and mobility force in next generation networks. The few uncaring investors that were probably leftover from the secondary didn't care to listen to the call and sold at will yesterday, because if anyone listened it's clear AudioCodes is spending to become a big force. Amazon keeps spending to get market share and new revenue and its shares prosper. The same should be granted to AudioCodes as its revenues are growing faster than it guided as it spends more to take market share.
Chart: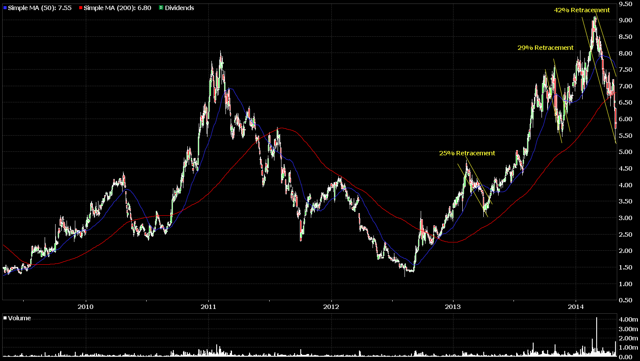 Click to enlarge
As we can see on the chart, AudioCodes is seeing its third major retracement since it bottomed in September 2012. Retracements are a natural part of long term upward moves and are often the best buying opportunities. Yesterday's sell off found support at $5.20 close to the level of November 2013's retracement and as such I believe that the bottom is in. As we see the sellers leave the stock, I believe that buyers will emerge and steadily take the stock higher on the back of the upcoming road show.
Conclusion:
I've been a steel peg in the frozen tundra in respect to maintaining my bullish stance on AudioCodes. That will not change at this point. The company executed this quarter on the top line, on its cash position, on its gross margin expansion and on its numerous exciting new business opportunities, but most important readers, no matter if you bought at 1.50 per share or 7.25 per share per my articles you must read my articles or do research on the mobile prospects of OTT and what AudioCodes is trying to achieve in this arena. It's not child's play, but AudioCodes is ferocious at voice technologies, it's in a hot bed for OTT expertise and it's got the customers that need its next generation OTT solution. On that note, you have to see the mobile opportunity (April 2013) before you see it (Hot Spot 2.00) otherwise you will not see it (Shabtai's comments above). Once the mobile platform wins a big customer or AudioCodes quantifies the numbers its going to be too late. I believe, Mobility is the biggest opportunity AudioCodes has ever had and it's just a matter of months away per the CEO's comments. I hope you see it before you see it otherwise you will not see it.
Disclosure: I am long AUDC. I wrote this article myself, and it expresses my own opinions. I am not receiving compensation for it. I have no business relationship with any company whose stock is mentioned in this article.