By Jeff Bailey
Retail is one of the most dynamic industries, with new players often growing rapidly, old names plateauing and sometimes disappearing and few companies holding a long-term competitive advantage.
These days, the likes of Michael Kors (NYSE:KORS) is all the rage, as the fashion retailer chalks up regular and stunning same store sales increases.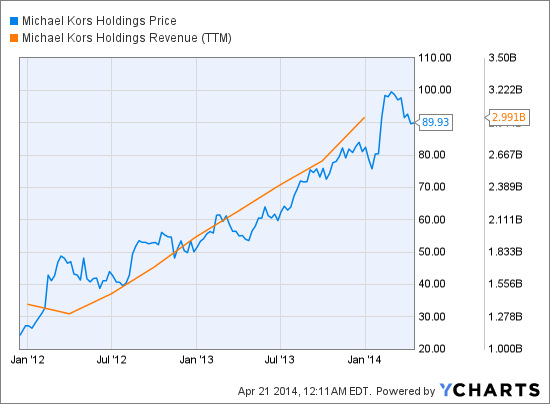 KORS data by YCharts
Of course, a few years back, the story was Abercrombie & Fitch (NYSE:ANF), but it has more recently lost its magic.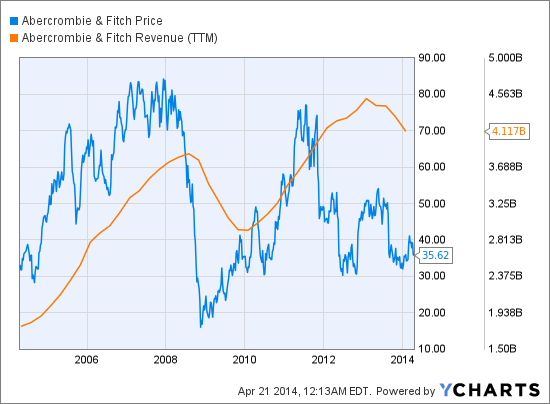 ANF data by YCharts
Must investors hop aboard the hot retail stock of the moment and be ready then to hop off when the inevitable decline comes? One alternative is TJX Companies (NYSE:TJX), which operates the biggest chain of off-price department stores here and abroad - under the T.J. Maxx, Marshalls and HomeGoods brands in the U.S. The company, with 3,200 stores, is too big to be a rapid grower at this point, but its divisions are all growing steadily, its margins widening, its dividend growing nicely and its strategy unique among major department store chains.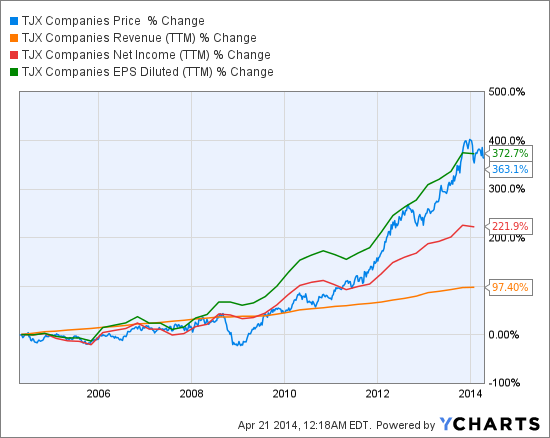 TJX data by YCharts
Above we see strong sales growth and operating leverage that leads to more rapid profit increases. A big stock buyback program, meanwhile, reduces shares outstanding and produces even more rapid EPS growth. Still, debt is reasonable.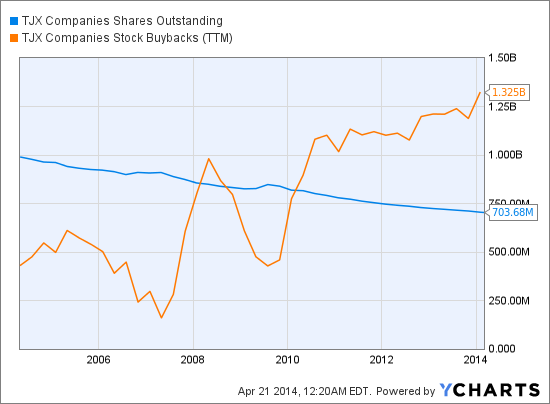 TJX Shares Outstanding data by YCharts
TJX says its merchandise is generally 20% to 60% below prices for comparable goods at department stories and specialty shops. And it manages its inventory far differently than other big retailers, buying closer to the date items will be sold, carrying less merchandise and turning over the inventory far more frequently. That keeps the stores fresh and reduces risk of holding items that fall out of fashion and require huge discounts to clear out.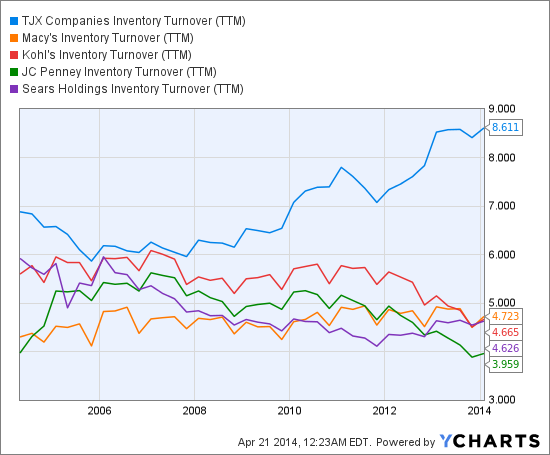 TJX Inventory Turnover (TTM) data by YCharts
More than eight inventory turns for TJX vs. closer to four for Macy's (NYSE:M), Kohl's (NYSE:KSS), JC Penney (NYSE:JCP) and Sears (NASDAQ:SHLD).
The dividend yield at TJX is nothing to crow about, but long-term holders have enjoyed tremendous dividend growth, perhaps a better measure of how investors are rewarded.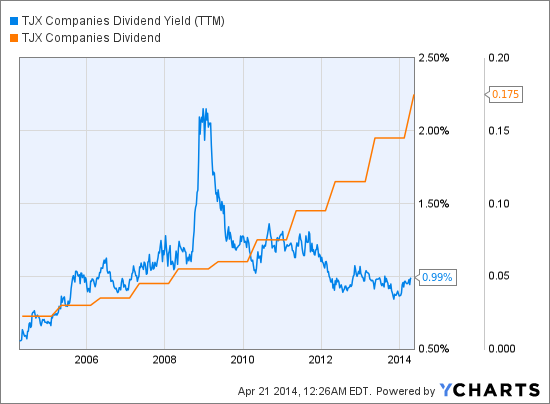 TJX Dividend Yield (TTM) data by YCharts
TJX shares trade at a higher forward PE ratio than department store competitors, but that's due to outperformance.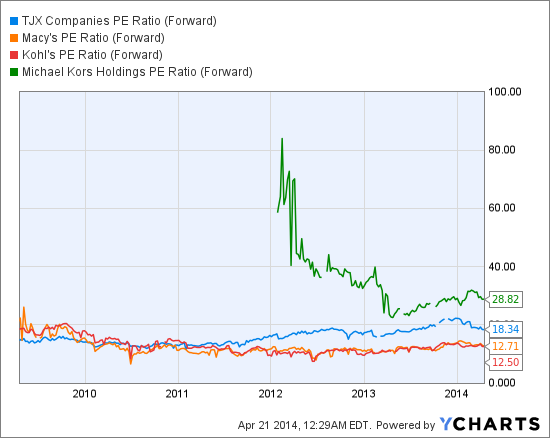 TJX PE Ratio (Forward) data by YCharts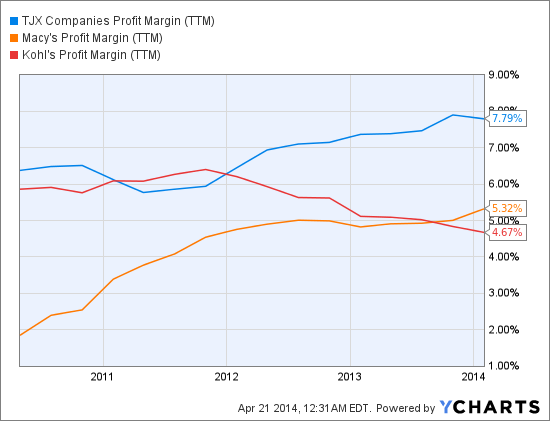 TJX Profit Margin (TTM) data by YCharts
Disclosure: None.