By Chris McKhann
Shares of ArvinMeritor (ARM) have not responded well to Tuesday morning's earnings report, but option traders are calling a bottom.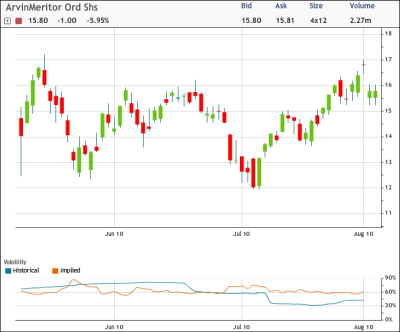 ARM, which makes auto parts such as axles and braking systems, is down 5.8% to $15.95 this morning. This is however, well off the low of the day down at $15.24. Shares had put in a 52-week closing high yesterday.
The average option volume over the last month has been fewer than 800 contracts, but more than 10 times that number is trading today. Leading the volume is the September 15 puts, with more than half of the session's total contract volume so far, almost all of them sold for $0.75 in a couple of large trades.
This put selling is a bet that shares will hold above $15 through expiration and that the implied volatility remains too high. The average implied volatility dropped 14% today to 51%, which is below the 30-day historical volatility but still well above the 10-day reading.
Disclosure: No positions