Virgin Media (VMED) is a broadband communications and media group. The company through its subsidiaries, provides entertainment and communications services in the United Kingdom. They have 3 segments: Consumer, Business, and Content. The Consumer segment offers cable broadband Internet, television, and fixed line telephone services under the Virgin Media brand to residential customers; mobile telephony services through Virgin Mobile, a mobile virtual network operator; and broadband and telephone services to residential customers through third-party telecommunications networks. The Business segment provides a portfolio of voice, data, and Internet solutions to commercial customers, including analog telephony and managed data networks and applications, as well as supplies communications services to emergency services providers. The Content segment operates various television channels, including Virgin1, Living, Bravo, Challenge, and Challenge Jackpot; and owns a 50% interest in the companies that comprise the UKTV Group, a series of joint ventures with BBC Worldwide.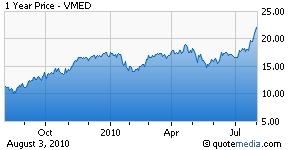 The stock hit 12 new highs in the last 20 sessions including 5 in the last 5. In the last month the price is up 33.69%. This momentum has given it a 100% Barchart technical buy signal. The stock trades at 22.28 with a 50 day moving average of 17.47.
Wall Street brokerages are very high on this company with 12 buy and 2 hold recommendations published, Although they think revenue will only be up 2.90% this year and 3.80% next year they estimate earnings increases of 65.80% this year and 237.00% next year. Pretty healthy projections.
Investors have noticed these estimates and the CAPS members on Motley Fool think the stock will beat the market by a vote of 118 to 64. The All Stars agree with a vote of 49 to 22. Fool notes that of the Wall Street columnists they follow all 10 of the past articles have been favorable.
If you'd like to take a chance on a UK multi-media company thing to consider are:
The stock has recent upward price

momentum

Barchart

has a 100%

technical

buy signal
Wall Street brokerages have healthy projections for increases in earnings
Investor sentiment is positive
Disclosure: No positiion in VMED at the time of publication