The Hidden BlackBerry Sales Force
For great software, developers and users have to have clear channels of communication; vision is as important as execution. Yesterday, BlackBerry's (NASDAQ:BBRY) email to BlackBerry Beta Zone participants makes it clear that they are working hard to satisfy developers and assist them in their work to make great software. A copy of the full email and more details on the Beta Zone is provided by mobilesyrup. In the interest of investors, my focus is on discussing the positive impact of this news on BlackBerry's future.
Tech savvy nerds have always been the hidden sales force for various products. Anyone can easily attest to having at some point of time in their life, asked a friend or family member to refer them to a specialist: be it a mechanic, a home builder, or a computer programmer. People in the technical field know a lot about the latest developments at BlackBerry but have not had a great incentive to go out on a limb to educate the public. With the Beta Zone, change is in the air.
As long-term shareholders, we can look forward to developers spreading the word and telling people about Blackberry in greater depth. This hidden sales force is important because it is treated with respect by the public. A company can toot their own horn and get only so far. It is the support of early adopters, hobbyists, and those known as connectors that are vital. Here is a sampling of the kinds of detailed information that a developer can speak to quickly:
BlackBerry means security and its EMM/ MDM supports iOS and Android. When Windows support is added, BlackBerry will be the only true supporter of BYOD. All competitors are fragmented in their abilities to provide support as they are new to the field.
The BlackBerry phones have extra long battery life and while your messenger apps, NetFlix, and YouTube are a real battery drain, there will be less running around for the wall outlet once you are on a BlackBerry.
BlackBerry was traditionally great at looking after developers and business owners. Both groups were sidelined under the previous management but Chen is refocusing the company on both groups.
The Wealth Factor
It is often said that 1% of the world's population controls 99% of the wealth; and the richest 10% of Americans control 75% of the wealth. While the general public has written off BlackBerry, let us not forget who controls the purse strings. The consumer may be using an Apple iPhone or a Samsung Galaxy but the Corporate Titan is holding onto his BlackBerry, possibly carrying the Porsche edition, and even demanding to replace his old BlackBerry with another old BlackBerry.
John Chen is focusing on products that the wealthy will want to buy and use to run their empires. While Samsung (OTC:SSNLF) and Apple (NASDAQ:AAPL) may fight over consumers, the majority of consumers cannot decide what they get to use when they make it to the office. The overarching decision has been made for them by IT professionals, managers, and bean counters in their company. EMM/ MDM; government or company issued phone or BYOD - the final decision is actually not in the majority's hands.
The 1% is like the International Color Authority or the Color Marketing Group: they control our lives. The ruling elite determines what we do most of our working days and what equipment we use. The two color organizations described above are panels of consultants who determine the Color of the Year. You may think you get to choose the color of your appliances, furnishings, and clothes but you are wrong. These groups carefully select colors and determine trends with the aim of getting you to toss out what you have because it is no longer in style. The ruling elite can turn your world upside down and veto your desire to have BYOD in favor of retaining control and ensuring the utmost security of their data.
Ex-BBers Unhappy in Paradise
...other than REALLY Apple specific things like Apple TV integration or iBook pretty much everything they want BY MID 2015 - we already have. -- Bigglybobblyboo on UTBblogs.com
Recently, it was brought to my attention that Apple was encouraging users to submit their a list of the Top 5 Features they want to see in iOS8. It turns out that most of the features are already available on the BlackBerry. With regards to features like the hub and the notification LED, I highly doubt Apple can implement them because they will be dragged into court by BlackBerry. It stands to my reasoning that many of those itching for features are ex-BlackBerry addicts. Pushed by their friends to switch to the Apple, they converted but were not satisfied. Below is the list of 15 items BlackBerry has that iPhonians want. It comes from the UTBblog mentioned above and was first seen on iMore: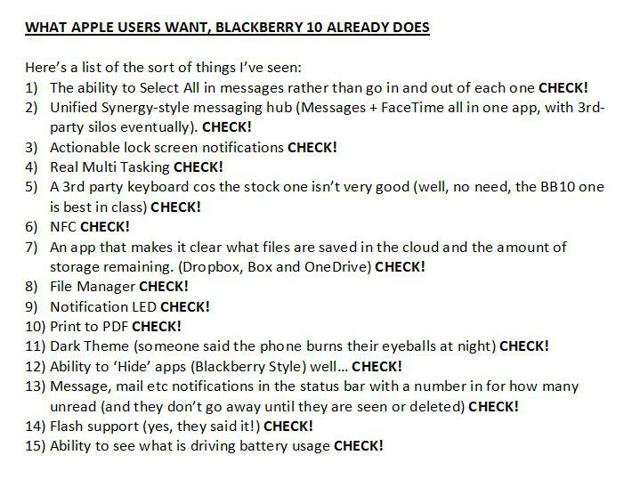 Clearly, not all iPhone users are satisfied. The ones who want more control and efficiency in their lives are going to be looking forward to the Q20. Waiting for iOS8 to implement 5 features may not be enough. Given some features are unique to BlackBerry, there is also a high likelihood Apple will not want to venture into a patent war while adding features. We have all seen how Typo lost out. BlackBerry is very protective of their ideas.
Boarding!
Applications from Android can now run on BlackBerry 10. With BlackBerry signaling that they will give more support to developers, and also pay extra attention to enterprise, many more native applications will be coming to the platform. Having addressed user's fears for lack of applications, there will be no stopping this flight. Time to climb aboard!
Disclosure: I am long BBRY. I wrote this article myself, and it expresses my own opinions. I am not receiving compensation for it (other than from Seeking Alpha). I have no business relationship with any company whose stock is mentioned in this article.
Editor's Note: This article discusses one or more securities that do not trade on a major U.S. exchange. Please be aware of the risks associated with these stocks.