Hawaiian Holdings, Inc. (NASDAQ:HA), the parent of Hawaiian Airlines, is seeing strong levels of demand. This Zacks Rank #1 (Strong Buy) is expected to see double digit earning growth in 2014 as consumers spend more money on travel.
Hawaiian Holdings is the largest and longest-serving airlines in Hawaii with 85 years of service. It flies nonstop to 11 U.S. gateway cities as well as internationally to Japan, South Korea, China, Australia, New Zealand, American Samoa and Tahiti.
It also operates about 160 jet flights internally around the Hawaiian Islands.
Big Earnings Beat in Q1
On Apr 22, Hawaiian reported its first quarter results and beat the Zacks Consensus by 9 cents. Earnings were a loss of $0.02 compared to the Zacks Consensus of a loss of $0.11.
Hawaiian wasn't as impacted by weather delays as other airlines that operate more flights in the Midwest and East coast. It ranked number one nationally for on-time performance in both January and February.
The company has been expanding service. In the quarter, it added 2 new A330-200 aircraft.
Hawaiian also increased Honolulu to Brisbane service to 4 times weekly from 3 times.
It has also been focusing on China and finally launched Honolulu to Beijing non-stop service, three times a week, beginning in April 2014. Hawaiian also entered into a new code-share agreement with Air China.
2014 Estimates Jump
The analysts liked what they heard as the first quarter is usually the slowest of the year.
3 estimates have been revised higher for 2014 in the last week, pushing the Zacks Consensus up to $1.32 from $1.18.
That is earnings growth of 50%.
Double digit earnings growth is expected to continue into 2015 with earnings expected to rise another 12%.
Not too shabby for an airline.
Shares Near New Highs But Are Still Cheap
Shares have soared in recent months and were recently trading near new 52-week highs.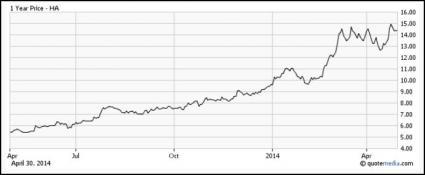 But surprising, Hawaiian is still cheap. It has a forward P/E of just 10.9, well under the average of the S&P 500 of 16x.
Because of its strong earnings growth but cheap P/E, it has a PEG ratio of only 0.5. A PEG under 1.0 usually indicates value. It's rare to find both value and growth.
For investors still looking for a way to play the transports, Hawaiian Holdings is a name you want to keep on your short list.