Dow Jones publishes hundreds of US and international indexes. Of the 178 US industry indexes available to us through Reuters, we have measured the ratio of yesterday's index price to its high and low over the past 21 days, 63 days, 126 days and 252 days, to see where each index is in position between its highs and lows.
This chart is ranked for the ten best and ten worst performing industries versus the 21-day (1-month) high.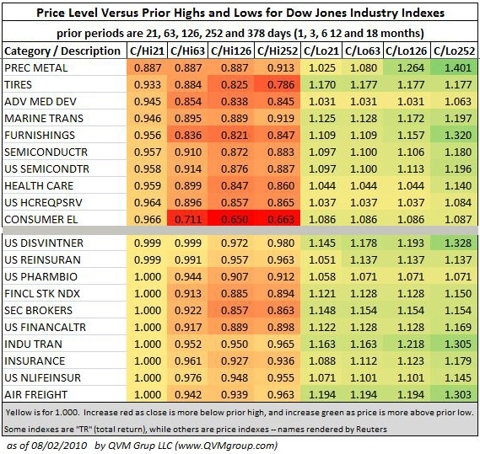 Click to enlarge
Most of the worst are within 4% to 5% of the 21-day high (tires nearly 7% off), but precious metals (predominantly gold and silver mining) are off over 11%. Those doing the best are all virtually at their 21-day highs.
This chart is ranked for the ten best and ten worst performing industries versus the 63-day (3-month) high.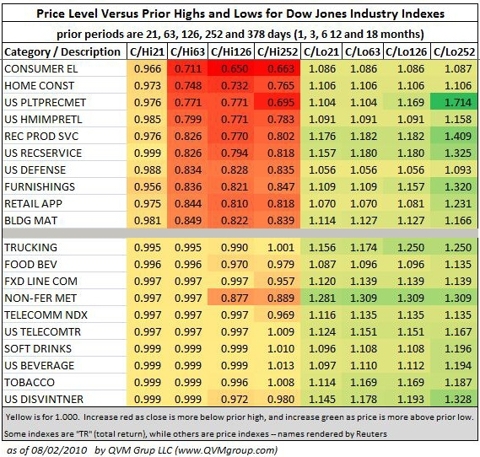 Click to enlarge
The worst of this group (consumer electronics) is off about 29% from its 63-day high, and all are at least 15% below the high. The best are again virtually at the 63-day high.
One industry that is doing well by the 21-day high, but still lagging by the 63-day high is the oil and gas services index (proxy OIH). We find that one particularly interesting for observation as the BP well is seemingly under control, and as pressure to resume drilling in the Gulf will surely increase -- both good for oil service companies.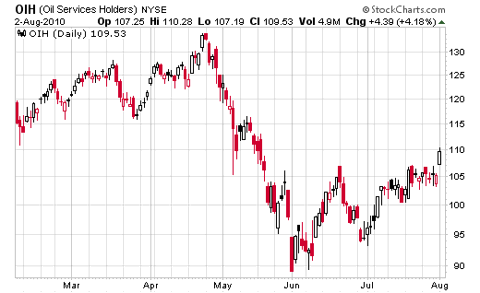 Click to enlarge
Yesterday's rally in OIH seems to be driven by the general market move, but this one should also be highly geared to the engineering success of BP and the political process in Washington DC surrounding drilling.
Securities Cited: OIH
Disclaimer: Opinions expressed in this material and our disclosed positions are as of August 2, 2010. Our opinions and positions may change as subsequent conditions vary. We are a fee-only investment advisor, and are compensated only by our clients. We do not sell securities, and do not receive any form of revenue or incentive from any source other than directly from clients. We are not affiliated with any securities dealer, any fund, any fund sponsor or any company issuer of any security. All of our published material is for informational purposes only, and is not personal investment advice to any specific person for any particular purpose. We utilize information sources that we believe to be reliable, but do not warrant the accuracy of those sources or our analysis. Past performance is no guarantee of future performance, and there is no guarantee that any forecast will come to pass. Do not rely solely on this material when making an investment decision. Other factors may be important too. Investment involves risks of loss of capital. Consider seeking professional advice before implementing your portfolio ideas.


Disclosure: As of August 2, 2010 we do not own any securities mentioned in this article in any managed accounts.