By Steven Carroll, Independent Commentator
This late in the cycle, it's great to see firms that are sticking to this relatively disciplined model (rather than transformative M&A and all the value-destructive traits that mispriced credit markets encourage). Online broker E-Trade's (NASDAQ:ETFC) model is easily understood and eminently profitable. To focus on its core strategy, the company has sold its market maker business, sold down its portfolio of structured assets and reduced expensive debt.
All of this is clearly evident in a StarMine ARM score of 100 - meaning the (positive) change in analyst sentiment is within the highest percentile for North America - with strong upwards revisions all across the income statement (OK, not EBITDA), as well as recommendation upgrades.

Sewing up share performance
Such a laser-like focus on its knitting has also been a boon to shareholders, with E-Trade outperforming the S&P by an enormous margin. With a largely fixed cost base, it's easy to see the attractive operating leverage of the model - though, of course, that's a two-edged sword if markets swoon and investors decide to sit on the sidelines.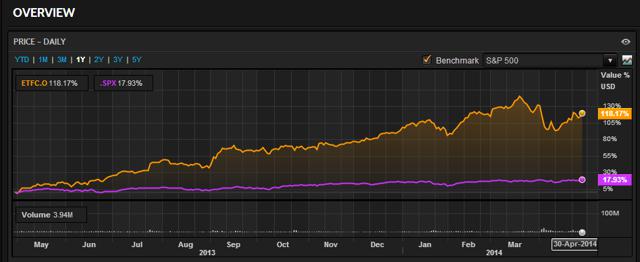 Focusing on value
Despite the impressive performance and the enthusiastic upgrades from the analysts, the company remains relatively inexpensive and looks to be an interesting option against a frothy market backdrop. By StarMine's calculations, the stock is still trading below fair value - at a ratio of 0.92, while forecast to deliver a 21% EPS CAGR over the next five years.
A fair question that investors could pose is around the company's capacity for self-harm. ETFC moved into losses during the last two equity market routs - making one question its ability to navigate choppier water. Schwab, by comparison, remained largely unmoved as markets alternately fell and plummeted.

Exercising the core muscles
Evident from the bubble chart below is that ETFC is forecast to deliver the best returns against its peer group, yet doesn't carry the valuation premium of Schwab, trading at a much lower multiple (19.7 times next 12 months' earnings versus 25.3). Readers will know I'm not anti-growth - but I am anti-buying growth that's fully factored into the share price.
Here you can see Schwab trades at a premium (perhaps partially justified on the basis of management's track record of remaining profitable throughout the cycle), but with a much lower compound growth rate. If management can keep its eye focused on the core function of E-Trade - providing electronic brokerage services - then ETFC looks like the better opportunity.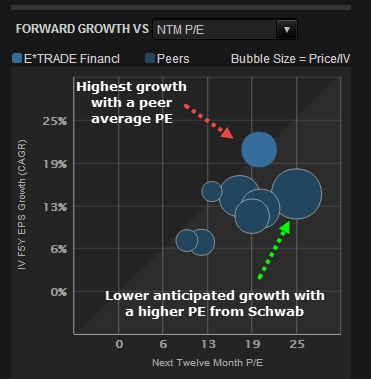 Goal: customer satisfaction
For those wanting exposure to the financial services markets without the question marks over the sustainability of the investment banking business model, vengeful regulators and the thorny issue of how earnings should be split between staff and shareholders, ETFC seems to be a well-priced means of exposure. Just keep an eye out for announcements of paradigm shifts, M&A activity, new business lines or (top of the cycle) expansions. A focus on pleasing the customer and operational excellence will beat the visionary game changer every time.
Disclosure: I have no positions in any stocks mentioned, and no plans to initiate any positions within the next 72 hours.
Business relationship disclosure: Alpha Now at Thomson Reuters is a team of expert analysts that are constantly looking at the financial landscape in order to keep you up to date on the latest movements. This article was written by Steven Carroll, independent commentator and analyst. We did not receive compensation for this article, and we have no business relationship with any company whose stock is mentioned in this article.