Furious Fight between Bull and Bear
Tesla Motors' (NASDAQ:TSLA) stock is quite volatile as short-term investors are running to and fro at any news they hear regarding the company. There is obviously uncertainty about how well and when this nascent company will perform in the coming years. The stock has gained about 33% YTD and 338% in the last year. Now in the last month the stock fell by about -15% with big bumps as the stock trended downwards (see figure below).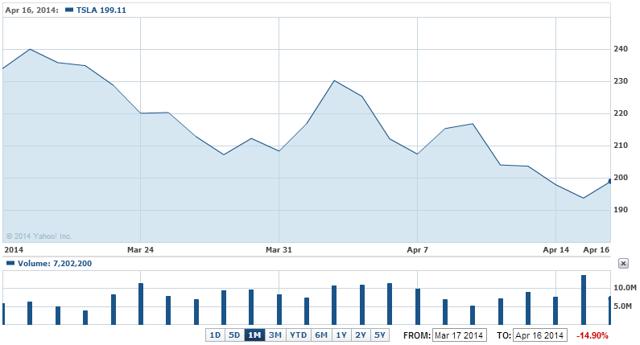 Huge International Market
TSLA commands strong brand loyalty and there are good expectations that the Model S will attract more demand worldwide. The upcoming Model X is also expected to attract demand in the coming years. Most of the sales that TSLA makes are in the US but there are bigger international markets including the rapidly growing markets of China and India that are waiting to be exploited. TSLA is working very actively on positioning its brand in China and expects China to contribute one third of the sales growth in 2014.
In 2013, TSLA sold around 22,500 cars and in 2014 TSLA is expecting to sell around 35,000 units. Morgan Stanley expected Model S sales to reach 700,000 assorted vehicles by 2025 and expected this to cross 1 million vehicles by 2028. That would be a huge success for the Model S and even with this huge unit sale, it would still only be 0.9% of the global vehicle market. Morgan Stanley doubled its previous outlook of the Model S sales through this forecast. This positive outlook caused the share price to reach record highs in the last few months.
Model E: Mass Electric Car
There are also big expectations from the Generation III/Model E lower-cost mass market vehicle that would allow Tesla to compete in the mass auto car segment. Gen E cars are expected to be introduced by 2017 and there are high expectations that warrant upward potential for TSLA.
Much-needed Technology
The world needs a breakthrough in electric auto technology that could pave the way to the end of dependence on fossil fuels. Global warming is a very serious issue that can be partly addressed if the existing combustion engines of vehicles are replaced by electric technology. In recent years, carbon emission was highlighted as a big problem faced by most countries especially the emerging markets of China and India. There is a growing trend that governments throughout the world are offering tax credits to encourage people to buy hybrid and electric cars.
TSLA is a technology company that has set out to revolutionize automobiles and has given the world hope that a viable, fuel efficient, green, electric car designed for the mass market is about to be invented and introduced. So when TSLA's mass EV hits the road it would mark the beginning of a new era for the auto industry. TSLA will have a huge growth opportunity and it is to be seen how well TSLA captures the growth opportunities.
Valuation and Looming Uncertainty
The market is expecting a viable breakthrough in the technology of electric vehicles designed for mass market that is efficient and hassle free. The market seems to be convinced that TSLA will be able to accomplish this but there is uncertainty regarding whether or not Tesla will be able to accomplish this in a timely manner since TSLA has so far operated as a niche car producer and it is not yet an established mass producer of cars. Certainly time is of the essence as the competitive and technological landscape is dynamic and affecting the returns that TSLA and investors hope to realize. All of these factors make it difficult to value TSLA's stock at present.
Analysts are also not fully confident of how to value TSLA's stock. A high valuation with positive potential is built on TSLA's future plan to introduce the Model X, the Model E electric vehicle designed for mass market, and its plan for the Giga factory to produce lithium ion batteries. TSLA is a leader in battery technology and stands to capture the demand for lithium ion battery worldwide. TSLA has already contributed towards reducing the cost of batteries over time. Now it is ambitiously targeting reducing the cell cost faster than what was previously projected. This is a very exciting plan but has uncertainties attached.
The following is the valuation made by twelve analysts and we can see that there is a huge divide amongst the analysts depicted by the wide spread between highest and lowest rates. TSLA's valuation is as high as $325 presenting more than 60% upward potential and as low as $75 with a downside of more than 60%. The average target price is nearly $226-$227 and this price, if materialized, presents an upward potential of above 12%.

Conclusion
Investors are hoping that TSLA introduces a viable electric car to the existing automobile technology rendering existing auto technology obsolete in the coming years. There is a good chance that TSLA will accomplish that but there is always the risk that there may be delays in the introduction of the viable electric car. TSLA has by far proven itself as a technology company and wants to build its capabilities as a mass auto manufacturer.
Investors want to invest in TSLA to be part of this revolutionary company but the rapid increase in the stock price is making investors anxious about the right valuation of the company. Long-term investors that are willing to engage the risk for higher returns should consider buying TSLA when the price dips. TSLA's stock should be held regardless of the commotion that is likely to persist until the positive forecast is realized.
Disclosure: I have no positions in any stocks mentioned, and no plans to initiate any positions within the next 72 hours. I wrote this article myself, and it expresses my own opinions. I am not receiving compensation for it (other than from Seeking Alpha). I have no business relationship with any company whose stock is mentioned in this article.