New stress-testing regimes from the Fed, the Bank of England, and the European Banking Authority have important implications for investors in major banks like Bank of America (NYSE:BAC), Citigroup (NYSE:C), JPMorgan Chase (NYSE:JPM), Barclays (OTCPK:BCLYF), Royal Bank of Scotland (NYSE:RBS), and Deutsche Bank (NYSE:DB).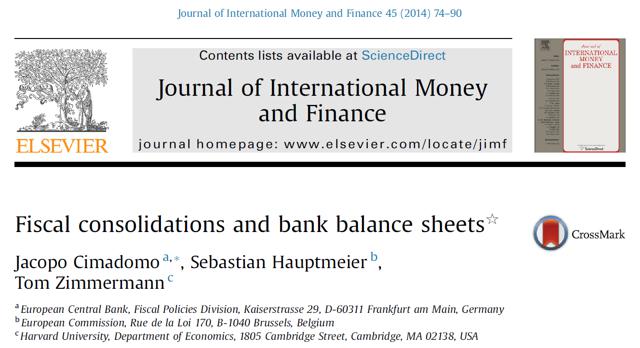 Tom Zimmermann, a Ph.D. candidate in economics at Harvard University and a research fellow at Kamakura, and co-authors Jacopo Cimadomo of the European Central Bank and Sebastian Hauptmeier of the European Commission have published a new paper in the Journal of International Money and Finance linking macro-economic factors, sovereign risk, and commercial bank risk and portfolio strategy. The paper, "Fiscal Consolidations and Bank Balance Sheets," appears in volume 45 (July 2014) of the journal. The final version of the paper is available from ScienceDirect. This important empirical paper provides a macro-economic framework for the stress-testing analysis announced this week by the European Banking Authority and the Bank of England. The framework is also consistent with the 2014 Comprehensive Capital Analysis and Review stress-testing program of the Federal Reserve.
Cimadomo, Hauptmeier, and Zimmermann ("CHZ") note that "The interdependence between public and bank balance sheets has been a fundamental aspect of the financial and economic crisis which, in some European countries, turned into sovereign debt crises." CHZ observe "There is a remarkable lack of work that investigates the channels through which fiscal policy can affect bank balance sheets." The authors summarize the contents of the paper in this abstract:
"We empirically investigate the effects of fiscal policy on bank balance sheets, focusing on episodes of fiscal consolidation. To this aim, we employ a very large data set of individual banks' balance sheets, combined with a newly compiled data set on fiscal consolidations. We find that standard capital adequacy ratios such as the Tier-1 ratio tend to improve following episodes of fiscal consolidation: for the median bank in our sample, a 1% of GDP fiscal consolidation increases the Tier-1 capital ratio by around 1.5 percentage points over two years. Our results suggest that this improvement results from a portfolio re-balancing from private to public debt securities which reduces the risk-weighted value of assets. In fact, if fiscal adjustment efforts are perceived as structural policy changes that improve the sustainability of public finances and, therefore, reduce credit risk, the banks' demand for government securities should increase relative to other assets."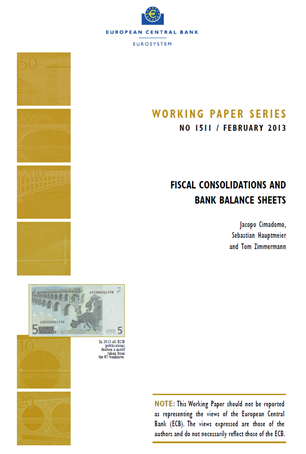 The paper uses annual data from 1994 to 2009, and includes data for 17 countries:
Austria
Australia
Belgium
Canada
Denmark
Finland
France
Germany
Ireland
Italy
Japan
Netherlands
Portugal
Spain
Sweden
United Kingdom
United States
The authors use default probabilities from Kamakura Corporation in Section 3.2 of the paper to validate their conclusions. An earlier version of the paper is available from the website of the European Central Bank.
The CHZ paper provides convincing empirical evidence of the strong links between national economies, sovereign risk, and financial institutions' default risk. Core macro-economic factors explain the correlated movements in credit risk, liquidity risk, market risk, counterparty risk, interest rate risk, and capital adequacy. Correlation of risks is not a statistical parameter alone. The causes of correlation are specifically identifiable. The impact of the drivers of risk can then be simulated forward and stress-tested, in order to define a concrete path to risk reduction and capital adequacy. The authors have taken on an important analysis, and present the results in a convincing and practical way.
Disclosure: I have no positions in any stocks mentioned, and no plans to initiate any positions within the next 72 hours. I wrote this article myself, and it expresses my own opinions. I am not receiving compensation for it. I have no business relationship with any company whose stock is mentioned in this article.
Additional disclosure: Kamakura Corporation has business relationships with a number of organizations mentioned in the article.
Editor's Note: This article discusses one or more securities that do not trade on a major U.S. exchange. Please be aware of the risks associated with these stocks.