In continuing with my attempt to educate my readers on the folly of believing Apple's (NASDAQ:AAPL) position to be unassailable, I am illustrating exactly how vulnerable Apple is to either a compression of margin on the iPhone or a slowdown in sales. Apple is just penetrating the market and has a fertile field to conquer, it is just that it will not be able to pursue that field devoid of competition as it has over the past 3 years. This should dictate an adjustment to the highly optimistic aura attached to the multiples used in forecasting economic results.
The graph below illustrates the importance the iPhone represents to Apple's franchise. Believe it or not, this graph actually understates the importance of the iPhone to Apple for while it brings in 45% of the revenues, it is responsible for about 70% of the profits. Apple has become too reliant on one product, although that reliance was borne from the fabulous success of said product. While Apple will probably derive some much needed revenue diversification from iPad sales, the iPad will face the same hurdles that the iPhone is coming up against – and that is competition from Google (NASDAQ:GOOG) Android-based devices and potentially even Microsoft (NASDAQ:MSFT) Windows Mobile 7 (albeit this is an admittedly much more speculative statement).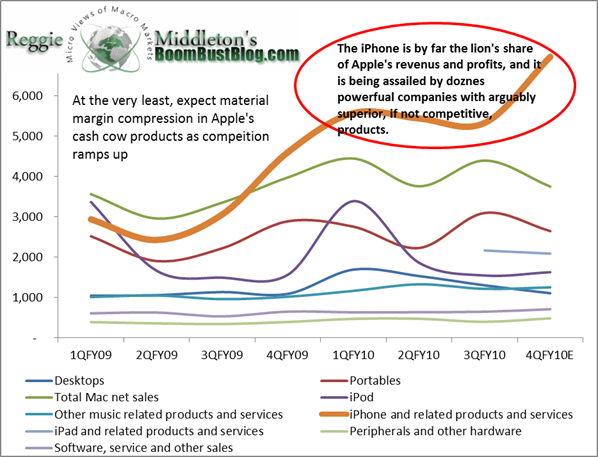 Breaking the argument down even further, you see how the iPod and the iPhone have literally transformed this company. While I am sure it will continue to be fantastic company with cool products, I doubt very seriously that it will be able to grow in the future as it has in during the last 7 years.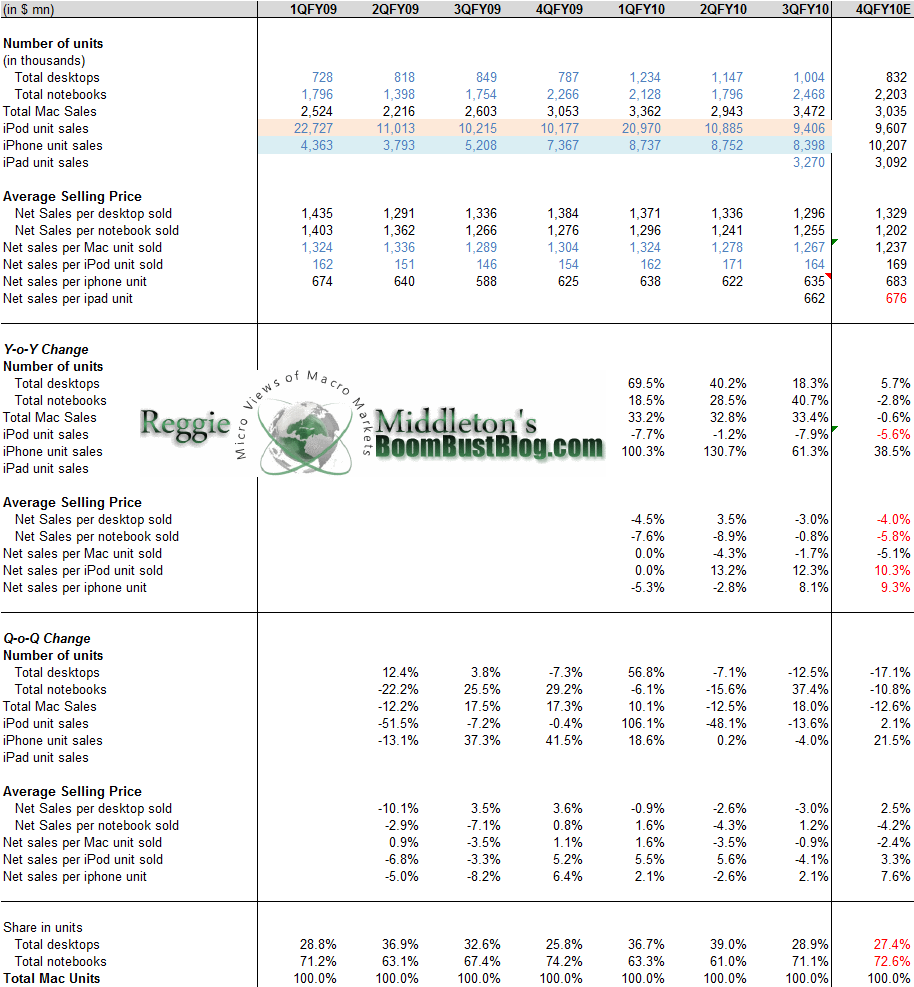 The saving grace is that the smart phone and portable computing market will grow quite quickly, allowing companies with dwindling market share to still capture increasing revenues. The ugly reality is that those revenues will have to be burdened with increasing R&D, marketing and distribution costs since the amount of competition will probably scale faster than the market itself. That, my friends, is a very good thing for you and I, the consumer!
All paying subscribers are welcome to download the mini-model which shows Apple's earnings sensitivity to margin compression through competition. This is the very crux of determining the extent of Apple's success or lack thereof, in the near to medium term. Click here to download (

Apple iPhone Profit Margin Scenario Analysis Model), and click here to subscribe.
Additional must read portable computing commentary and analysis:


Disclosure: No positions