The market activity on Tuesday was uneventful, especially after the moon-shot on Monday morning. Sellers showed up early in the morning and volume was elevated. That high volume selling kept us out of the market. The bears are defending 1130, no surprise. We expected that level to be difficult Monday morning.
The market needs a catalyst to move above it and ADP change will do it.
Today should take the market out of the consolidation phase its been stuck in for the past two days. Either the bears will recede back to 1150 and let the bulls pass by, or the buyers will let the bears take the market down to 1100 before they support price. Energy held up very well today. Oil finished another 1% up, despite the down market. I have mentioned before that energy stocks need to be monitored closely to gauge the market strength. In other news, the euro hit the target I set in May, my position has been sold, now I wait for another chance.
The Chart of the Day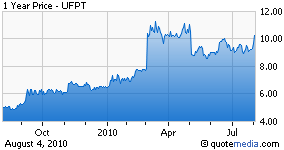 UFP Technologies (NASDAQ:UFPT) finished the day 6% higher.
The stock made a huge move, from $8 to $11.50, on high volume back in March. Shares have backed down in recent months and traded in a range from $8.50 to $11.50. Volume has been light, suggesting that few people are leaving its stock.
Over the weekend I took a closer look at the strong reversal candle last week at gap support. Going into the week short term traders were advised to buy near $9 and sell near $10.50. For those with a long term horizon, I suggest buying around $9 in anticipation of a move to $12 over the next few months.
Watch List
Our watch list was lower on Tuesday, similar to the market.
Leading the way higher were several of our Chinese stocks with 3% gains China Argritech (OTCPK:CAGC) Kandi (NASDAQ:KNDI) and Netlist (NASDAQ:NLST).

Disclosure: None