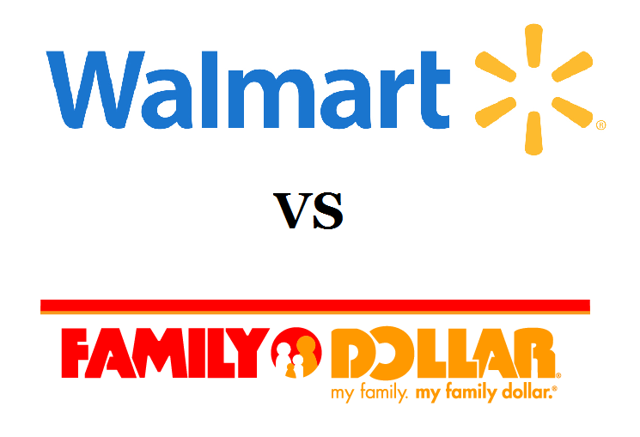 Click to enlarge
Family Dollar Current State of Affairs
Family Dollar's (NYSE:FDO) most recent quarterly earnings are underwhelming. Comparable store sales decreased 3.8% due to a decrease in customer transactions. The business has grown store count by about 6% over the last year. Overall, revenues were marginally up as compared to the 2nd quarter of 2013 (excluding the extra week in 2013 in retail calendar). Management is not resting idly waiting for things to get better. Family Dollar has 4 initiates to improve the business:
First, the company has made a significant investment to lower prices on about 1,000 items
Second, Family Dollar is reducing costs through "workforce optimization" (layoffs)
Third, the company is closing about 370 underperforming stores
Fourth, the company will slow new store growth beginning in fiscal 2015 to improve return on investment.
Family Dollar believes that they will deliver an additional $40 to $45 million in operating profits from these initiatives, starting in the third quarter of 2014.
Family Dollar expects to grow sales in the low single digits for 2014, with a low single digit decline in comparable store sales.
Source: Family Dollar 2nd Quarter Financial Results
The company has historically been very shareholder friendly. Family Dollar has returned about 390 million to shareholders over the last 10 quarters in the form of share repurchases. Shareholders of Family Dollar can expect a CAGR of between 5.5% and 7.5% from dividends (2%), share repurchases (2.5%), and growth (1% to 3%).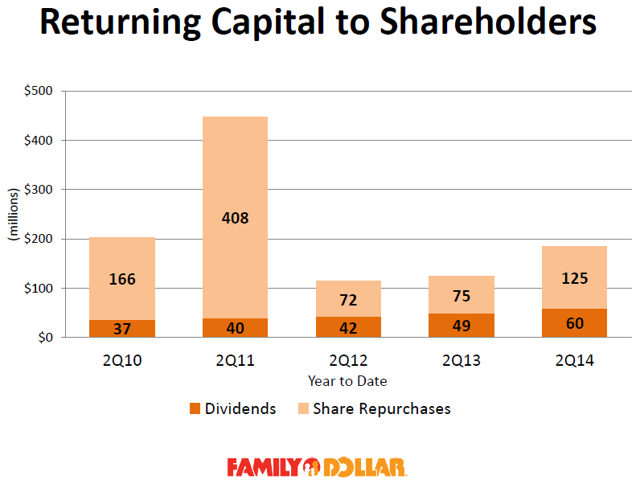 Click to enlarge
Source: Family Dollar 2nd Quarter Earnings Presentation
Wal-Mart Current State of Affairs
Wal-Mart (NYSE:WMT) grew revenues 1.8% in 2014 and increased selling square footage by 2.90%.

Click to enlarge
Source: 2014 Annual Report
Comparable store sales were slightly off for Wal-Mart U.S. and barely increased for Sam's Club. Total sales per square foot were down 2.09% for Wal-Mart International from last year.

Click to enlarge
Wal-Mart will bolster growth through domestic and global expansion of its retail stores and e-commerce. The company plans to increase the number of its Neighborhood Market and small stores, while investing in e-commerce operations throughout the developed and developing world. Over 50% of Wal-Mart's capital expenditures will be in the US.
Wal-Mart is a very shareholder friendly company. They have purchased an average of $6.86 billion worth of shares each year over the last 3 years. Wal-Mart's most recent dividend increase came in at only 2%, which is in line with its slow growth. Shareholders of Wal-Mart can expect a CAGR of around 8% from share repurchases (2.5%), dividends (2.5%), retail square footage growth (3%), and same store sales growth (-1% to 1%).
Comparison 1: Dividend History
Family dollar has increased their dividend payment for 37 consecutive years, while Wal-Mart has increased their dividend payment for 41 consecutive years. Both companies are dividend aristocrats. Wal-Mart has paid dividends for longer, but not by much.
Why it matters: The Dividend Aristocrats (stocks with 25+ years of rising dividends) have outperformed the S&P500 over the last 10 years by 2.88% per year.
(Source: S&P 500 Dividend Aristocrats Factsheet, February 28 2014, page 2)
Comparison 2: Dividend Yield
Wal-Mart's dividend yield is 2.41% versus 2.13% for Family Dollar. Neither company's yield is overly attractive, but Wal-Mart's is higher.
Why it Matters: Stocks with higher dividend yields have historically outperformed stocks with lower dividend yields. The highest yielding quintile of stocks outperformed the lowest yielding quintile by 1.76% from 1928 to 2013. (Source: Dividends: A Review of Historical Returns)
Comparison 3: Payout Ratio
Family Dollar has a payout ratio of 30.40%, versus 31% for Wal-Mart. Both businesses payout ratios are very close. The low payout ratios of both companies gives them the opportunity to increase dividends substantially in the future.
Why it Matters: High yield low payout ratio stocks outperformed high yield high payout ratio stocks by 8.2% per year from 1990 to 2006.
(Source: High Yield, Low Payout by Barefoot, Patel, & Yao, page 3)
Comparison 4: Growth Rate
Wal-Mart has grown revenue per share by about 8.5% over the last 10 years. Family Dollar has grown revenues per share at over 11.5% over the last 10 years. Family Dollar's management has allocated capital very efficiently by repurchasing shares when they are cheap and making timely investments in order to grow revenues per share at 11.5% per year. Neither of these businesses are likely to experience significantly slowed growth going forward due to increased competition, and an unfavorable macro-economic environment. Historically, Family Dollar holds a strong advantage in growth rates. Going forward, I believe both companies will grow in the lower single digits.
Why it Matters: Growing dividend stocks have outperformed stocks with unchanging dividends by 2.4% per year from 1972 to 2013. (Source: Rising Dividends Fund, Oppenheimer, page 4)
Comparison 5: Volatility
Wal-Mart's long-term standard deviation is only 19.14%, which is among the lowest of businesses that have paid dividends for 25+ consecutive years. Family Dollar's long-term standard deviation of 33.98% is significantly higher.
Why it Matters: The S&P Low Volatility index outperformed the S&P 500 by 2 points per year for the 20-year period ending September 30th, 2011. (Source: Low & Slow Could Win the Race, page 3)
Conclusion
Both Wal-Mart and Family Dollar rank in the top 25% of stocks using the 5 buy rules from the 8 Rules of Dividend Investing. Wal-Mart is ranked higher due to its lower volatility and higher dividend yield. Both businesses operate in a fairly slow changing industry, and both businesses are going through short-term operating difficulties. Both businesses make great long-term investments for dividend growth investors.
Disclosure: I am long WMT. I wrote this article myself, and it expresses my own opinions. I am not receiving compensation for it (other than from Seeking Alpha). I have no business relationship with any company whose stock is mentioned in this article.