If I had to give an opinion on Linn Energy (LINE) quarterly result, 'middling' would be the most apt term. The results were generally in line with guidance. However, the share price for Linn Energy and sister stock LinnCo (LNCO) are still managing to rally on the news, up 1% as of this writing. This suggests that both stocks may have been a tad too oversold heading into the report.
Q1 2014 Overview
Production of 1,104 MMCFE/D

Net loss of $85 million, or $0.27 per unit

Net loss includes a $241 million, or $0.73 per unit, non-cash charge related to changes in the value of derivative contracts

Oil, natural gas and NGL sales of $939 million

Distributions paid to unitholders of approximately $240 million

Shortfall of net cash of approximately $2.99 million
Overall, Linn Energy's quarter was not too bad. Production was up 24% Q/Q, largely thanks to a full quarter of Berry related production. Indeed, production for the quarter was towards the high end of the guidance range and is on target for the expected 3 to 4% growth rate.
However, what really merits more discussion are Linn Energy's realized prices for production. Below is a breakdown of the operating statistics: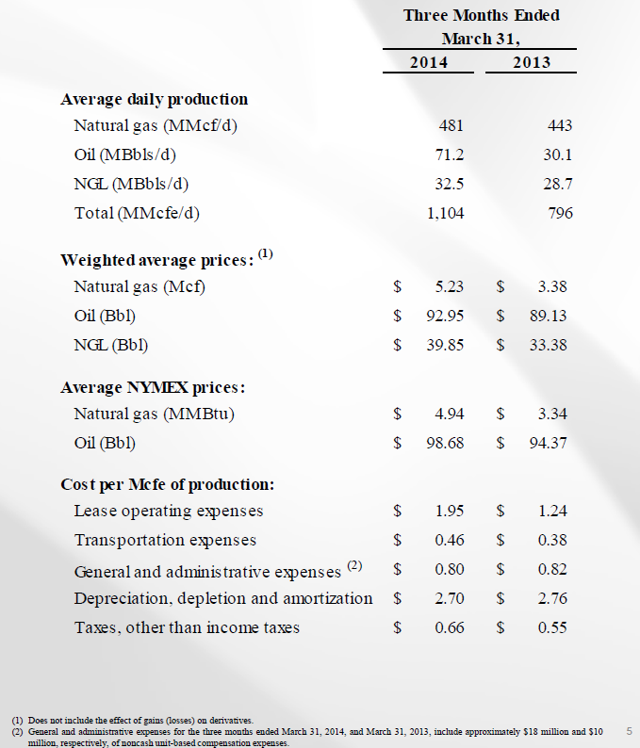 As can be seen, Linn Energy seems to have generated decent revenues for its production. Natural gas was a huge outperformer, with the average price of $5.23 per MCF 58% higher compared to last year. Indeed, these prices were well above even the FY guidance price of $4.84 per MCF.
Natural gas liquids, or NGLs, came in at $39.85 per BBL, up 19% from last year. However, Linn Energy's guidance has mostly "baked in" a large increase in NGL prices, with the FY guidance calling for $40.00 per BBL.
As for oil, it seems as if Linn Energy may have suffered from slightly higher differentials which resulted in weaker realized prices. At $92.95 per BBL, saw a 4% increase from last year. However, the spread between its realized price and NYMEX increased to a $5.73 discount from a $5.24 discount last year.
A look at Linn Energy's distribution and coverage ratio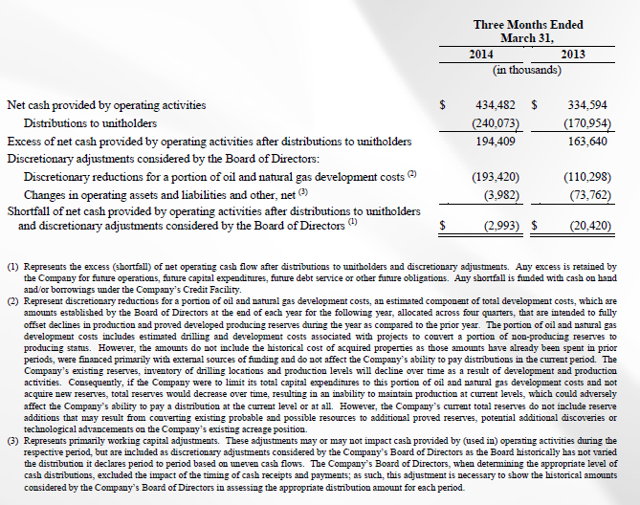 When analyzing Linn Energy's distributable cash flow, or DCF, one must remember that the company changed its methodology in 2013, making comparisons to prior years much more difficult.
For the quarter, Linn Energy posted a shortfall of net cash provided by operating activities after distributions to unitholders of about $2.99 million. As a result, the coverage ratio for the quarter was around 0.99x, down from 1.19x last quarter, though in line with guidance.
However, do note that Linn Energy benefited from Berry's production in Q4 2013 yet did not have to pay distributions or dividends to the former shareholders until recently. The end result is that this decline in Linn Energy's coverage ratio was largely predictable.
Linn Energy is planning several moves to increase its DCF in 2014. The largest of which involves selling and or exchanging its Permian Midland position for more cash flow rich properties. In addition, the company has noted that it could also make an accretive acquisition and or lower its capital intensity in order to increase its cash available for distribution.
That being said, a coverage ratio below 1.00x is a warning sign. MLPs normally should run small surpluses every quarter. As a result, I think Linn Energy may be hard pressed to raise its distribution short to medium term. However, unlike some other authors here on SA, I would not worry about a cut coming anytime soon.
Linn Energy chimes in on the LinnCo discount
In an interesting exchange during the conference call, Linn Energy was asked about the current discount LinnCo shares have with Linn Energy units.
Ethan H. Bellamy - Robert W. Baird & Co.

Okay. That's very helpful. With respect to the trading relationship between LinnCo and Linn, that's inverted since the LinnCo IPO, do you view that as a market saying or validating LinnCo as a currency when they're basically saying, we expect you to deploy that, and therefore, that's the reason for the discount?

Kolja Rockov

I don't know. It's hard to say. I still think that the tripling of LinnCo's float and the movement of prior Berry shareholders into new LinnCo shareholders is still waving on it a bit, and so we'll just have to wait and see over time.

Although I'll tell you in the last couple of weeks it started to narrow, so I don't know where it will ultimately go but that's up for the market to decide. But the nice thing is we have good optionality. I mean, not necessarily with respect to C-Corp acquisitions, but with respect to access capital we can always choose the lowest cost of capital weather that'd be Linn or LinnCo.
Basically, Linn Energy recognized that LinnCo may have taken a hit from the massive increase in its float related to the Berry merger. In addition, the company noted that it could use either LinnCo shares or Linn Energy units for an acquisition, essentially validating the point of LinnCo as a "currency" for the company.
Conclusion
Overall, Linn Energy posted an okay quarter. As expected, production grew nicely thanks to the added Berry assets. Furthermore, the increased investment into "organic" growth projects is starting to pay off.
Next quarter will be crucial as the guidance for production, 1,075 to 1,110 MMCFE/D, seems a tad on the low side. I think Linn Energy can easily beat these numbers and is just reining in expectations.
As for DCF, Linn Energy needs to get to work and figure out a way to divest/sell/trade the Permian assets. The company strongly hinted that it is seeing strong demand for the assets. One good sign that Linn Energy is ready to sell is that it has broken up the properties into multiple packages which will allow access to smaller producers and potential buyers. Still, Linn Energy noted that it prefers a "trade" or a 1031 exchange.
Disclaimer: The opinions in this article are for informational purposes only and should not be construed as a recommendation to buy or sell the stocks mentioned. Please do your own due diligence before making any investment decision.
Disclosure: I have no positions in any stocks mentioned, and no plans to initiate any positions within the next 72 hours. I wrote this article myself, and it expresses my own opinions. I am not receiving compensation for it (other than from Seeking Alpha). I have no business relationship with any company whose stock is mentioned in this article.